Closing of Yokohama Kenshu Center
HIDA will close the Yokohama Kenshu Center (YKC) as of the end of March 2013.
We opened YKC in Shiomidai, Isogo-ward, Yokohama City in April 1964. It has been located in Fukuura, Kanazawa-ward, Yokohama City since it was transferred to the site in April 1989. YKC has been utilized by an enormous number of HIDA trainees over a period of almost 50 years, functioning not only as an important site for technical cooperation, but as a site of international exchange for local residents.
However, in order to respond to the rapidly-changing business environment surrounding us, HIDA decided to close YKC. Closing this facility with such a long history was a very difficult decision for HIDA, but we intend to maintain the domestic and international human networks we developed throughout our history, and incorporate requirements for our stakeholders to develop and implement better operations going forward.
Last but not least, HIDA takes this opportunity to thank all the people who have assisted and worked with us in the history of YKC.
Introduction of ABK-AOTS DOSOKAI, Tamilnadu Centre (AOTS Chennai Alumni Society in India)
-Collaboration with Consulate-General of Japan in Chennai-
ABK-AOTS DOSOKAI, Tamilnadu Centre has a close relationship with Consulate- General of Japan in Chennai and a variety of events are collaboratively organized through a year.
One of such events is "Japanese Night", which was held last year as a part of the celebrations in commemoration of 60th anniversary of Japan-India diplomatic relationship. The entire event was conducted in Japanese language and the following programs were performed by students/teachers of the Alumni Society's Japanese classes and other city schools in Chennai; Japanese speech & haiku (俳句[はいく]/ Japanese short poem), origami (折り紙[おりがみ]/ Japanese paper folding) demonstration, drama, dance, Japanese music performance, etc. The event was a great success with more than 200 participants.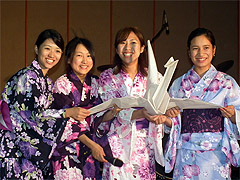 It also conducts other collaborative events including "Quiz on Japan", "Japanese Speech Contest" and "Cultural and Historical Study of Japan through Japanese Stamps" to introduce Japanese culture and language to local people.
For more details, please visit the website below;
"Hinamatsuri" (Girls' Festival)
March 3 is the day of "Hinamatsuri (雛祭り[ひなまつり]/ traditionally called "Momo no sekku (桃の節句[もものせっく])")", or Girls' Festival, in Japan. It is an annual event in which people pray for the healthy growth of girls. Families with girls decorate their homes with Hina dolls starting from mid-February, and celebrate with a special meal on the day itself.
This meal includes Chirashi-zushi (ちらし寿司[ちらしずし]/ vinegared rice with shrimps, eggs, and other ingredients in the rice), Hishimochi (菱餅[ひしもち]/ a type of Japanese sweet cake), and other food. Chirashi-zushi is a colorful and fancy type of sushi, and contains ingredients that are believed to bring good luck. Hishimochi is a Japanese cake layered in three colors (pink, white, and green) and cut in the shape of a rhombus. These colors symbolize a talisman against evil, purity, and health respectively.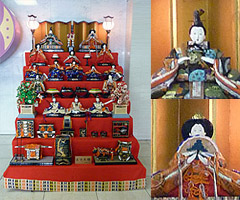 The roots of Hinamatsuri can be traced to ancient China. It was believed that evil spirits bringing calamities entered easily at the point of seasonal change. Thus, the custom was to exorcise impurities at the riverside on this day. Even in ancient Japan, the custom of purifying the body was practiced by floating paper dolls down rivers and into seas. This represented the moving of calamities away from the people. Known as "Nagashi-bina (流し雛[ながしびな])," which is connected to the custom that had been passed on from China, this involved stroking dolls made of plants or straw to transfer the impurities to the dolls, then floating the dolls down a river. These dolls gradually became more splendid and lavish, and the custom changed from floating dolls down a river, to decorating the home with these dolls. In other words, the Hina doll takes on the calamities in place of the girls in the family.
It is considered good luck to put the dolls away on the day after the Hinamatsuri. There is a superstitious belief that the girl, or girls, in the family will marry late if the Hina dolls are not put away quickly.
Incidentally, May 5 is known as "Tango no sekku" (端午の節句[たんごのせっく]/ Boys' Festival). On this day, it is the custom to pray for the healthy growth of boys.
Japanese Phrase Column Series Vol.9
A useful Japanese phrase to remember: Frequently used expressions in workplaces
Vol. 9: Kyoushuku desu. (恐縮です。[きょうしゅくです。])
The word "Kyoushuku (恐縮[きょうしゅく]) " is made up of two kanji; "Kyou (恐[きょう])" meaning "to fear," and "Shuku (縮[しゅく])" meaning "to shrink." Thus, combining the two, the literal meaning of "Kyoushuku" is to feel so apologetic as to "shrink" one's own body. This makes one ponder how fearful the incident must be to make one "shrink" his or her own body in guilt. Would it amount to divine punishment from the gods? In truth, this is a convenient expression that is frequently used in business correspondences and greetings.
For instance, it is conventional to add "Kyoushuku desu ga... (恐縮ですが... ([きょうしゅくですが...]) "before making a request for something. It means, "I am sorry to have to ask you to do something troublesome..."
It is also used in the form, "O-isogashii naka, okoshi itadaite, kyoushuku desu. (お忙しい中、お越しいただいて、恐縮です。[おいそがしいなか、おこしいただいて、きょうしゅくです。]) " ("Thank you for having come here despite your busy schedule.") In this context, "kyoushuku desu" is used to express gratitude to the other party for the time, effort, and consideration he or she has given to you. "Kyoushuku desu" can also be used as an apology.
Since the literal meaning of the expression is "to fear, to shrink," the key lies in its strong nuance of humility, regardless of whether it is used in requests, to express gratitude, or as an apology.
Inquiry
Please contact us at Contact Form for general inquiry on HIDA E-Newsletter.