Regional Federations of AOTS Alumni Societies
The 73 Alumni Societies in 44 countries and regions are grouped into 6 regional federations. Each federation has been active in promoting activities across regions such as regular meetings.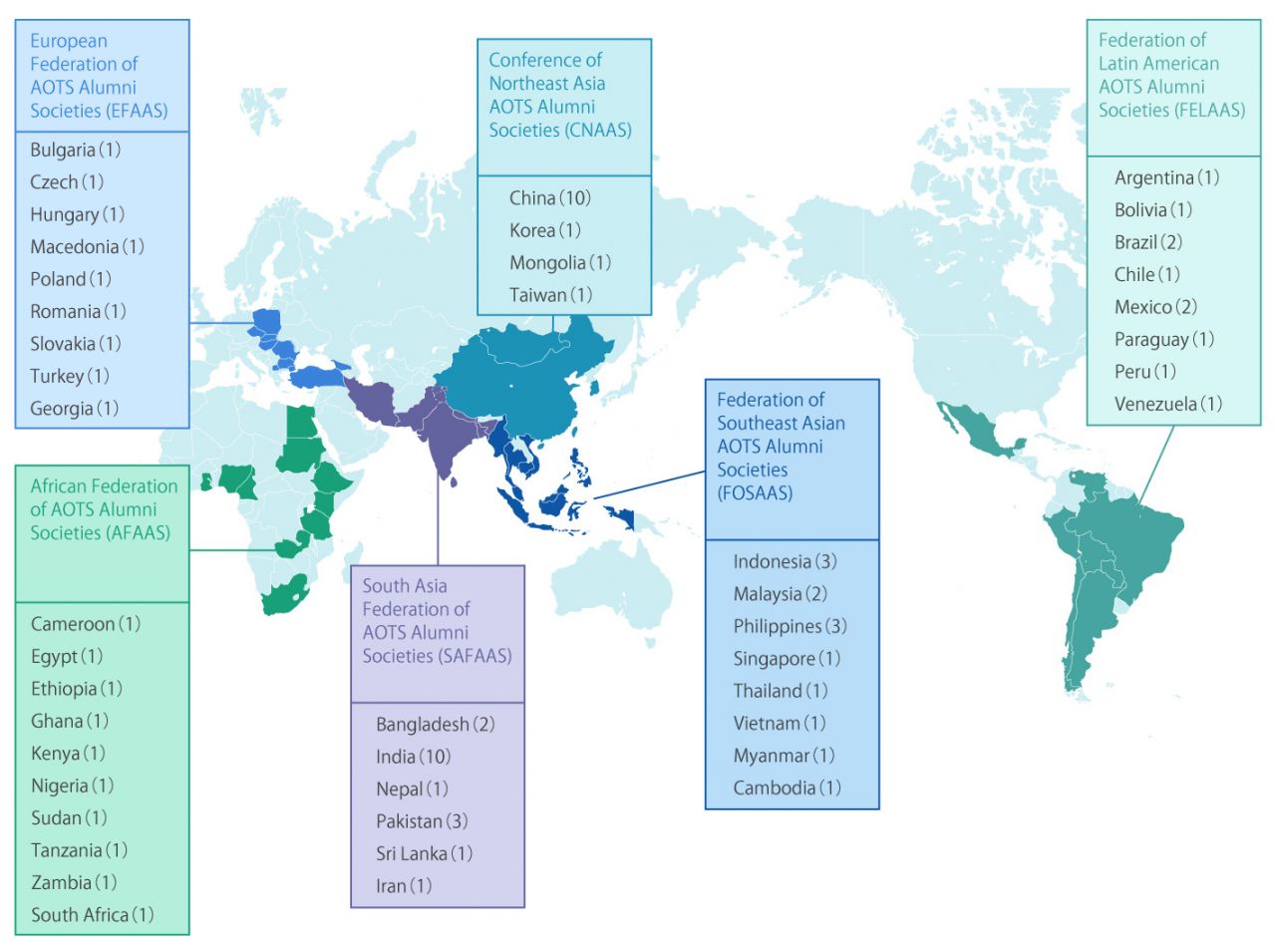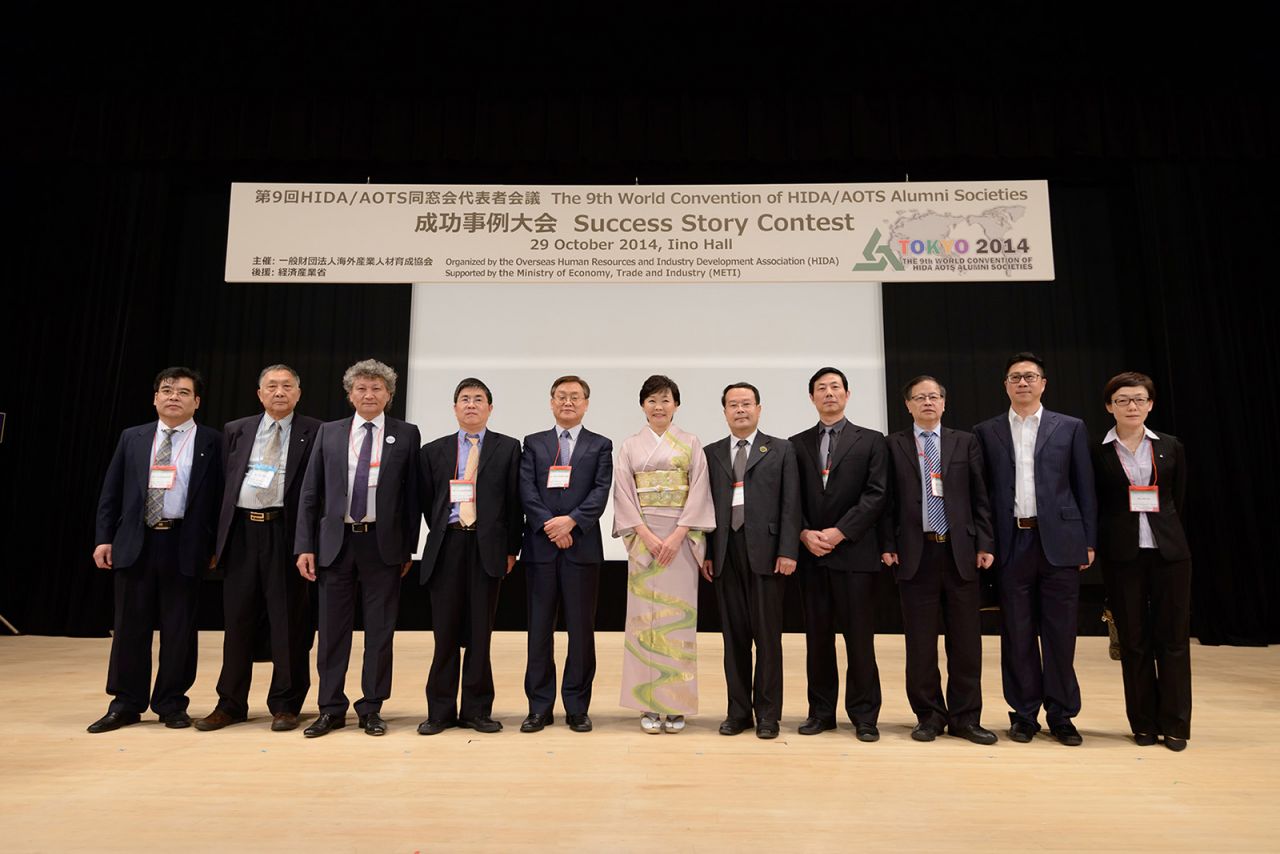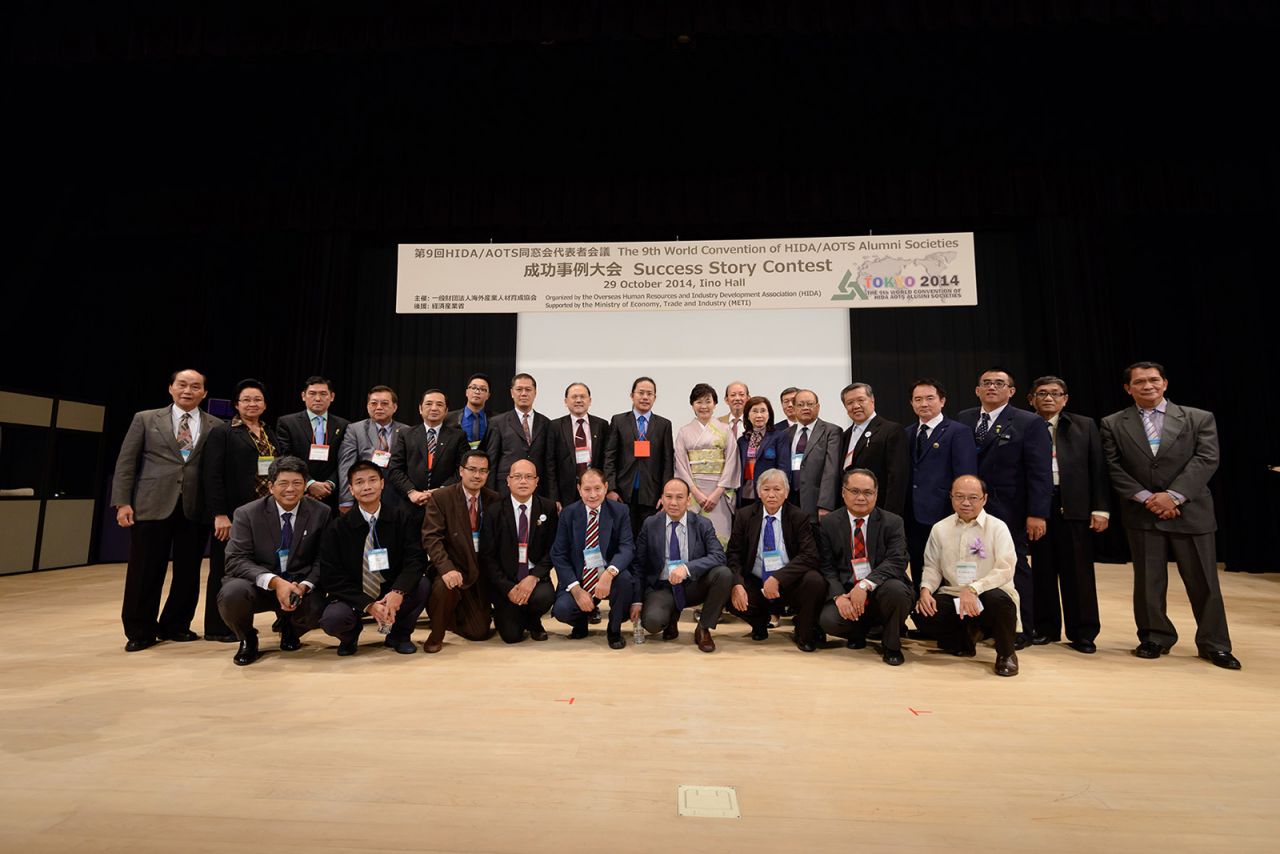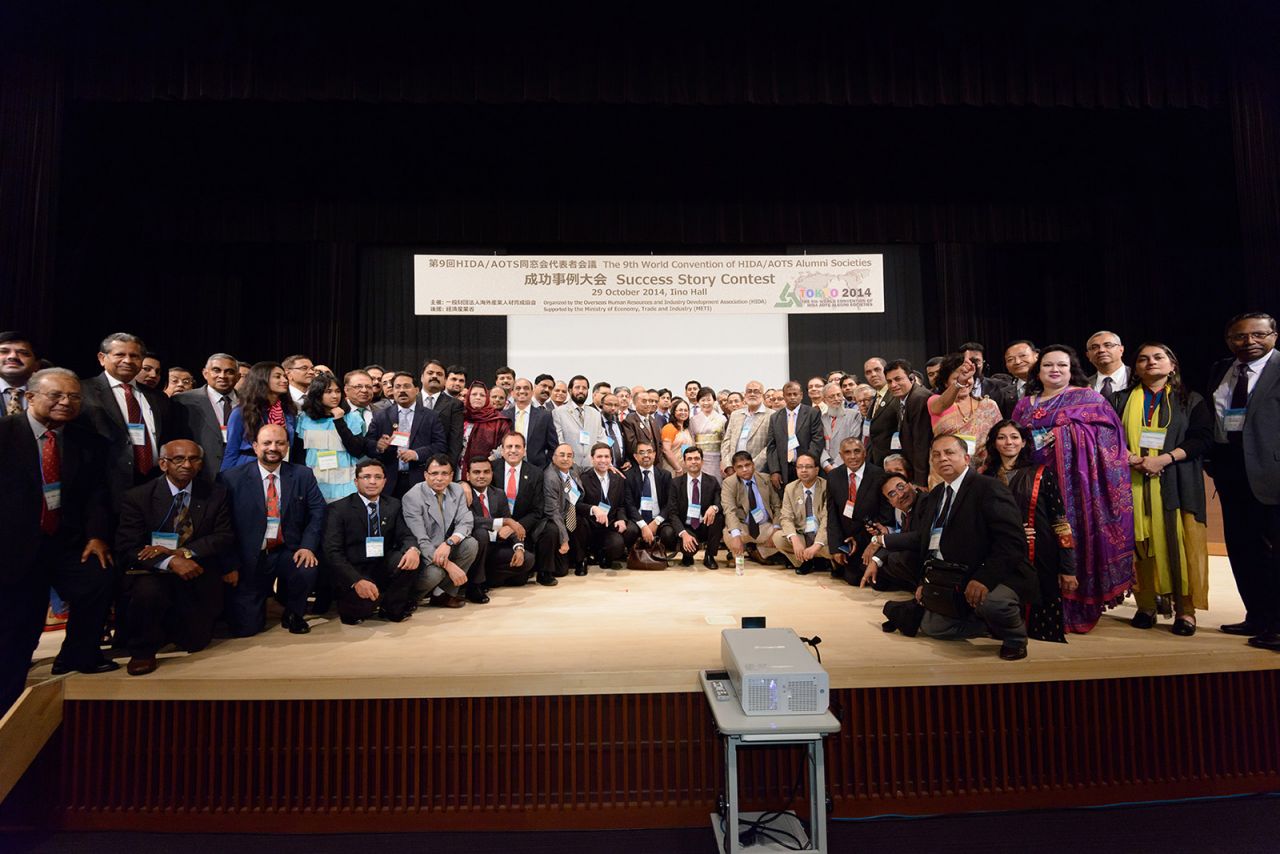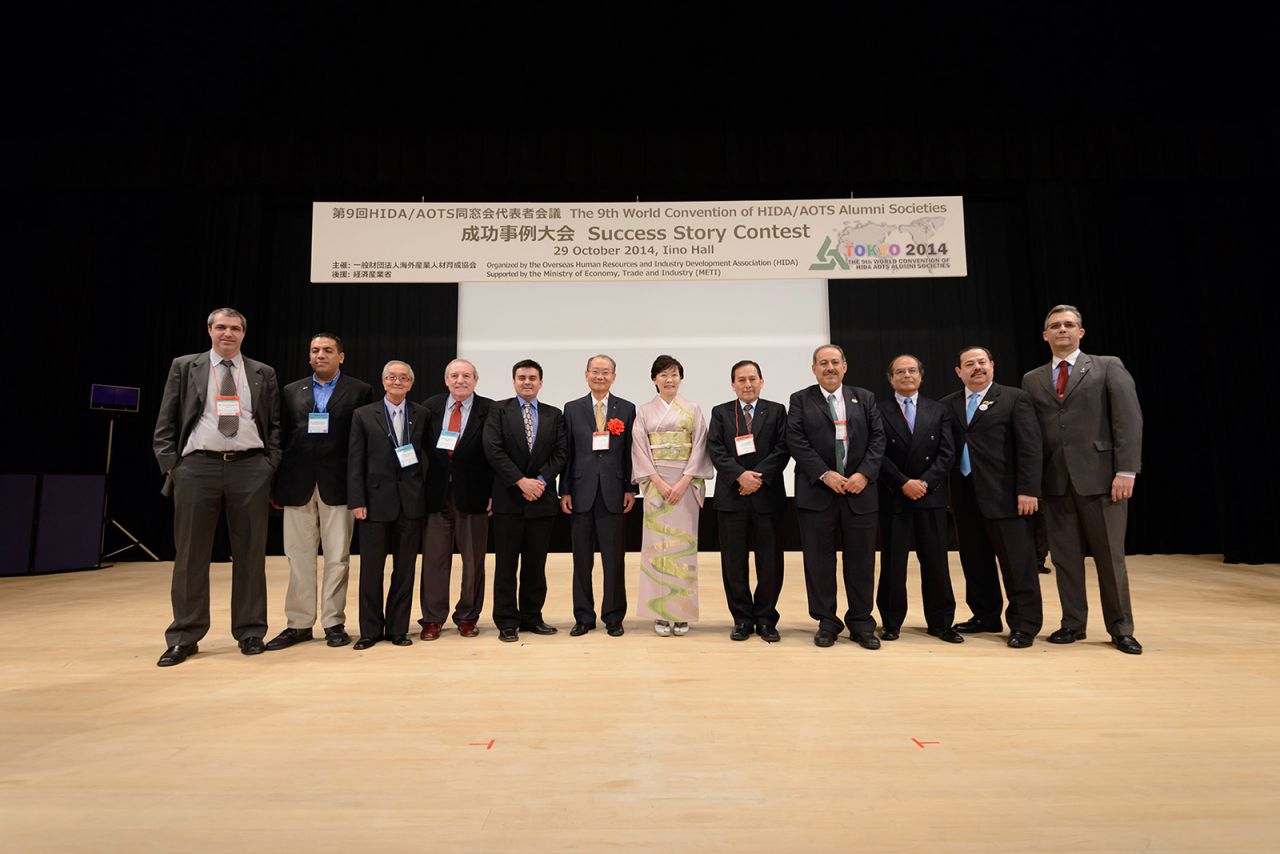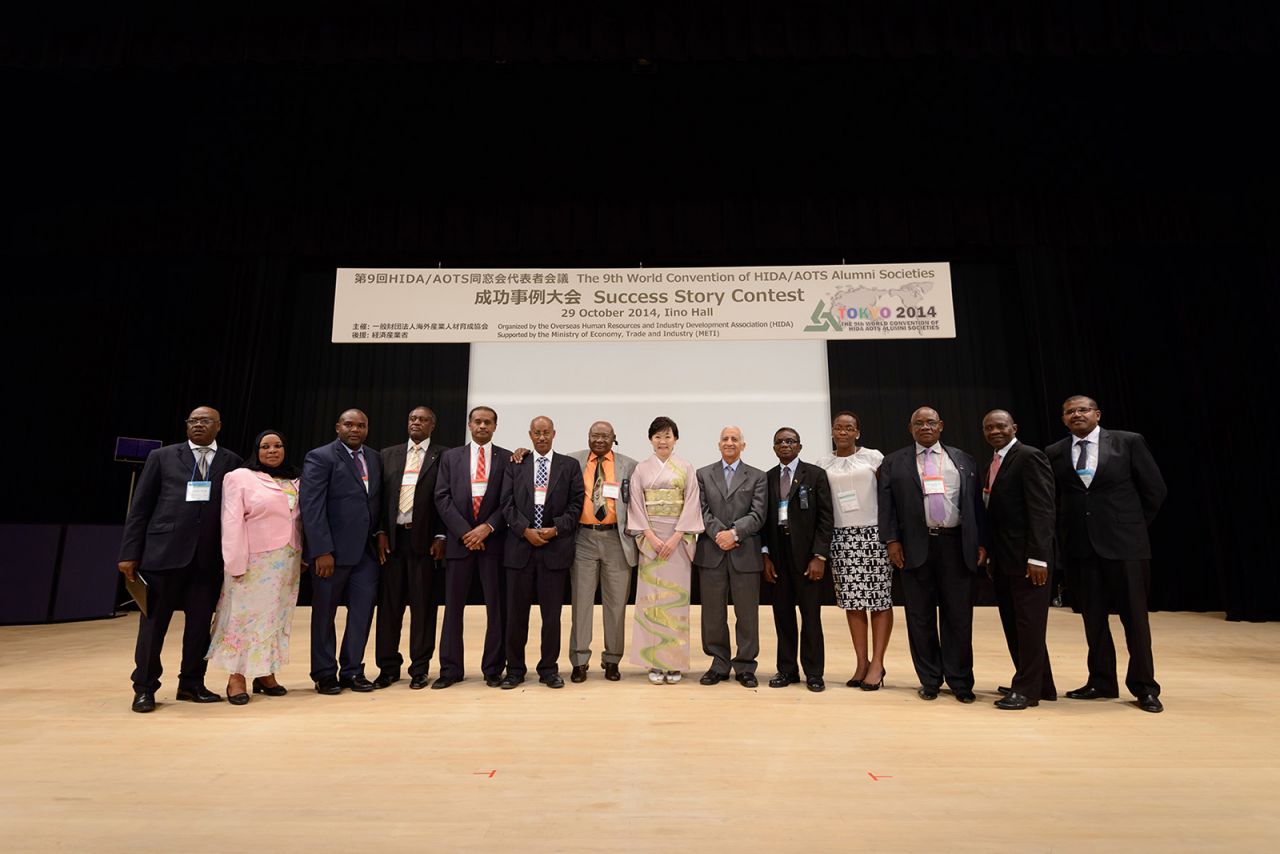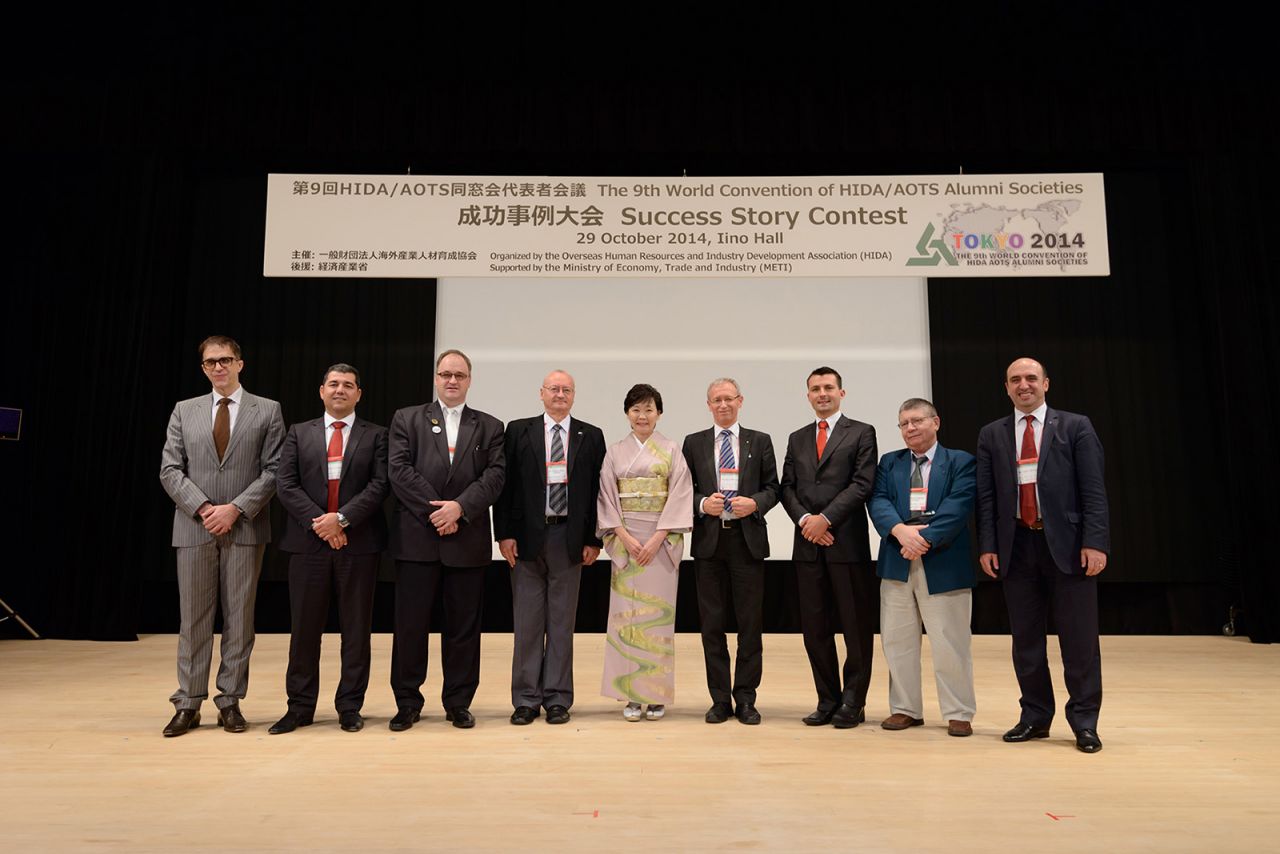 Examples of Regional Federations' Activities
Federation of Southeast Asian AOTS Alumni Societies (FOSAAS)
On October 20, 2017, the thirteenth FOSAAS meeting was held in Kuala Lumpur, Malaysia, with the participation of 31 delegates from 10 societies in seven countries: Malaysia (KL and Penang), Indonesia (Jakarta and Medan), Myanmar, Singapore, Thailand, the Philippines (Manila and Visayas) and Vietnam. After reports from each society, the delegates discussed how to strengthen their regional cooperation as well as their cooperation with the AOTS in a very active manner. They adopted a resolution that a newsletter for FOSAAS members would be published on Facebook with the initiative of the steering society of this meeting, Persatuan Alumni AOTS Malaysia (PAAM). They also resolved that Facebook should be used as a common platform for all relevant members beyond the scope of societies. They also decided that alumni society of Himpunan Alumni AOTS Indonesia (HAAI)-Jakarta Central Board would steer the next meeting.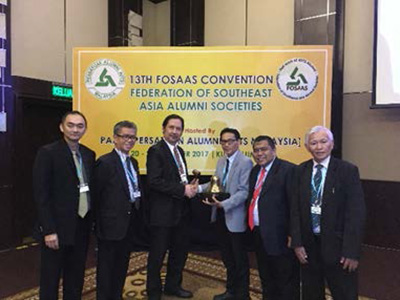 Federation of Latin American AOTS Alumni Societies (FELAAS)
On November 6 and 7, 2017, the thirteenth FELAAS meeting was held in Lima, Peru, with eleven delegates from 10 societies of 8 countries: Peru, Argentina, Brazil (Sao Paulo and Rio de Janeiro), Chile, Ecuador, Mexico (Mexico City and Monterey), Paraguay and Venezuela. In line with AOTS's policy of strengthening collaboration among alumni societies, FELAAS and respective member countries confirmed their aim of pursuing more active cooperation in various programs.
Dissemination of 5S and Kaizen is a common subject amongst FELAAS members and 5S conventions have been organized under the auspices of the societies in Peru, Argentina, and Mexico. In parallel with the meeting, the fourth 5S national convention was being held by the Peruvian society and the winners were awarded gold, silver and bronze medals. In addition, a 5S expert from Chennai, India, was invited under the WNF scheme and the audience could learn about cases of 5S and Kaizen in India in his keynote lecture. The delegates decided to launch a 5S technical committee in order to formulate common criteria to measure 5S performance for the future organizing of Latin American 5S conventions.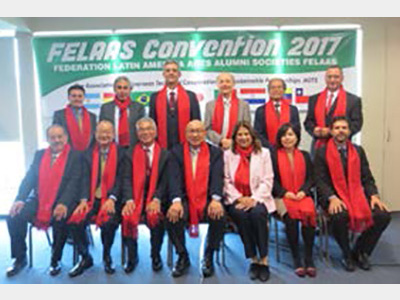 South Asian Federation of AOTS Alumni Societies (SAFAAS)
From 27th to 28th of October 2017, the twelfth SAFAAS meeting was held in Colombo, Sri Lanka, with 12 societies from five countries, Sri Lanka, Bangladesh (Dhaka and Chittagong), India (Mumbai, Hyderabad, Kerala, Pune, Bangalore and Chennai), Nepal and Pakistan (Lahore), and 170 people in attendance.
Working groups discussed how to cultivate influential business leaders with the support of the AOTS. The meeting adopted such measures as the launching of an excellent cases presentation, identification of training needs within the region by a joint study with the AOTS, as well as resolutions. It was also decided that Chennai, India, will be the host of the next meeting. At a dinner party on 27th October, they had the honor to have the personal presence of Mr. Eran Wickramaratne, State Minister of Finance. At the closing ceremony on 28th October, Dr. Harsha de Silva, Deputy Minister of National Policies and Economic Affairs was presented as a guest of honor. In parallel with the meeting, a youth leadership workshop (YLW) was organized for next-generation executives of AOTS Alumni Societies.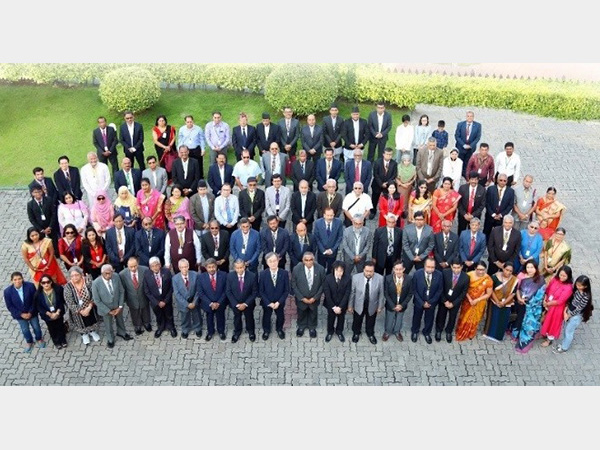 World Convention of AOTS Alumni Societies
The AOTS organizes the Convention of AOTS Alumni Societies by inviting Representatives of the Alumni Societies to gather once every four years in principle. The objectives of the Convention are to facilitate cooperation among the Alumni Societies and to promote AOTS activities according to the actual situation of developing countries. The exchange of opinions between the AOTS and the Alumni Societies helps the AOTS to obtain information regarding the evaluation of AOTS activities and local training needs of developing countries.

Inquiry
Operations Management Department
Overseas Strategy Group
TEL : +81-3-3888-8244 FAX : +81-3-3888-8242