"Aiming for further overseas business by ensuring the safety and quality of our food products, refraining from the use of GMO ingredients" --An interview with a director of a Vietnamese manufacturer of rice products and so forth
2016/10/18(Tue)14:55
(Vietnam/ベトナム)
Bich Chi Food Co.
Ms. Pham Thi Huong Son (Deputy General Director)
Vietnam
Many business people from abroad including the emerging countries have participated in HIDA training programs. Positions of the targeted audience vary with the programs, and there are some programs aimed for top executives.

This time, we interviewed with a person who runs a manufacturing company of rice products and so forth in Vietnam.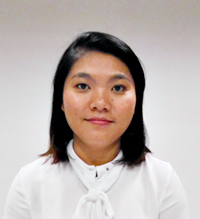 --Please explain your company profile first.
Established in 1966 in the granary of the South, Bich Chi Food Company is one of the leading manufacturers of rice products and crackers in Vietnam. Back in the 1970s, our main products were rice powder foods for children. These products helped many children in Vietnam overcome undernourishment or diarrhea. In pursuit of the development of technology and management to increase the efficiency and efficacy, the company continues to strengthen its competitiveness and has a stable market share position in Vietnam. With a total space of 40,000 square meters (the size of about five factories), we currently employee more than 800 local people in Sa Dec City, Dong Thap Province, which is located about 160 km south of Ho Chi Min City.

Bich Chi's products are well-known for their healthfulness through the use of fresh local ingredients and no additives. Basically, we produce Rice Noodles, Rice Paper, Prawn Crackers and Nutrition Powder. We offer more than 100 different products covering different consumption purposes from snacks to meals.

Bich Chi Food says no to GMOs (genetically modified organisms). We understand that there are possible risks involved with using GMO agricultural products. Therefore, Bich Chi decided to refrain from the use of GMO ingredients, and guarantees that there are no GMO ingredients in any of our products.

We have also said no to animal testing. At Bich Chi Food, we do not test our products on animals, nor do we fund or support it, either directly or through third parties. We use different methodologies to test the safety and quality of our products using machines in our R&D laboratory.

The factory has qualified for HACCP (Hazzard Analysis and Critical Control Point), ISO 2000:9001 and HALAL, and is now in the process of qualification for BRC (British Retail Consortium). We have experience in exporting our products to 42 countries around the world such as the U.K., the Netherlands, France, and Germany in Europe, the U.S.A., and Japan and Korea in Asia.
--What aspects of corporate management do you put much value on? Please share with us your management philosophy or policy, or something considered important.
Bich Chi Food Company has been applying the management philosophy, values and principles in our daily activities since 2001, after becoming a joint stock company. Personally, I believe that by following the management philosophy in our activities, it has maximized the value of the company, improved our products' quality, provided better service to our customers as well as business partners, and enhanced our contribution to the society in which we operate.

We value five elements in our corporate management, which are employees, customers, business partners, technology and quality. Not one of these five elements is more important than any of the others. In detail:
Employees: We fully respect each employee's unique qualities and way of thinking. We provide opportunities for skills development and support each employee to achieve individual growth.
Customers: We try our best to be a valued and trusted partner to our customers.
Business Partners: We aim to create a mutually beneficial and long business relationship.
Technology: We constantly seek to increase the product's quality through new technology.
Quality: We pursue quality improvement to ensure our reputation with our customers.
--Do you think of any challenges that hinder your company business to grow and develop further? What kind of actions do you think need to be taken to address the above-mentioned "challenges"?
To grow and develop, a business faces a lot of challenges such as keeping up with the market, finance management along with the company's growth, and management skills.
Recognizing and overcoming the challenges associated with growth and development is crucial for a business.

Keeping up with the market:
The market and consumer's behavior changes every day. Therefore, it is necessary to do market research continually.
The more the company expands the more success the business has, the more competitors appear and react to what the company is doing. It is good to keep doing what the company does best, but at the same time, the company needs to invest in technology to create new, profitable products to market.
It is necessary to spend time to talk with the key customers, business suppliers, and business partners to gather important market information. It is also important to improve the IT system to help analyze key information for better marketing approaches.
Cash Flow and Financial Management:
Every growing business must have good cash flow control. It must keep effective control to maximize the free cash flow.
It must keep good stock control.
It must plan ahead for financial needs.

Management's Skills:
Constantly provide training opportunities to learn the skills from someone who is leading growth using outside organizations such as government-related organizations and so forth.
Develop efficient time management skills and learn how to sort out the important issues.
Listen more and take advice on how to improve limited skills.
Those points are not only for my employees but also for me as well.
--How do you view the current status of your business in the global market?
Bich Chi Food Company has been exporting products since 2006. We currently have business relationships with distributors in 42 countries around the world. We have a good reputation in the global market for Vietnamese products.
--Are you planning to expand your business overseas? What does your company consider important and wish to focus on to lead your business overseas to a success?
We understand that overseas business has generous opportunities for the company. In fact, there are many European, U.S. and other foreign companies that have succeeded in Asia such as Adidas, Mercedes, Sony, and Samsung, and vice versa. They are all extremely successful at operating their international business. Therefore, we have been preparing our products for global trade.

An international business is an impressive feat for a company. Not every company that moves overseas can accomplish its targets. In fact, there are many barriers in terms of language, logistics, regulations, human resources, and business culture, etc., all of which can be business obstacles. However, we always keep reminding ourselves that challenges are just opportunities in which we are yet to capitalize on. Therefore, we see challenges and obstacles in a positive light and don't give up on a business idea that we feel will work.

Making a successful mark in a new market is not going to happen overnight. We need to conduct extensive research together with our vision to help us find the best market for our products. Such market research is critical to the decision-making process of our marketing plan.

The culture and local customs of our customers are also important factors that we need to pay attention to. Last but not least, we wish to have available resources and a strong team that is ready to face challenges and fully support our oversea business.
--Please tell us about the current market environment of your business in your country.
The current market environment in Vietnam is pretty competitive. Vietnam is a developing country with over 90 million people. This large young population means the market has great potential. The market is eager for new, innovative products. However, the Vietnamese are extremely wary consumers, and new players in the industry should learn this fact. The memory of poverty is still fresh even in urban areas. There are not many local Vietnamese companies gaining a big market share in Vietnam. Vietnamese consumers are more likely to prefer domestic products to imported products because nowadays in Vietnam the quality has improved and the prices are competitive. Bich Chi Food Company has a good market share in Vietnam for Rice Noodles, Rice Vermicelli, Rice Paper, Prawn Crackers and Nutrition Powder. We keep our word by producing natural products. Our brand is popular with consumers over 55 years old for powder products because we were the powder's original manufacturer in 1966, targeting children back then.
--Business customs of your country may differ from those of other countries including Japan. Please use a few episodes to explain your distinctive differences from them in terms of the mindset for working, business culture, and national characters.
Business customs in Vietnam are less formal and more direct than in Japan. In other words, Vietnamese business behavior is more relaxed than in other Asian societies, where the development and maintenance of interpersonal relationships tends to be formulaic. It is better to ensure that things turn more slowly in Vietnam than in Japan. In addition, it is a good idea to be flexible and always expect the unexpected from the telecommunications system, the transportation infrastructure, and interpersonal relationships.
In Vietnam, getting to know each other is important in business. "Time is money" may not be the best idea to use for gaining a good business relationship. As with other Asian societies, the Vietnamese prefer to do business with someone they know and trust. If you spend time to build up a good relationship and mutual trust, everything becomes possible and work can proceed at a surprisingly rapid pace.

--What are the points that you have kept in mind to develop human resources in your company? In other words, how do you wish to improve your engagement with the matter in the future?
We have had quite a lot of difficulties and challenges in HRD currently. The factory and head office are located in Sa Dec city, Dong Thap Province. This city only has just more than 100,000 people, and is not such a developed area. It is hard to find talented people in a small city. Even under this circumstance, we have been struggling to make our company more attractive by improving our company policies. This is an on-going project and we always try our best.
--What is your impression about Japan and Japanese companies? Please share with us an episode or experience that surprised or touched you.

Japan is a beautiful country consisting of islands and many historical spots to explore. There are thousands of points of interests other than Kyoto, Mt. Fuji or similar spots that I can find in the guidebooks. I find myself amazed by the fantastic infrastructure like the public transport system everywhere and most importantly the trains are never late.

The Japanese have a close relationship with their company. The employees work hard and are loyal to their organization. I was very impressed with decision-making of the Japanese companies. Decision-making is often by consensus and companies encourage workers at all levels to discuss proposals and give opinions.
Thank you very much for your cooperation.