"To grow as a social enterprise which is profit making as well as giving a noble benefit to society" --An interview with a director of an Indian food processing manufacturer
2016/10/31(Mon)12:00
(India/インド)
Sri Jayashree Food Products
Mr. Sathishkumar Kalaimani (Chief Operating Officer)
India
Many business people from abroad including the emerging countries have participated in HIDA training programs. Positions of the targeted audience vary with the programs, and there are some programs aimed for top executives.

This time, we interviewed with a person who runs a food processing manufacturing company in India.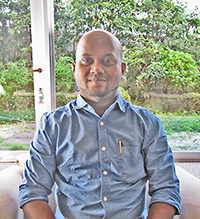 --Please explain your company profile first.
Our company, Sri Jayashree Food Products, is a food processing manufacturer, established in 2011. We are known with the brand name of "Farm Harvest", and both our headquarters and factory are located approximately 400 km south of Chennai in Tamilnadu. We deal with such products as fresh sweetcorn, ready-to-eat sweetcorn, kernels, ready-to-eat sweetcorn cobs, and sweet corn vending kiosks. There are about 50 employees in our company and our turnover amount is from 150,000 to 900,000 USD per year.
--What aspects of corporate management do you put much value on? Please share with us your management philosophy or policy, or something considered important.
Our core philosophy is to provide healthy farm produce to the consumers by closely working with the farming community and sharing with them high technologies and best practices.

We are vertically integrated with the "farm to the fork" model. We are sourcing our raw materials on our own, which benefits the farmer's livelihood, and we constantly encourage women empowerment at the factory and develop small entrepreneurship at the retail end (forward integration).

Farm Harvest was germinated in 2011 with an aspiration to create a high standard of living for farmers and with the core philosophy of providing healthy and nutritional farm products, both fresh and processed, by developing entrepreneurs including famers, students and even dropouts, and closely working with the farming community by providing them with updated technologies.

What do we do to connect the "farm to the fork"?
Farming: The right farmers are identified. We supply seeds to them free of charge and manpower for sowing and harvesting. Farmers will be paid on the basis of output. And a portion from the profit from the products (value added at factory) is shared with these farmers. We strongly work on women empowerment at the production unit.

We have two business models for distribution and retailing. One model is an aspiring young person who is trained to carryout van sales to around 240 selected stores per week, which are stores identified by the company. By this, he becomes a driver, a sales person, a supplier and a distributor. In the big picture, he is an entrepreneur owning a vehicle that the company provides 1/3 of the cost and the rest will be paid by himself through an easy monthly installment (EMI; a loan from a bank) plan, and earns more than a driver or a sales person with first moving consumer goods (FMCG) could earn together. And the second model is owning a vending kiosk. Any aspiring entrepreneurs (most of them are part time students) will buy a vending kiosk (approximately 150 USD to 1,500 USD) and start selling sweetcorn products through those vending kiosks. On average a vending kiosk could bring a profit of USD 100 to 1,000 USD per month depending upon its location.
--Do you think of any challenges that hinder your company business to grow and develop further? What kind of actions do you think need to be taken to address the above-mentioned "challenges"?
[Challenges for the business of your company]
Highly dependent on manpower rather than the process: As we are packing sweetcorn kernels through a sterilization process and we require whole kernels to be taken out from the sweetcorn cobs, these processes are very labor intensive in nature and the machines cannot remove the kernels without damaging them.
Difficulties in training daily wage workers: As new workers come in every day, it is hard to define the job (no systems, SOP in place at present).
Redundancy in the processes.
High wastage and slower conversion rate: As our raw material is perishable, it is hard to control wastage.

[Countermeasures need to be taken to address the above-mentioned "challenges"]
Collaborating and associating with highly skilled consultation bodies.
Working on developing process automation and remote monitoring.
Developing De-Kerneller machines, which would open a new market.
Developing a system for unskilled and semi-skilled workers.
Focusing on waste elimination measures.

--How do you view the current status of your business in the global market?
At present, we are exporting to only a few countries such as Sri Lanka, Maldives, Mauritius (JV), the Gulf States and Russia. In reality, quality may not be the highest concern in India. Thus, we are interested in collaborating with Japan as the Japanese tend to have a more matured taste and care about the higher quality of processed foods. In this sense, we are looking for a distribution network locally in Japan.
--Are you planning to expand your business overseas? What does your company consider important and wish to focus on to lead your business overseas to a success?
Yes, we are planning to expand, and as a start we have started a joint venture in Mauritius recently. We are looking for opportunities in Japan as well.

We think collaboration is the key for success. We are looking for local Japanese distribution companies in Japan to help us develop our market in Japan. Also we seek guidance from Japanese consultants/companies to help us develop our expansion overseas.
--Please tell us about the current market environment of your business in your country.
To be precise, in terms of food processing, the Indian market is growing in recent years. Also resources such as land, labor, etc., are extremely easier to obtain in India. At the same time, the population is high and the fast moving pace of life makes people keen on ready-to-eat products.

Thus, Farm Harvest as a company has a very good opportunity to tap into the ready-to-eat processed food category. Also, modern retail concepts are rapidly growing in India and bringing people to shopping malls, supermarkets and hypermarkets. This creates a sweetcorn processed food market for us.

Globally speaking, Singapore and Thailand plays a major role in ready-to-eat foods (sweetcorn). India has a tough time to evolve globally. As India is developing in terms of food processing, and the population is very large, it gives a wide scope for the food processing industry to grow.

As the stakeholder of the firm is passionate about agriculture, he/she is looking for options to bring in more products in the same line (farm to the fork). Retailing and distribution costs will come down as the product range increases.

Some facts about the Indian Food Processing Industry:
India ranked 12th in the world in exports of food and food products in 2015.
Major employment intensive segments (11.69% of employment generated in all registered factories).
Contribution to the Gross Value Addition (GVA) in 2014-15 amounts to INR 1.43 Trillion (grew by 5.78%, compared to 2013-2014).
Liberalization and growth of organized retail.
India is emerging as a sourcing hub for exporting processed foods, mainly to the Middle East.
Driven towards Ready to Eat (RTE) Products.
Exports of processed foods increased (mainly to the Middle East and South East Asia).

--What are the points that you have kept in mind to develop human resources in your company? In other words, how do you wish to improve your engagement with the matter in the future?
The major challenges we face in our process are:
Organizing the processes into a system oriented approach (Standard Operating Procedure).
Training and development of daily wage laborers.
Identifying and eliminating waste in the process.

Our vision is to grow as a social enterprise which is profit making as well as giving a noble benefit to society. To achieve our mission, engagement with HIDA would be a great help for us. And in future we would like to have a long term relationship in terms of collaborating, guiding and counseling with respect to our business plans.

--What is your impression about Japan and Japanese companies? Please share with us an episode or experience that surprised or touched you.
First of all, I am impressed with the politeness of the people here, which I have not seen anywhere else. Everyone I have seen in the country greeted me with humbleness and dignity.

Then, I am deeply impressed by the punctualness they have in every activity they do. Every activity here has a system and timeliness.

All the people I have met here are kind and generous. Without knowing the Japanese language, I was guided 100 % correctly whenever I asked people for directions.

In the Japanese companies that I have visited, I have found every employee is hard working for continuous improvement at his/her level. I am really astonished by the level of cleanliness in the country. Also, I am very much impressed with the formal way of addressing people everywhere, not only in the companies but also in people's social life.

Overall, I have found that 5S is not only in companies but also in the personal and social life of the Japanese people. This visit has created a great impact on my lifestyle. I will follow at least a few of the Japanese principles such as Being Punctual, Politeness, and Being Kind and Hardworking in my life and teaching the same to my colleagues and family members.

To summarize, this visit made me understand that ethics and discipline should be taught along with the culture. And also, the discipline is not only meant for one's work life but also for one's personal and social life.

There are many incidents that have touched my heart during my stay here.The one incident which really touched me to the core is as follows.

Once, we were a group of 10 people returning from Shin Osaka to Abiko. During our journey one of my colleagues had left his mobile phone near the ticket vending machine. We were about to board the train. Suddenly he asked us to wait for a while and started searching for his phone. He'd only realized that the phone was missing after 30 minutes. Then he rushed to the ticket vending machine and found that the phone was at the same place where he had left it.

This showed the honesty of the Japanese people. We were really astonished at this incident. If the same had happened in other countries, the phone would have been taken by someone in a few minutes.

On another day, I was struggling to find directions to Abiko Station from KKC. I met an elderly person who was riding a bicycle. He got off of his bicycle and walked all the way to Abiko Station. He did not stop there, but helped me get my tickets at the vending machine for Umeda and then left the place. This incident brought me a greater respect for the Japanese people. I have not seen people being so kind and generous even in my own country.

I am surprised to see people maintaining decorum in standing in queues at railway stations, department stores and even in shrines.

I am very much grateful to the Japanese Government & HIDA for providing an opportunity to visit Japan. I am really proud of spending 15 days in Japan as it has helped me to optimize my behavior.
Thank you very much for your cooperation.