"Strategic planning, the aspect of corporate management I put most value on" --An interview with the general manager of a Sudanese manufacturer of meat processing products and the like
2017/1/16(Mon)09:10
(Sudan/スーダン)
Eltinay Food Industries (Alarabi)
Mr. Ashraf Tarig Elsir Omer (General Manager)
Sudan
Many business people from abroad including the emerging countries have participated in HIDA training programs. Positions of the targeted audience vary with the programs, and there are some programs aimed for top executives.
This time, we interviewed with a person who runs a manufacturing company of mainly meat processing products in Sudan.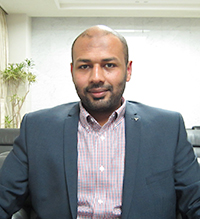 --Please explain your company profile first.
Al Arabi Bakery was originally established in 1974, focusing on bakery products, and El Tinay Food Industries (Alarabi) was established in 2001 as a group organization, focusing on mainly meat processing products. We have two processed food factories. The larger plant, which is mainly a meat processing factory, produces final products such as hamburgers, sausages, pastrami, etc., while the other plant, which is a bread and pastry factory, produces two types of wheat flour based breads, croissants, and eastern delights, a kind of sweet for Arabic countries called "baqlawa". The factories are located in Khartoum, and we have 55 full-time and two part-time employees.
--What aspects of corporate management do you put much value on? Please share with us your management philosophy or policy, or something considered important.
The aspect of corporate management I put most value on is "Strategic Planning". My policy focuses on the systematic process of envisioning a desired future, and translating this vision into broadly defined goals or objectives and a sequence of steps to achieve them. In contrast to long-term planning (which begins with the current status and lays down a path to meet estimated future needs), strategic planning begins with the desired-end and works backward to the current status. For example:
At every stage of long-range planning the planner asks, "What must be done here to reach the next (higher) stage?"
At every stage of strategic-planning the planner asks, "What must be done at the previous (lower) stage to reach here?"
--Do you think of any challenges that hinder your company business to grow and develop further? What kind of actions do you think need to be taken to address the above-mentioned "challenges"?
One of the main challenges facing the business has been the high, unstoppable inflation rates hitting Sudan for the past six years which is affecting entire industries. Also, the poor educational system of the nation, which is a degree-oriented system focusing on memorizing rather than trying to think by oneself, leads to a poor manpower as a result.
First of all, we keep re-inventing new products that satisfy the end-user to tackle the challenge of the undervalued rate of the Sudanese Pound against the dollar, since all of our products are produced for the local market using imported ingredients from Egypt, UAE, German, etc., such as soybean, spices, and packaging materials.
Secondly, we are establishing a new division called the Export Development Division (EDD) inside the company to study foreign markets such as Egypt and the Gulf countries, and their needs in order to start selling products outside Sudan in order to get foreign currency to rebalance the business due to the domestic economic deterioration.
Then the focus is on the company's manpower through constant training programs and efficiency development plans (such as sending them to neighboring countries to be involved in production, sales, etc.) and come back with a wealth of experience to benefit the company.
--How do you view the current status of your business in the global market?
We are doing business only in Sudan at this moment, but I believe the current state of the business globally is very promising, especially in the meat sector; hence, if we get to know:
Availability of large numbers of livestock (cows, sheep, goats and camels), with an increased supply of 100 million animals;
There'll be an increasing demand for meat products and sacrificial sheep, for both local and foreign markets, especially in the Arab Gulf countries and Egypt.
--Are you planning to expand your business overseas? What does your company consider important and wish to focus on to lead your business overseas to a success?
Yes, we are planning to expand overseas especially Egypt and the Gulf Countries with the help of our EDD. In order to achieve healthy expansion overseas we need to focus on the systems and phases of livestock breeding and production in Sudan which need to be developed; and the supplementary production phases involving butcheries and plants for meat processing and packaging.
--Please tell us about the current market environment of your business in your country.
Our main factory brand (Alarabi) is considered one of the top reputable meat processing factories in Sudan, due to the quality of the products, the wide distribution range within most of Sudan's states, well-trained staff and employees, various Corporate Social Responsibilities projects, the continuous development of the final products, and much more. All of the above has made the Alarabi brand a market leader. It is the third largest company, with a market share of around 22% and created a tough challenge for new players to enter the market.
--What are the points that you have kept in mind to develop human resources in your company? In other words, how do you wish to improve your engagement with the matter in the future?
The main points I have kept to develop the human resources in our company are:
Training programs.
Loyalty schemes.
One of the main current difficulties facing the company is the high turnover, which is due to Sudan's bleeding economy; thus, most of the well-trained skillful employees are focusing on migration especially to the oil-rich countries such as Qatar, Saudi Arabia, and UAE. That brings turmoil on the industry and keeps training expenses high on the company; therefore, the loyalty programs (schemes) are meant to keep the skillful employees in the company with a considerable pay rise annually and enhance employees' welfare to satisfy their needs.
--What is your impression about Japan and Japanese companies? Please share with us an episode or experience that surprised or touched you.
First of all, Japan, the great nation that I have known since an early age, even before learning geography, because of our old wooden Sony TV set and many other beautiful gadgets that we had at home at that time and that were all made in Japan. Therefore, from a young age I realized that Japan must be a great country.
And today my old perception has never changed; in fact, it has strengthened by my first ever visit to Japan in late 2016, whereby, I got to know how humble, decent, respectful, kind, and obedient its citizens are. Furthermore, I have been fascinated with the marvelous infrastructure and indescribable railway networks that I have never seen anywhere else in the world. So in a nutshell, Japan is now considered one of my most favorite countries.
On the other hand, when it comes to Japanese companies, I can simply describe them in one word "OUTSTANDING", due to many reasons such as their great care of their staff, continuous eagerness for improvement (by applying the latest theories and technologies), worldwide penetration by their products and services, and most of all their huge annual sales revenues in comparison to many other companies all over the world!
Well, there were so may incredible joyful moments I experienced from the respectful bowing method in greetings, or when excusing oneself, to the cheerful "Thank you" in Japanese by the bus driver to every passenger riding the bus, to the rush of a Japanese person who knows English to guide me or explain something to me instead of simply saying "I do not know or I cannot help."
All of the above and especially this story of an old lady on the subway train were among the best I have experienced in Japan, There was this old lady simply sitting on one of the seats inside the train and another old lady, standing in front of her, was holding and reading a newspaper throughout the journey. But what struck me and drew my attention was that the seated old lady was annoyed and afraid that the newspaper might hit her but she never said anything to the other lady or pushed the newspaper away. All she did was cover her face with one hand to avoid any expected hit by newspaper throughout the journey.
I hope I have been clear enough in shedding some of my experiences in Japan, the great nation. I wish you continuous improvement and prosperity.
Thank you very much for your cooperation.