"Knowledge about products, solution, and market always plays the key role." --Interview with a CEO of an ICT solution company in Bangladesh--
2018/10/15(Mon)15:00
(Bangladesh/バングラデシュ)
Richman Informatics
Mr. MD Abul Kalam Nazmul Huda (CEO)
Bangladesh
Many business people from abroad including the emerging countries have participated in AOTS training programs. Positions of the targeted participants vary with the programs including the ones for top executives.
We interviewed a CEO of an ICT solution company in Bangladesh.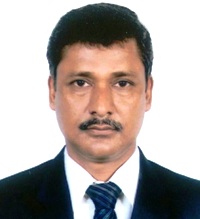 Innovative State-of-the-art Technologies
Richman Informatics, with 42 permanent and additional employees recruited on a project basis, started business in 2002 as an ICT solution provider specializing in network and broadband infrastructure. It is apioneer in introducing cost effective wireless radio link technology in Bangladesh. We provide new product and solution ranges with innovative state-of-the-art technologies, backed by committed integration and maintenance services. We endeavor to develop a substantial satisfied customer base and to facilitate our customers in achieving maximum ROI (Return of Investment).
Our main products and services are LAN Infrastructure, Network Security, Mail Servers, Video Surveillance, Data Centers, Network Storage, Managed Wireless, IP Telephony, PA Systems, and consultancy.
Our strengths are as follows:
-Ethical business development process such as making proposals based on customer needs
-Knowledge-based sales approach
-Satisfied patrons
-Effective solution, sales and back office team
-Focused on IP centric networking technologies to deliver specialization
Contributing to the Economy of Bangladesh
Our management philosophy is to contribute to the economic development of Bangladesh with the commitment of maintaining professional business ethics.
We actively seek bright and creative individuals who can contribute to our team, and who are willing to take up challenges, work hard, and take the initiative in achieving results. In Bangladesh, national holidays are Fridays and Saturdays, but our office is open on Saturdays for offering training to employees to keep up with the rapidly changing technologies.
We also create and ensure a fair and positive work environment in which skills are improved by providing hands-on training and remuneration for employees' security and satisfaction. We provide marital and maternity bonuses, yearly leave and leave encashment, a welfare fund contribution and performance allowance, yearly festival bonus, performance award, and year increment maintaining standard salary scale.
Overseas Hands-on Training
Currently, our market is very competitive and also fluctuates with blind domination of big name brands. There are so many competitors varying from smaller to bigger ones who already have their distributors in the technology market. Since new brands or products could have more opportunities to become a great success, we, as new brand developer, need to provide customers with products in advance with a deep technological knowledge to win the competition.
Although applying new technology and its diversified applications are the major challenges for us in the ICT Industry, this industry is steadily and certainly growing in Bangladesh with more opportunities, and more competitors are entering into this market. A market-leading offer one day may be no better than the average a few months later. The customers are quickly finding out better alternative suppliers who can provide better deals and as such sales growth and profit margins are getting squeezed. Also qualified professionals are insufficient in the market comparing the competitor requirements, so enterprises are hiring qualified professionals at the highest salaries and sometimes appointing substandard professionals to lead the organization. As a result, competition in the market is not healthy all the time.
Despite the fact that it takes a long time for customers to confirm their order, once the order is confirmed, they do not want us to take the required time to complete the order. To deliver our products immediately to customers, we need to keep them in stock and this increases our costs. Long term credit is also a challenge for financial management to explore the business.
As measures against these challenges, working together with suppliers who can grow and serve the market demand is necessary as well as understanding the situation, ensuring, and providing customers with consistent quality and reliability of products and solutions within the right time (or ahead of the competitors) at competitive prices.
Organizing training on a regular basis for the employees to develop and to keep them up-to-date about new technologies and market trends is another measure. Our employees go overseas to get hands-on training, 90% to Taiwan and 10% to China. We also need to always pay attention to keeping up with awareness creation and customer relations to retain our customers by using the latest marketing tools such as social media. A disciplined approach to the customers should be made and an organized support-service is also important.
Exclusively Imported Overseas Products
We have five different overseas brand companies that exclusively export their products to us, since buying solutions from local suppliers is too competitive to reduce or control the cost. Most of our partners overseas have been working with us for more than 10 years. A brand named SAFENET that we introduced in 2010 and covers the passive products (Rack & LAN Cabling) has been maintaining the quality and keeps differentiation in mind. Most of the solutions we provide are imported to manage and control the project and solutions on time and ensure pre and post-sales support. We locally outsource only a few products depending on the case or project.
Doing overseas business needs a compound method and dynamic process. Understanding the targeted market, competition, current local market trends, and strategies is the driving force for doing overseas business. The following may be considered as the keys of success:
Market segmentation and size analysis to determine the sales of products or their prospect in the local market and a period of time to establish the brand in the market.
Products or solution gap analysis against availability in the local market.
Preparing high impact product differentiation
SWOT Analysis – Products, Price, Local Marketing Company
Considering and developing a localized strategy and a business plan that lead the local company to success
Senior executives having deep domain expertise, experience and leadership
Well-structured enterprise, competitive benefits programs to the customers and competitive compensation to the employees
I chose Taiwanese products.
My elder brother's company used to be a distributor of Fuji Xerox in 1968, and Konica in 1972. My family really preferred to work with Japanese companies because of their quality, commitment, and loyalty. So, when I first started my company in 2002, I also wanted to work with Japanese companies and sell their products. However, in those days, I was not yet sure that if Japanese IT was advanced enough. Therefore, I chose the Taiwanese as business partners instead. But now, I am looking for a new partner company in Japan.
The technology and its application are changing very rapidly in this emerging market. I would like to share the business areas that we believe need to be strengthened and explored in the future.
Cloud Computing/ Virtualization (Infrastructure)
Data Center Infrastructure
Information Security
IoT for Enterprise and Industries
Digital Learning System for Academic Institutions

Meanwhile, please visit our website (
www.richman.com.bd
) to understand our specialization or skills to extend our business with Japanese companies, and refer to the areas of our work, scopes, and prospects as well.
As far as business customs in Bangladesh are concerned, punctuality is definitely the key, like Japan, but personal relationships and social networks are also highly important. Knowledge about products, solutions, and the market always play the key role. In most, customers cannot clearly state what they really want. Professionals need to decode what the customer is really looking for and how the products and solutions can serve their requirements up to the mark.
Information on the Inside of the Technology
When working very close to customers, the most important thing is to have the knowledge and information on the inside of the technology, because we are selling solutions.
The automation system in Japan is so advanced. My purpose of taking this AOTS program is to understand the current situation of ICT utilization in Japanese organizations and produce and deliver its quality, reliable and meaningful solutions to meet the demands of today's business environment and compete in the future.
Thank you very much for your kind understanding and cooperation.