"We add value to the scraps and give birth to them as new products." --Interview with a CEO of a rubber product manufacturing and recycling company in Egypt--
2019/3/20(Wed)15:00
(Egypt/エジプト)
Marso Chemicals Co.
Mr. Samuel Mofeed B. Abdalmalek (CEO/ Administrative & Financial Manager)
Egypt
Many business people from abroad including the emerging countries have participated in AOTS training programs. Positions of the targeted participants vary with the programs. Some programs are for the top executives.
We interviewed a CEO of a rubber product manufacturing and recycling company in Egypt.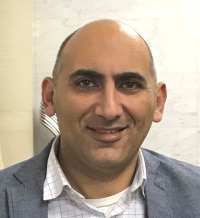 Recycling is our strength.
Marso Chemicals Co. was founded in 1970 in Cairo and moved to Sharqia in 1988. We recycle rubber and manufacture rubber products such as car mats, rubber flooring, electrostatic discharge flooring, anti-fire flooring, gym and sport areas flooring, automotive rubber spare parts, anti-vibration and elastomeric bridge bearings. Our major customer is the automotive industry.
We have two sectors in our company. One is a sector producing genuine rubber products such as safety items for cars. The other sector is a recycling sector where they collect old and scrap tires and remanufacture rubber products out of them. We add value to the scraps and give birth to them as new products such as clothing and car mats. This sector is our strength since there are not so many rubber recycling manufacturers around. Although we have some competitors for each individual production line, very few of them could become our competitor when it comes to the whole production line.
Motivation is derived from not only money but also communication.
We depend on a long term labor force and are trying to facilitate all conditions to respond to our employee satisfaction. I think all the employees at any level or line should be well trained and well experienced to assure durable and good production and efficiency.
When all the employees newly enter the company, or whenever they need to acquire new skills for new machines, they get technical training. Besides the technical training, they get safety training as well.
When the season of Ramadan comes, there are many people from the upper part of Egypt coming down to the cities around Cairo. Therefore, it gets so crowded in our city, too. So, at first, we let our employees live in the government-owned apartment for the factory, and eventually we encourage them to buy a house from the government so that they can own the place they live in. We also prepare meals for them during Ramadan.
Of course, we always try our best to protect our employees from any harmful incidents, and motivate them to produce good quality products. I believe motivation can be increased not only by money, but also by communication, so we always try to talk.
There has been a great demand, so we need to import.
There has been a great demand for our industry's products in the Egyptian market due to the massive amount of construction going on for the past two years. Although we need to secure a great many old tires as raw materials to recycle, during the last 9 to 10 years, there was one major company which entered into the market and they have been gathering most of the scrap tires to burn and make fuel out of them. Because of this, the demand for the scrap tires boosted and their price dramatically went up in Egypt and it forced up our production costs.
On the other hand, our competitors in the other countries such as Europe, receive subsidies from their government for recycling tires. The Egyptian government established a law on importation last April, but it has not been enforced yet. We really need to import tires to overcome these difficulties.
Furthermore, the cost of power in Egypt has risen rapidly for the last 3 years due to new governmental instructions according to the IMF requirements. All the expenses such as fuel and electricity almost doubled, and especially wages rose due to the floatation of the currency from November 2016.
Hoping to form a joint venture with overseas companies
In Egypt, laws such as the labor law and the tax law have been changing in the very short term such as every few months. These changes create an unstable environment for some industries because they cannot invest without a prospect as a supplier.
We are exporting about 15% of our products to many countries in the Middle East and some in Europe. Sixty percent of our exports were to Syria before the collapse there. Currently, since the demand in the local market is greatly growing, there is not enough surplus for exportation.
We are hoping to expand our business by forming a joint venture and agreements with automotive companies overseas. Just like the world's economy, Egypt is gradually moving toward "recycling" now. I am sure that our industry will become stable in the next few years.
I would like to see the actual way of implementing it.
This is the first time for me to come to Japan. This AOTS program was a short program, which is what I was hoping for since I could not be away from work for so many days.
Through this program, I would like to learn about the systems which Japanese companies operate and the actual way of implementing the six sigma to save the labor and the cost.
Thank you very much for your kind understanding and cooperation.