"I am very confident that the Indian automobile sector will show double digit growth from 2021." --Interview with a CEO of a luxury vehicle dealership in Mumbai, India--
2020/11/27(Fri)11:00
(India/インド)
Shaman Wheels Pvt. Ltd.
Mr. Ravichandran Srinivasan (CEO)
India
Many business people from abroad including the emerging countries have participated in AOTS training programs. Positions of the targeted participants vary with the programs. Some programs are for the top executives.
*This interview was conducted remotely.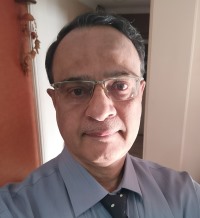 "Customers for Life"
My company's name is Shaman Wheels Pvt. Ltd., part of the Group Shaman in Mumbai, established in 2000. For over two decades, it has been serving automobile enthusiasts and customers in Mumbai, India, representing international major brands such as Mercedes-Benz, Honda, Volkswagen and the British Triumph Motorcycles. We have four workshops for Mercedes-Benz in Mumbai and we stock 20-25 pre-owned luxury vehicles at all times. The group has a large presence in the pre-owned cars segment. Shaman also provides mobility and flexible car rental solutions through Shaman Mobility. Its 1300 strong teams imbibe the group ethos of "Customers for Life".
Our company's management philosophy is highly customer centric and our Dealer Principal, Mr. Amar Sheth, believes that a strong and motivated team and a transparent working culture make a company highly customer oriented and the team should be led by its professional senior management personnel.
Very Simple and Transparent
Our HR policies are very simple and transparent. We place a lot of emphasis on training and manpower development based on individual performance referring to their KPI's (Key Performance Indicator) and target or goal. Further, we celebrate all the major Indian festivals together in the office and give awards to the employees then. We also have group medical insurance policy, birthday leave, and paternity leave for the staff. Our employees show great loyalty to the company and most of the staff including the middle management have worked for my company for more than 10 years.
Our senior management team is easily accessible to the employees for any issues. The senior management team has a meeting with blue-collar employees once a quarter to give recognition to the best performers. This keeps the morale of the staff very high and their performances best.
Confident of Double Digit Growth
In the Indian automobile market, passenger cars and SUV segments are growing at 10% per annum. The current market situation has been challenging due to the Covid-19 virus and the complete lockdown for about 3 months (March-May '20). However, the market has bounced back in the automobile sector from September to October '20, growing at around 14% year on year. It is expected that the quarter (October-December '20) will be good for the auto sector due to the festival season across India. I am very confident that the Indian automobile sector will show double digit growth from the year of 2021 to 22 onwards with GDP growth projected at 7.5 to 8% P.A.
The Indian passenger cars and SUV industry are very competitive as all the leading global OEMs, such as Maruti-Suzuki, Hyundai, Tata Motors, have established facilities here over the last 40 years. Maruti-Suzuki takes up close to 50% market share in India followed by Hyundai at around 17% in the mass volume segment. Mercedes Benz has a market share of around 47% in the luxury cars and SUV segment.
To sustain our business and profitability in today's competitive environment, we are consolidating our operations and cutting down on the major costs of infrastructure, indirect manpower, and interest costs etc. Also, we are investing where we see the business opportunities are higher such as After-Sales and Pre-Owned car business.
Learning and Meeting with People from Different Cultures
I attended the EPCM program of AOTS in 1996 sponsored by my previous company Maruti-Suzuki Ltd. During those two weeks, I had an excellent time learning and meeting people from different cultures and understanding the Japanese way of living. The memories are still fresh in my mind.
Thank you very much for your kind understanding and cooperation.