"'Rocell' – the company's brand, based on four pillars: Design, Quality, Innovation and Customer Delight" --An interview with a director of a Sri Lankan tile and surface products manufacturer
2016/12/7(Wed)13:35
(Sri Lanka/スリランカ)
Royal Porcelain (Pvt) Ltd.
Mr. Nandajith Somaratne (Director/General Manager)
Sri Lanka
Many business people from abroad including the emerging countries have participated in HIDA training programs. Positions of the targeted audience vary with the programs, and there are some programs aimed for top executives.
This time, we interviewed with a person who runs manufacturing company of tile and any kind of surface product in Sri Lanka.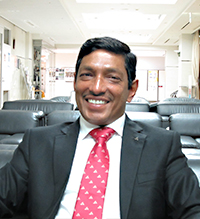 --Please explain your company profile first.
Royal Ceramics Lanka PLC was registered in 1990 in a small village 75 km east of Colombo, and began its operation as a tile manufacturing company in 1992. It was determined to rehabilitate the surface design market not only for tile manufacturing but also for any kind of surface product manufacturing. By 1994 the company had made its transition from a private company to a public entity, showing the results of its commitment to increase the stake holder's interest, quality and design innovation. And our company, Royal Porcelain (PVT) Limited, is a subsidiary of Royal Ceramics Lanka PLC.
By introducing the country's first sanitary-ware manufacturing plant and one of Asia's foremost bathware ventures, the company opened its mission to inspire holistic lifestyle choices. We, both Royal Porcelain (PVT) Limited and Royal Ceramic Lanka PLC, its two tile manufacturing arms, have managed to dominate the competition and the interior landscape under the brand – "Rocell".
In addition to that, Rocell acquired a controlling interest in the Lanka Ceramics Group in 2013, to which its only competitors, Lanka Tiles PLC and Lanka Wall Tiles belonged, in order to become the monopoly manufacturer of ceramic and porcelain tiles and sanitary-ware in Sri Lanka. Today, the Royal Ceramics Lanka group continues its success through penetration into the extruded Aluminium, plantation, packaging, and mining business.
The Rocell sales network consists of 53 showrooms in Sri Lanka with over 100 dealers island-wide, two showrooms in Australia and two more under construction in Australia and India with a host of international dealers. Rocell Tiles, Bathware and Accessories - the name is today a trademark for functionality, originality and finesse.
--What aspects of corporate management do you put much value on? Please share with us your management philosophy or policy, or something considered important.
My management philosophy is to provide an environment that encourages employees to work as a team to achieve corporate goals that will ensure they achieve their career goals too. I achieve this by encouraging employees of all levels to share their new ideas and implementing prospective ones that brings benefits to the company and the employees. We as a company believe in wealth distribution among the stake holders and employees are considered as the key stake holder.
--Do you think of any challenges that hinder your company business to grow and develop further? What kind of actions do you think need to be taken to address the above-mentioned "challenges"?
Challenges faced by any company due to globalization are unavoidable. But we believe each company has its own strengths to capitalize on. We started 25 years ago as a small company and become one of the most successful and biggest group of companies in Sri Lanka. Our success has been recognized by prestigious Forbes as "Asia's 200 best under a billion" three times including in 2016. We have grown at moderate but steady speed and I am confident that with our plans and strategies we will continue to grow.
The challenges we are facing today are twofold. One is the unstable political situation and policies of the country that differs our decision making on investment plans. The other is the competition from cheaper products.
External factors are uncontrollable to any company and our duty is to form a stable company and business that will be resistant to external factors and threats. One of the strategies we have adapted is diversification and backward integration. We are diversified into several businesses today and have done backward integration in our key business. We have started to go global with the establishment of Rocell Pvt. Ltd. in Australia as a strategy to penetrate into this rich market, where we were already represented by distributors and had gained considerable recognition.
Our strategy to face competition is our branding. We have built a very strong brand – 'Rocell' based on four pillars: Design, Quality, Innovation and Customer Delight. Our brand promise is 'enhancing quality of life by adding color, style and elegance'. The brand enables us to demand a premium price for our products in the domestic market. New products and design developments are bread and butter for us. We introduce an average 12 new products every month and our factories are upgraded with the latest technology in the industry. We have the largest product portfolio compared with any other manufacturer in the world.
These strategies have given us immense success. Our sales and profitability have continuous year on year growth of above 20%. We have expanded our capacity every three years to cater to this growth. We are proud to read some advertisements published by property developers specifying Rocell tiles and Bathware to enhance the value and appeal of their properties.
--How do you view the current status of your business in the global market?
We started to be a global company with establishment of Rocell Australia Pvt. Ltd., in Australia in 2015, and are currently in the process of making a franchise network in India and Pakistan. Our export markets at present are the USA, Canada, South Africa, Sweden, the Middle East, India, Pakistan, Singapore, Maldives, Taiwan, and Australia. We have had exported to Japan also sometimes ago.
--Are you planning to expand your business overseas? What does your company consider important and wish to focus on to lead your business overseas to a success?
Our major export market is Australia, where we have about a 2% market share, or the sixth largest manufacturer in the Australian market. There is only one local Australian manufacturer, holding a 14% market share, and 63% of the market is dominated by imported tiles from China, the world largest manufacturer of ceramic tiles, with the advantages of economies of scale, lower energy, capital and labor costs, lower shipping costs and export subsidies given by the government. We are the sixth largest supplier of tiles to the Australian market, and we believe with our presence in the market, we should be able to improve our market share from 2% to 5% as a short term goal. We have opened two massive showrooms in Melbourne and our target is to add three more showrooms covering the major population centers of Australia.
Apart from Australia, we are planning to expand our business in the USA, India and Pakistan, while exporting to the distributors of many other countries mentioned before. We are keen to re-start exporting to Japan as well.
We consider the proper displaying and merchandising of our products and being present our-self in the market as a means to enhance customer confidence and value and this will bring us success in overseas business.
--Please tell us about the current market environment of your business in your country.
We, as a group company of Royal Ceramics Lanka PLC, enjoy a market share of 30% together with our second brand "Lanka Tiles" in the floor tile segment and a 40% market share in the wall tile segment. We are the market leader in Sri Lanka. However 60% of the market share is dominated by imported tiles mostly from China and India selling at much lower prices than 'Rocell' or 'Lanka Tiles'.
We are somewhat protected by import duties, but have been unable to impose any anti-dumping laws. This has resulted Sri Lanka becoming a dumping ground for various stock lots of non-moving or second grade tiles of the two large scale manufacturing countries.
After ending the civil war in 2009, our country started to boom with many construction projects. Although the growth has slowdown in the last two years, there is still considerable growth to capitalize on for the growth of our business. The GDP growth of the country remains around 5% and per capita consumption of tiles has grown to 0.6 square meters per person. This is still lower compared with the lifestyle of Sri Lanka and our estimate is to reach 1.0 square meters per capita in 2020. There is one other manufacturer in the country, who has a 5% market share and the potential to grow. Their market segment is different to ours and we consider them as 'low competitor' as we are catering to two different segments of the market at the moment.
We don't see a major threat in the export market, other than a slow-down in the global economy in some countries. However, in the countries we are focused on, the construction industry shows steady growth. Due to the crisis in well-known countries like Italy and Spain who are producing high quality tiles, where almost 50% of the factories have been closed down, we have great opportunities to cater to their customers with alternative products of high quality and better price.
--What are the points that you have kept in mind to develop human resources in your company? In other words, how do you wish to improve your engagement with the matter in the future?
Improving productivity and efficiency are key success factors for any company. We are in the process of implementing TPM and Lean Manufacturing in our manufacturing facilities under my purview. I believe that Japanese management concepts, which have brought immense success to Japan, could be effectively implemented and improve the performance of Sri Lankan companies to compete in the global market. I wish to use and share my knowledge gained through this program to implement a management system that can improve the performance of my company.
Commitment, knowledge and loyal employees are the most valuable assets. I will engage in improving the knowledge and skills of employees, motivating them with achievements and making them loyal with recognition.
The difficulties and challenges of HRD today are a lack of focus on the job and gaining knowledge and more concern about personal growth, which most of the time are not aligned with career growth. The greatest task in HRD is aligning employees' personnel goals and growth with the growth of his career development.
--What is your impression about Japan and Japanese companies? Please share with us an episode or experience that surprised or touched you.
I was really impressed with the Toyota Production System and how it operates to improve productivity of assembly lines. This is something unique and everyone knows about it, but when you see how it operates only then you realize how difficult it is to reach that level of productivity, which has uplifted Toyota to be a leader in the global automobile industry and to contribute the economy of Japan today.
Another unique manufacturing company I was able to visit during study tour surprised me. They have given a nice human touch to such a hard metal factory. Their 5S system is well done with creativity and employee engagement, while creating an environment in the factory for the employees to work happily in teams, encouraging employee suggestions and comments, and appreciation of work, etc. It is simply a great place to work.
In general, I was impressed with the human concern of the Japanese management. We are here to learn about Japanese Management System and see whether we can make use of it. But I also realized that most of giant Japanese companies are now practicing a Western - Japanese mixed management concept, which has helped them to grow faster. In my view, it is difficult to manage large companies with the Japanese management system with the human touch, which considers human resources are the most valuable resource and make use of them with upmost care. This kind of Japanese management philosophy is more useful for small and medium companies (SME) to build a company on strong values and philosophy, which would allow such companies sustain it for a long time. However, it would be inevitable to transform into a western mixed management philosophy when the company grow and become bigger and global with large number of employees.
Thank you very much for your cooperation.