"We would like to continuously put emphasis on providing healthy products to the public" --An interview with the managing director of a Sri Lankan herbal tea manufacturer
2016/12/2(Fri)14:55
(Sri Lanka/スリランカ)
Food & Nature (Pvt) Ltd.
Mr. P. M. Chamendra Somatunga (Managing Director)
Sri Lanka
Many business people from abroad including the emerging countries have participated in HIDA training programs. Positions of the targeted audience vary with the programs, and there are some programs aimed for top executives.
This time, we interviewed with a person who runs an herbal tea manufacturing company specializing in the green tea segment in Sri Lanka.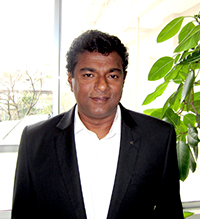 --Please explain your company profile first
Food & Nature (Pvt) Ltd., is a pioneer in Herbal Tea products in Sri Lanka under the brand name "Fadna", specializing in the green tea segment, and the company is located in Maharagama, about 16km from downtown Colombo. With more than 40 employees, we have been manufacturing, marketing and exporting many varieties of herbal teas in convenient tea-bag form since 2004, and our sales amount is over 240,000 USD per year.
Both locally and internationally, "Fadna" herbal tea products are manufactured without preservatives, artificial flavors or colors. The products are packaged in compatibility with international standards. The factory has obtained HACCP and ISO 9001:2000 certifications. Food & Nature (Pvt) Ltd., is a company certified and awarded for general principles of food hygiene by the GMP (Good Manufacturing Practice) System. The company has also been certified by the Department of Ayurveda of the Ministry of Indigenous Medicine of Sri Lanka. Importantly, the Department of Ayurveda confirms that the herbal tea produced by Food and Nature (Pvt) Ltd., can be consumed without prescription and is suitable for general use. Dr. D. B. T. Wijeratne, a foremost food scientist in Sri Lanka, provides the product technology and is a consultant to the company.
--What aspects of corporate management do you put much value on? Please share with us your management philosophy or policy, or something considered important.
Food & Nature (Pvt) Ltd., has recognized that the preservation of natural resources is a corporate responsibility and also an important fundamental to the company. It is the core of FADNA's corporate culture and philosophy to reduce the burden on the environment at every stage in a product's life cycle, from R&D through manufacturing, sales, usage and to disposal.
--Do you think of any challenges that hinder your company business to grow and develop further? What kind of actions do you think need to be taken to address the above-mentioned "challenges"?
We recognize the lack of training in several areas such as R&D, production line and sales and marketing. And we have also recognized the increasing competition in our market segment. We have now planned to arrange several training programs on R&D with the participation of industry experts from outside the company, such as university or government related organizations.
We also plan to improve production line efficiency by providing incentive schemes to employees and also to improve better working conditions by providing a comfortable working environment.
--How do you view the current status of your business in the global market?
Our business is mainly operated within the country but we are exporting our products to the Middle East, Russia, and Australia, and we are expecting to expand further to the global market.
--Are you planning to expand your business overseas? What does your company consider important and wish to focus on to lead your business overseas to a success?
Yes, and the primary objective of FADNA is to provide the public with a simple and effective manner of enjoying good health and general well-being. We would like to continuously put emphasis on providing healthy products to the public.
--Please tell us about the current market environment of your business in your country.
Currently our main product, called "FADNA Shape Up Tea", is the market leader in the green tea segment in Sri Lanka. There are many segments in the tea industry, out of which we specialize in the green tea segment, and we have gained about 45% market share out of all green tea products in this segment. There are so many local competitors, and over 100 companies in Sri Lanka.
There are many entry barriers to face in this kind of business such as the following:
Strict rules and regulations set by the government
The complexity due to the existence of several regulatory bodies to regulate the industry.
Expert knowledge is needed for consumers to understand the importance of products like these.
--What are the points that you have kept in mind to develop human resources in your company? In other words, how do you wish to improve your engagement with the matter in the future?
In Sri Lanka, the top down approach is relatively common, but we use a participative leadership style throughout the process. By consulting employees and taking their ideas into account we make decisions and take particular actions. This kind of approach is the best when the employees are experts and their advice is both needed and they expect to be able to give it. Fortunately, we have many experts in our companies.
--What is your impression about Japan and Japanese companies? Please share with us an episode or experience that surprised or touched you.
Japanese companies emphasize the importance of the combined efforts of all the staff for success while investing in research for the company to become more eco-friendly. Japanese companies pay special attention to having their industries in compliance with the environment. The founding concept of most Japanese companies is to hand down entrepreneurship to the next generation.
I had an opportunity to visit a particular company. It is a company that handles the dismantling of automobiles in compliance with the Automobile Recycling Act of Japan. It has set up a used car supply shop dealing with high quality tyres, wheels, Audio, GPS navigation systems, etc., for a reasonable price. I was surprised to learn that the company has become a quality recycler.
Thank you very much for your cooperation.