"We need to grow a humble attitude in all my employees starting from the top management" --An interview with the managing director of Sri Lankan private school
2016/11/25(Fri)14:16
(Sri Lanka/スリランカ)
Royal International School,
Mr. J. R. N. PEIRIS (Managing Director)
Sri Lanka
Many business people from abroad including the emerging countries have participated in HIDA training programs. Positions of the targeted audience vary with the programs, and there are some programs aimed for top executives.

This time, we interviewed with a person who runs a private school providing English medium education in Sri Lanka.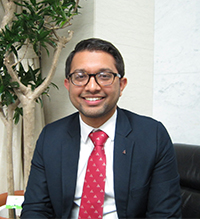 --Please explain your company profile first
Royal International School, an educational institute catering to around 2,500 students from ages three-plus to 18, was established in 1991. We are located about 100km northwest of Colombo, or about a 2-hour drive away, and have around 210 teachers and 40 administrative staff. Our main 'product' is English medium education; however, we also place a strong emphasis on cultural and traditional values including ethics and morals.
--What aspects of corporate management do you put much value on? Please share with us your management philosophy or policy, or something considered important.
I'm not well educated in different management philosophies since my background is in development studies and public policy. However I would think one aspect of management I'd stress is that we must try our best to stay true to our founding values through innovative thinking even as times change and business gets tough. The founding values of this school are to be able to provide affordable English medium education; even though the environment is changing rapidly, making it unsustainable to keep on charging comparatively low fees, we have recently kick-started a series of mainly self-financed scholarship schemes and are looking into ways to diversify the business to find alternative sources of income. So in a nutshell; innovate, diversify but stay true to your core values.
--Do you think of any challenges that hinder your company business to grow and develop further? What kind of actions do you think need to be taken to address the above-mentioned "challenges"?
The pressing challenge at the moment is the human resources related. Firstly, to find good staff and secondly, to retain staff. The first one is an external country-wide issue which we have no control over and the second issue is partly related to our vision of providing affordable education to our students. Competitors are able to pay better given their fees are higher. Therefore there is a need to revisit the vision of the company. Another challenge would be that there is not enough clarity in the job roles, communication processes and the procedures in the school. The organizational culture needs to be changed and for this to happen, staff attitudes need to be shifted. This is incredibly hard to do especially since some feel they are not appropriately remunerated. In addition, the staff is either used to traditional ways of working - no email culture, very laidback approach – or are fresh graduates/school leavers who are looking for a job with little experience. This requires a lot of work to be done on them as the company tries to professionalize our approach to work.

The challenge of retaining staff and trying to remain competitive in the labor market – the most obvious way is to increase the salaries and we have already begun that. We also moved to increase our incentive schedule for positions of leadership; recognizing and appreciating hard work further. However since this will become a burden on the company's finances, we have decided to raise the school fees from 2017. In order to still keep true to the vision of affordable education, we have widened our scholarship program and have even attracted support from private individuals who are willing to sponsor deserving cases.

As for moving to a more professional environment, the school is becoming more methodical in its approach. New procedures are piloted and implemented, job roles are re-defined and explained, 'champions' in the lower hierarchy are identified and empowered however it is slow progress.
--How do you view the current status of your business in the global market?
We do not have direct links to the global market, however, we have attracted foreign volunteers and teachers at differing points to the school. This is mainly via personal contacts, and currently there are two British teachers on a part-time basis.
--Please tell us about the current market environment of your business in your country, including the introduction to the Sri Lankan educational system.
Our school is divided into three sections: pre-school (3-6 years), primary (6-11 years) and secondary (12-18 years). In the State system, there generally isn't a pre-school facility. Pre-school isn't compulsory but the other two are generally compulsory because there isn't a widespread availability of vocational training centers; however, you do find in some areas of the country that children drop out of secondary school education. A lot of the pre-school facilities teach in English but to varying quality standards, and as per a bit of research conducted by myself, only 6.5% of government schools (primary and secondary) offer education in English. The gap found in English medium education is therefore mainly filled by private schools like my school. There are many in the country, again with differing standards and fee structures as there is no regulatory body to audit the schools nor is there legislation specially designed for us; although there will be measures introduced by the education ministry in the future. I for one will welcome it as long as we are able to get access to state resources such as teacher trainers, opportunities for our students (we can't participate in some government events like sports functions such as cricket competitions or dancing competitions, etc.). They have passed stricter regulations about new private schools registering however.

Therefore there is an acute need for English education especially given that the largest sector is the service sector, not to mention the private sector, operates in English. So therefore you have an emerging problem in the country; you have young school leavers out of which only a minority are literate in English, i.e., the labor market will eventually not be supplied with people with the required skills. Given this situation, the private school market is a lucrative place to be in Sri Lanka; however we as a school do not want to charge a premium for a product (English education) that is heavily in demand.

As for the Sri Lankan educational system, it is really hard to pinpoint any unique feature in the Sri Lankan education system, or at least if I've not experienced anything as such. Our education system is somewhat a disadvantage to young people growing up – it is such a textbook based approach to teaching which discourages out-of-the-box thinking. Hence why I believe working in a school is a really unique opportunity to try to shape the future generations. I do not think I nor the school has introduced anything unique as of yet but we are in talks with an organization called "THINK EQUAL" and we hope to be their pilot project in Sri Lanka. It is mostly a gender based approach for empowerment of women in learning which I think would be something of real value in a very patriarchal society.
--What are the points that you have kept in mind to develop human resources in your company? In other words, how do you wish to improve your engagement with the matter in the future?
I feel that having a smoothly functioning school with institutionalized procedures and processes is one way to ensure that human resources are developed. As of right now, the school while having lots of hard working staff requires set-in-stone processes so that everyone knows what action one has to take in any given situation. The school needs to develop from a micro-managed small firm mentality where a lot of decisions are taken at the top, creating a bottleneck in decision making at the lower level. Actions are being taken to remedy this situation with processes and procedures being piloted and reworked on and with key members of the staff given the freedom to make decisions at least for the minimum necessary matters. Of course, all major decisions are at the moment taken by top level management but employees are slowly being more empowered to act on their own.

The ideal aim is that any single member of staff knows exactly what to do in any given situation.
--What is your impression about Japan and Japanese companies? Please share with us an episode or experience that surprised or touched you.
Japan is a wonderfully organized country - punctuality and the level of attention to detail is incredible to see. Therefore it is not a surprise to experience Japanese companies having similar practices. However, despite this level of detailed organization, what continues to give me such a positive impression is the Japanese people particularly have two main traits: politeness and humility.

It is evident from everyday experiences to experiences gained from the company visits. For example, the founder of Panasonic and the owner of hatcho miso (one kind of fermented bean paste) manufacturer, two persons I gained some insight into, had levels of extreme humility. They were very empathetic and down to earth. These experiences continue with my informal experiences with Japanese people; be it the person who drives the bus, to the director of HIDA, to the head of the Tenrikyo Church. It was such a positive experience.

Therefore I believe that no matter how organized a system can be, it matters more if the people who are behind it are kind, humble people. I have stressed before that my school requires a functioning system but I need to simultaneously try to grow a humble attitude in all my employees starting from the top management.
Thank you very much for your cooperation.