"To be honest and sincere, to pursue continuous development, and to learn and understand the customers' needs evenly, - Key Success Factors we believe in" --An interview with the managing director of a Thai manufacturer of gray and ductile cast iron
2016/11/18(Fri)14:55
(Thailand/タイ)
Wantana Foundry Co., Ltd.
Mr. Nisorn Ngawbenjakun (Managing Director)
Thailand
Many business people from abroad including the emerging countries have participated in HIDA training programs. Positions of the targeted audience vary with the programs, and there are some programs aimed for top executives.

This time, we interviewed with a person who runs a manufacturing company of gray and ductile cast iron in Thailand, which has business relations with many Japanese companies.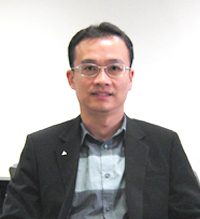 --Please explain your company profile first.
Wantana Foundry Co., Ltd. was established in 2002. It has a size of 12,800 square meters including factories, and we currently have 80 employees. We are a manufacturer of gray and ductile cast iron, and located about 20 km south of Bangkok. Our plant focuses on the management system though a continuous improvement process together with the requirements of our customers. Among our customer companies, Japanese companies make up more than 40%, and we are expecting it to increase to 60% within the next year.

Our products are mostly supplied to agricultural and automotive industries for pulleys, brackets, etc. Wantana Foundry is affiliated with Wantana Holding Co., Ltd., which has been in the Thai foundry industry for more than 40 years.
--What aspects of corporate management do you put much value on? Please share with us your management philosophy or policy, or something considered important.
Our philosophy is "TRUST THROUGH EXPERIENCE".

Our foundry focuses on the development of cast iron's properties, which are different for gray and ductile cast iron, through a continuous improvement process together with customers. We attempt to give the best result and composition in terms of quality or purity, to meet every client's need.

Systematic management together with our equipment and foundry experience are also the key resource for attaining customers' satisfaction at all levels.
--Do you think of any challenges that hinder your company business to grow and develop further? What kind of actions do you think need to be taken to address the above-mentioned "challenges"?
The challenge to progress as a sustainable enterprise is honesty, and at the same time to meet customers' demands at any time. This will result in customer satisfaction in the products and services we offer, and we are trying to do the following:
Develop human resources in the organization to have advanced knowledge in order to accommodate changes in technology.
Develop and improve existing resources such as machinery and testing equipment. To improve potential by reducing costs and reducing waste in the manufacturing process evenly.
Develop a corporate culture to encourage all employees to be honest, responsible and willing to learn in order to meet the needs of customers.
Give knowledge of 5S, JIT, etc., to employees, understanding about the losses that occur in each part of the system (seven types of waste), including its value through training.
--How do you view the current status of your business in the global market?
The current business condition is very competitive. The organization must adapt to keep pace with the changes taking place, by increasing production efficiency and reducing production costs.

We have business only with Japanese companies beyond the local Thai market. Japanese customers show interest in our company, and the amount of their orders has increased. We further need to improve the management of production in relation to customer needs.

We are a family-based company and our business has passed to the second generation now. We always need to improve the production management system to be accepted by the customers especially the Japanese manufacturing companies, both located in Japan and based in Thailand.

Our organization requires education and knowledge transfer to employees on all levels, about management, work culture and traditional Japanese style of business, to be able to understand and perform tasks in line with what Japanese customers and local Thai customers want in terms of delivery on time and cost reduction.
--Are you planning to expand your business overseas? What does your company consider important and wish to focus on to lead your business overseas to a success?
Yes, I am planning to expand our business overseas in such countries as Myanmar, Vietnam and Cambodia over the long term.

The key success factors that we believe are essential in enabling an organization to succeed in doing business with Japanese companies are as follows:
To be honest and sincere.
To pursue continuous development.
To learn and understand the customers' needs evenly.
We have learned the Japanese culture and style from doing business with Japanese companies. These factors helped us develop and improve product quality and an effective production process by using a checking and monitoring system to ensure the quality of manufactured goods. Owing to mutual trust and confidence, the business becomes sustainable and long-standing challenges can be handled, and as a result, our business can pass from our second generation to the third generation.
--Please tell us about the current market environment of your business in your country.

The general economic condition in Thailand is that of low expansion and is still recovering from political instability. However, the economy is in a period of adjustment and we have a better outlook.

For an industrial casting company, things are likely to be better due to the expansion of the production of industrial parts and machinery which has occurred with the relocation of Japanese companies to Thailand. There are about 100 local competitors in Thailand and our market share in the foundry industry is approximately 10%.
--What are the points that you have kept in mind to develop human resources in your company? In other words, how do you wish to improve your engagement with the matter in the future?
We are trying to develop a means to educate our employees in the organization, the heart of the organization, to be competitive in the market. We are aware of the importance of this as a first priority.

The Human Resource Development will ensure the success of business. Apart from sending employees training courses and learning new things by topic, the critical factor is that those employees must be committed to learning new thinking and accepting the changes that will occur. What they learned should be applied to the real work at hand.
--What is your impression about Japan and Japanese companies? Please share with us an episode or experience that surprised or touched you.
I think Japan has a unique personality unlike any other nation particularly for the following points:
Highly disciplined and responsible for themselves.
Like helping others and diffident.
Respect for self and others.
Learn to develop oneself all the time.
When Japanese companies do business, it will be sustainable and the Japanese will help to develop the business together, with respect to our business whether they are suppliers or customers.
Thank you very much for your cooperation.