"The value of workplace diversity is important, not only to the organization, but also for the staff, society, and ourselves" --An interview with a director of a Thai soap manufacturer
2016/11/10(Thu)14:27
(Thailand/タイ)
STS Consumer Products Co., Ltd.
Ms. Arunee Sirichaovanichkarn (Business Development & Human Resource Director)
Thailand
Many business people from abroad including the emerging countries have participated in HIDA training programs. Positions of the targeted audience vary with the programs, and there are some programs aimed for top executives.
This time, we interviewed with a person who runs a soap manufacturing company in Thailand.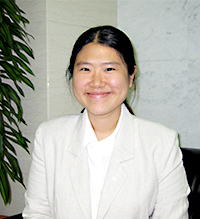 --Please explain your company profile first.
STS Consumer Products Co., Ltd. is a soap manufacturing company for OEM (Original Equipment Manufacturing), ODM (Original Design Manufacturing), and Private Label services, and was established in 1999. Our production capacity is 150-200 tons per month with 160 employees, and we are located about 40 km southeast of Bangkok city.
Our main products are Thai traditional herbal soaps, natural soaps, spa soaps for relaxation, cold process soaps (in other words, hand-made soaps), aroma soaps, fancy soaps, etc. We consider ourselves as a one-stop service company since our services start from soap formulation, marketing consultation, package designing, and to the target market in compliance with a regulation. We also provide documents providing services to help our clients simplify and speed up their product launch in compliance with a certain regulation.
--What aspects of corporate management do you put much value on? Please share with us your management philosophy or policy, or something considered important.
Our core values, which stand for the name of our company (STS Consumer Products Co., Ltd.), are as follows:
S – Solution Oriented:
To become our clients' partner, we provide solutions and offer options for the best results. Our key competency is flexibility.
T – Trustworthy and Ethical:
We build trust from the quality of the work. Integrity and morality are keys to our success.
S – Service Minded:
To be generous and communicate with positive intentions among inside and outside stakeholders, detail-oriented to build client satisfaction, and do results follow up.
C – Creativity and Innovation:
To be enthusiastic about self-development, be open minded about differences to cumulate in ideas, be brave to try new things, be up to date, adaptive, and continually develop ourselves.
P – Public Minded:
To be supportive, always share ideas, and always be considerate of how our actions affect others including different teams in the organization, community, society, and environment.
--Do you think of any challenges that hinder your company business to grow and develop further? What kind of actions do you think need to be taken to address the above-mentioned "challenges"?
The ability to increase profit margins and ability to sell are our key challenges in my view. As we have always been a client-oriented manufacturer, we develop each product uniquely for each client. As we used to manufacture soaps only based on OEM orders, it consumed much time and costs. And it's really hard to increase profit margins for an OEM company like us.
Also, our marketing team, considered as a sales team, was more like a customer service function team. They spent most of their time on coordinating between clients and the company about product development, which meant they hardly had any time to approach new markets to introduce our products and services.
We have just started our own brand, called "COSMOS & HARMONY" in 2016, to generate more profit margins and sales volume. Also we would like to play a brand owner role to be able to be a marketing consultant for our OEM clients.
We are developing product standards and Private Label products according to a variant target market, which helps in reducing time and costs. And this will help our marketing team to have the time and finished products to approach new markets. Also, our R&D team will be able to focus more on innovative activities.
--How do you view the current status of your business in the global market?
I think the nature and health concern trend is an advantage for us because we are specialized in herbal and natural soaps. It's an opportunity for us to introduce ourselves as a natural product provider.
For the Japanese market, we started business with a Japanese agent in 2014. This company provides gifts and lifestyle products to many important bricks and mortar stores in Japan. And we are good at developing gifts and premium products.
--Are you planning to expand your business overseas? What does your company consider important and wish to focus on to lead your business overseas to a success?
Yes, we try our best to expand our overseas business.

Besides understanding the target market, we need to focus on having international standard certification such as Good Manufacturing Practice (GMP) or other required standards to be able to build up the trust of our overseas clients. Speaking of the Japanese market, we need to learn more about Japanese culture and needs to be able to create the right products for the right market. We are also interested in products for Japanese aging society now.
--Please tell us about the current market environment of your business in your country.
Simply speaking, there are two types of bar soaps, one is handmade soaps and the other is mass produced soaps. The usage of handmade soaps is increasing in beauty, herbal, and natural markets in Thailand. People started to use more value added bars of soap three years ago. However, the kind of soap they are using is more like a handmade soap with a saponification process that we have just started producing this year. We cannot compete with mass production products so we choose to focus on this niche market with the value of natural ingredients and herbs.
The other beauty bar soap, the mass production types, such as Lux, Dial, Olay, etc., is going down as the consumer is switching to use liquid soap as it's more convenient.
And there are about five leading local companies in the soap manufacturing industry in Thailand, and our company is one of them.

--What are the points that you have kept in mind to develop human resources in your company? In other words, how do you wish to improve your engagement with the matter in the future?
As my company is a family business, which has a centralized style management, we are aware that it is hard to expand the company with this kind of management style and it is really hard to change the company culture.
We realized the above-mentioned situation a few years ago, so we started actions, from clearing our Vision and Mission and focusing on team building activities, starting to use Key Performance Indicators (KPI), and having our staff generate shared goals.
Besides the company's goals, one of our missions is to promote the individual skills of human resources so that they match their work. And we are also encouraging the value of workplace diversity because we think it's not only important to our organization, but it's also good for the staff, society, and ourselves.

--What is your impression about Japan and Japanese companies? Please share with us an episode or experience that surprised or touched you.

"Creative" would be the right word to explain my impression of Japan. This word could be used with almost everything I encounter: food, infrastructure, functional products, or other everyday life products, etc. These are what we couldn't find in other countries. And even though I've come to Japan for more than 7 times, there is always something new to impress me.
"Respectful" is another word that I could extract from noticing how Japanese are. Most of them have respect in almost everything related to their lives such as nature, people, food, or the duties of themselves or others.
Besides the advanced technologies, these two words reflect how Japanese companies are. They respect their work and do their best for their duties. They always improve their work with understanding for what should be done. They can be highly creative on a realistic basis because of their respect for others. They also have a great teamwork company culture. I believe these are the keys of the country's success.
Thank you very much for your cooperation.