"Holding approximately 45% of the modern trade market share with supermarkets and convenience stores, etc." --An interview with a director of a Sri Lankan leading modern retail company
2016/12/26(Mon)13:30
(Sri Lanka/スリランカ)
Cargills (Ceylon) PLC
Mr. L. Sajith Sameera (Chief Information Officer)
Sri Lanka
Many business people from abroad including the emerging countries have participated in HIDA training programs. Positions of the targeted audience vary with the programs, and there are some programs aimed for top executives.
This time, we interviewed with a person who runs a leading retail company under the brand name of stores, "Cargills Food City" in Sri Lanka.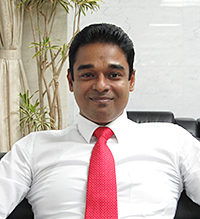 --Please explain your company profile first.
Cargills (Ceylon) PLC is a leading retail, FMCG (Fast Moving Consumer Goods) and restaurant company in Sri Lanka, established in 1844. "Cargills Food City", the brand name of our stores, is Sri Lanka's largest modern retailer and holds approximately 45% of the modern trade market share with supermarkets, convenience stores and a hypermarket. The company is listed on the Colombo Stock Exchange with a capital fund of approximately 250 million USD.
Cargills also manufactures with state of the art production facilities covering the dairy, processed meats, processed fruit, beverage and confectionary sectors. We are the number one dairy ice cream brand and the second largest private sector dairy company in Sri Lanka. We are also a leading nectar, sauces, jams and juices brand and an emerging biscuits brand under the 'KIST' portfolio. There are other Cargills manufacturing brands; Sams, Goldi and Finest for processed meats, Kist for processed fruits and vegetables, and Magic & Kothmale for ice cream and dairy products.
In addition to operating supermarkets and manufacturing, we franchise KFC (Kentucky Fried Chicken), and we are the leading international QSR (Quick Service Restaurants) franchise in Sri Lanka. The Cargills group also includes a private commercial bank (Cargills Bank).
The current figures of Cargills operations in Sri Lanka are as follows:
There are over 300 "Cargills Food City" supermarkets and convenience stores.
There are over 27 KFC Restaurants.
We have mass market distribution and supply 50,000 groceries.
There are over 10 vegetable and fruit collection centers island-wide and we distribute products to each supermarket from there.
We purchase products from more than 10,000 registered vegetable and fruit farmers, and from more than 15,000 registered dairy farmers.
There are 22 chilling centers and we distribute to manufacturing plants from there.
We have over 8,000 employees excluding farmers from across the island.
--What aspects of corporate management do you put much value on? Please share with us your management philosophy or policy, or something considered important.
Our mission is 'Food With Love' - Serve the rural community, our customers and all other stakeholders in a sustainable manner through our core businesses based on enhancing the skills of the young, reducing the cost of living and bridging regional disparities.
From our inception as a wholesale and retail business in 1844 and throughout our evolution to emerge as a strong player in Sri Lanka's food and beverage industry, we remain grounded in a culture of trust and respect. This remains the standard by which we do business. We operate with integrity and accountability. We are committed to serving consumers in a responsible way; reducing our environmental impact; and improving the communities where we live and work. We are passionate about our goal to be a leader in nourishing people and operating responsibly across the agricultural, food, industrial and financial markets we serve.
Nourishing people:
The breadth and scope of our business gives us an unparalleled view – and with that broad perspective comes responsibility. We are committed to nourishing our growing population while protecting the environment. We continue to find new ways to help farmers produce more food more sustainably and to develop more efficient methods of moving food from times and places of surplus to times and places of deficit. We know that with the talents and conviction of our employees, we can help meet the challenge of ensuring all people have access to safe, nutritious and affordable food.
Operating responsibly:
We focus on meeting today's needs without impairing the world's capacity to serve future generations. Our responsibility extends beyond our own operations to the suppliers, partners and other stakeholders in our supply chains. A responsible supply chain respects people and human rights; produces safe and wholesome food; treats animals humanely; promotes the best, most responsible agricultural practices; and reduces environmental impact, including protecting the land and conserving scarce resources. Achieving this will require collaboration with all stakeholders across developed and emerging markets. We strive to demonstrate measurable progress against the supply chain issues that we can control and those we can influence.
Following our Guiding Principles:
Adhering to high standards of business conduct has been important to Cargills since our founding. We are governed by a Code of Conduct, which is grounded by a strong set of values and ethics that are passed down through more than a century and a half of business and community engagement. We know our ability to grow as a company depends on the way we treat people, how we enrich our communities and how well we serve our customers. Through the efforts of our employees, Cargill will grow profitably and grow responsibly to meet the needs of a diverse, expanding and interconnected world.
--Do you think of any challenges that hinder your company business to grow and develop further? What kind of actions do you think need to be taken to address the above-mentioned "challenges"?
Our Business Targets:
To improve the operational efficiency, we want to expand our retail outlets to 1,000 stores within five years, connect and interact with customers, farmers, suppliers and staff, and have a data driven decision making culture with analytics.
[Challenges for the business of our company]
Outdated and legacy technology platforms, lack of integration with internal/external systems, many inefficient processes and procedures, and challenges in information accuracy and data security. In addition, there are opportunities to expand the business through technology innovations.
[Countermeasures need to be taken to address the above-mentioned "challenges"]
Revamp the current IT infrastructure and introduce new IT systems with state of the art technology platforms, automation, integration, e-commerce platforms, B2B, business process transformation and BI (Business Intelligent) platforms.
--How do you view the current status of your business in the global market?
Cargills currently fully focuses on the local market and has no business relations in the global market.
--Are you planning to expand your business overseas? What does your company consider important and wish to focus on to lead your business overseas to a success?
Cargills will consider new business opportunities in the global market. Cargills is a food company which manufactures and sells dairy milk products, cheese, spices, mineral water, sauces, jams and juices using fresh fruit/fresh milk. In addition, Cargills is one of the largest fresh vegetable and fruit collectors in the country through our country-wide collection center network. So we have the potential to export any of these items to international markets with some value additions.
--Please tell us about the current market environment of your business in your country.
Modern trade market, meaning supermarkets in Sri Lanka:
Modern trade remains at around 15% of total trade in Sri Lanka. As such the potential for growth and penetration is tremendous. Cargills Food City, established in 1983, has spearheaded the transformation of modern trade in Sri Lanka and has led the upward movement of consumers towards seeking out better shopping experiences focused on quality, price reliability and food safety. The company currently operates in each of the island's 25 districts and currently has 307 outlets, which are in supermarket and convenience store formats. The modern trade universe also includes competitors such as Keells Super, Laugfs Sun Up, Arpico and state-operated Sathosa, which is a welfare model intended to keep the cost of living in check through the control of commodity prices. In terms of revenue Cargills Food City currently holds nearly 50% of the modern trade market.
Revenue share of retail business in 2015/2016 is as follows:
・Cargills – 44%
・Lanka Sathosa – 22%
・Arpico – 17%
・Keels Super – 17%
Opportunities in modern trade in Sri Lanka can be shown in the following:
・Modern trade only 15% of total trade
・Aggressive outlet expansion beyond Colombo
・Increasing awareness and demand for food safety and quality
・Surge in economic growth outside the western province of Sri Lanka
・Growing per capita income and emerging middle class
・Price leadership strategy to drive footfall
The situation of Cargills Manufacturing (FMCG) is as follows:
The FMCG segment of the Group, led by dedicated Operational Heads, has eight production units and one primary processing facility along with 22 collection centres for the sourcing of fresh milk. The Group's FMCG Brands are national brands that have led industry innovation and are largely distributed within Sri Lanka with limited exports to India, the Maldives and the Middle East. The main source of our raw material is local small farmers ensuring freshness and quality and commitment to regional growth.
Fifty seven percent of Cargills Manufacturing comprises the dairy business with a comprehensive portfolio of products including ice cream, pasteurized and UHT (Ultra-Heat Treatment) milk in both plain and flavored form, yoghurt, curd and cheese.
We are present in Agri processing through a range of categories including nectars, juices, jams, sauces and cordials (turnover in agri-foods is 19%).
We have a meats facility catering to fresh and processed meats including sausages, meat balls and other culinary products (turnover in the meat sector is 16%).
We are present in the confectionaries category through our biscuits and wafers plant (turnover in this sector is 8%).
--What are the points that you have kept in mind to develop human resources in your company? In other words, how do you wish to improve your engagement with the matter in the future?
It is extremely difficult to concentrate on staff individually as there are 8,000 staff in the company. It is difficult to have interactive secessions with them as they are spread all over the country. The company is operating each and every day of the year from 8.00 AM to 11.00 PM. Training staff and maintaining operational standards and service consistency is extremely difficult even though we have a standard operation procedure because of high turnover rate.
We are now developing an eLearning culture with the group, provide an eLearning platform where staff could go through certain material, etc., and answer the questions to make sure they have understood the content. Staff performance and the evaluation process is linked to the eLearning program.
Also, we are providing the staff with a social media type platform/portal to communicate within the company and share news, messages, etc., and have a forum to interact with each other. This may be an informal channel and even the management team also can use it for informal communication. Even virtual events using the intranet such as art competitions, etc., could be arranged to improve staff interactions.
--What is your impression about Japan and Japanese companies? Please share with us an episode or experience that surprised or touched you.
This is my third visit to Japan. The first time I came to Japan was in 1999 and my second visit was in 2007.
The most noticeable thing I see in Japan and Japanese companies is that everything in Japan is done very methodically. They plan very thoroughly before doing anything. They consider even minor details in the planning process. At the implementation level, everyone knows what has to be done at what time. There is a plan or schedule with a clearly defined methodology and guideline and people just have to follow it. There are so many examples that can be given even in this HIDA training program.
On the other hand, Japanese people follow and adhere to the plan and set standards without any force or regulator. They do not deviate from the original plans or standards. Thus implementation of any plan is easy as Japanese people obey what was decided at the planning level. They stay focused on what they should do as per the plan and do not become sidetracked. Therefore they could maintain the consistency in everything they do and always could achieve what was planned. This is what I noticed in every place I visited, be it a public place or a private company. Therefore Japanese people and companies are able to maintain the high quality standard in their products and services consistently. That is why people before purchasing ask "Is it made in Japan?"
Even in the road, railway stations, shops, manufacturing companies, agricultural farms, everywhere Japanese people follow the set standards and set rules. There is no exception to different people, even the company chairman or lower grade worker follow the same standard, and they do not deviate from it. One example is that they queue on the left hand side when moving up the escalator, so any person in a hurry can overtake the queue without any problem. I know this is not a law in Japan but people just follow it by practice as they do believe it is a good custom set by Japan, although I do not know whether any other country has this type of custom.

Therefore, in my opinion, thorough planning and adhering to those methodologies, plans and guidelines is one of the critical factors for success in Japan and Japanese companies in maintaining their quality of products and services consistently throughout the period.
Thank you very much for your cooperation.