"Willing to expand the business overseas, including Japan" --An interview with the managing director of the IT solution providing company in Nepal
2016/12/20(Tue)11:30
(Nepal/ネパール)
Digital Age Nepal Pvt. Ltd.
Ms. Dibyswory Dhar (Managing Director)
Nepal
Many business people from abroad including the emerging countries have participated in HIDA training programs. Positions of the targeted audience vary with the programs, and there are some programs aimed for top executives.
This time, we interviewed with a person who runs a company specializing in the IT solution business in Nepal.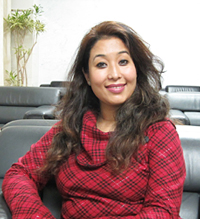 --Please explain your company profile first.
Digital Age Nepal Pvt. Ltd., located in Kathmandu, was established in 2015 with a vision to serve in the IT sector. Within a short span of time, Digital Age Nepal has been able to provide our services to financial institution and Nepal's leading data center. Digital Age started with a very limited number of employees, and currently there are only 11 employees. However the number of employees needs to increase along with the growth of organization, and we aim to have over 200 employees in the future. The product that Digital Age Nepal has developed is an AML (Anti-Money Laundering) Solution, called "CPFDS". AML is a global requirement, and the organization aims to provide an AML solution service globally in the days to come.
--What aspects of corporate management do you put much value on? Please share with us your management philosophy or policy, or something considered important.
The vision on what to deliver to meet customer requirements with innovative solutions, team work, proper planning/guidance and satisfied employees is the key to success. Management needs to understand the value of its human assets.
--Do you think of any challenges that hinder your company business to grow and develop further? What kind of actions do you think need to be taken to address the above-mentioned "challenges"?
Being a new company we have to meet the eligibility criteria of big organizations that we need to work for and this is a big challenge. Such eligibility criteria as having three years of experience, three years of financial statements, etc., are factors that act as barriers to opportunities despite having the capability to do the work.
Nepal is an emerging market and a very small sized market, which is not sufficient to run a business house within the country. Business has to be expanded and extended beyond the country for a healthy business.
Apart from that, technical team alignment within the organization can be difficult. Therefore we have encouraged all the employees to remain with our organization for at least two years. We treat our human resources as our asset and would like to keep them for a minimum of five to six years, rewarding their level of work experience and job evaluation. Trained and experienced human assets should not be ignored; they are important and management should understand this.
--How do you view the current status of your business in the global market?
Currently speaking, we have no business relationship with any foreign companies, and we are working only in Nepal now. However, it would be a pleasure if we could have an opportunity to serve in the global market. We would put all our effort and work in a very honest manner into building the relationship for the long term. Business continuity requires a trustworthy relationship.
We would work to meet the TOR (Terms of Reference) of the client, would standardize our organization with certification like ISO 20001 and 9001 and have our company fully comply with such standards.
To date Digital Age Nepal does not have any experience of serving international clients; however, personally I have had experience of working with Hewlett Packard (HP) colleagues when I worked for the HP distributor office in Nepal. I have more than seven to eight years' close work experience working with HP and APC officials. Therefore I will fully utilize what I learnt to meet international requirements and not compromise on quality. It would be an opportunity for my organization if we could demonstrate our ability with some sample programming; upon satisfactory delivery of sample assignments, we could assure the client that we provide them with the best quality work and service at all times. We value the business ethics and our working relationships.
--Are you planning to expand your business overseas? What does your company consider important and wish to focus on to lead your business overseas to a success?
We are willing to expand the business overseas, including Japan. If this kind of opportunity were given to my organization, we would not compromise to meet the terms and conditions that an overseas company would ask for. Data Security and any NDA (Non-Disclosure Agreement) would be considered a high priority; at the same time, the delivery of our products would meet the requirements/TOR to the optimum level.
--Please tell us about the current market environment of your business in your country.
Despite being a newly established organization, the company has become recognized in the sector that it's targeting to provide a service to. In the industry, there are over 200 companies competing here in Nepal. I have never felt any difficulty in being a women and running a business, but to compete in the field with other, older organizations is definitely a big challenge. To compete with these kinds of challenges, the organization has to provide the best solutions with competitive prices as well as with extra hard effort. The key is to understand the customer's requirements and deliver the service fulfilling these requirements with value added service.
--What are the points that you have kept in mind to develop human resources in your company? In other words, how do you wish to improve your engagement with the matter in the future?
Currently my organization is a very small business house. I treat all the employees as a family. I may need to change the HR system as the organization grows as per the HR policy and methodology. I strongly believe our people are a very important asset for our organization and would like all of them to think flexibly and become more dedicated with a strong motivation.
--What is your impression about Japan and Japanese companies? Please share with us an episode or experience that surprised or touched you.
I had never thought of coming to Japan, but somehow I applied for the HIDA management training program. Even from the beginning of the journey in Japan I was taught things, from the airport to the metro station coming to HIDA Tokyo Kenshu Center (TKC).
Every day I learned new things in Japan: the technology that Japan has, and the methodology Japan has. Japan has found innovations that we have not yet thought of. All the factories we visited were highly equipped with Smart Technologies. The visit to these kinds of factories has taught us to think differently, think smartly. I have been seriously thinking of new innovations that can be applied to my country. My mind is now full of ideas after observing the methodologies that has been applied in the respective factories. May be this can give me a vision towards something good.
Being an entrepreneur, visiting to the Konosuke Matsushita Museum has truly inspired me. Mr. Konosuke truly touched my heart. His contribution, passion, vision, hard-work and overall philosophy probably could be the reason for so many innovations and changing the lives of people. I could not stop myself bowing my head with an overflowing heart to his statue in the Museum. We have missed a great personality with the demise of Mr. Konosuke. I would like to thank HIDA for the knowledge it has given to me.
Thank you very much for your cooperation.