"Hoping to open distribution centers in Singapore and Vietnam in the long term" --An interview with the director of an Indonesian manufacturer of highly specialized customized products for automobiles and electronics
2017/2/16(Thu)11:00
(Indonesia/インドネシア)
PT. Futari Mecca Utama
Mr. Henry Sontaduga Fitri (Director)
Indonesia
Many business people from abroad including the emerging countries have participated in HIDA training programs. Positions of the targeted audience vary with the programs, and there are some programs aimed for top executives.
This time, we interviewed with a person who runs a company manufacturing highly specialized customized products for automobiles, both four wheels and two wheels, and electronics in Indonesia.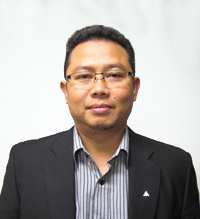 --Please explain your company profile first.
PT. Futari Mecca Utama, located in Bekasi, about 20km east of Jakarta, was established in 2007, and we have thrived by developing highly specialized customized products and customized parts such as seals and rubber sponges, etc., for automobiles, both four wheels and two wheels, and electronics, as well as solving technical problems, improving production efficiency and keeping high quality performance.
A basic consideration in our business is to co-operate with major automotive companies, Japanese or some other country's OEM (Original Equipment Manufacturer), and electronic and general industrial companies.
Our company is authorized as an OEM, a distributor and a converter for products of 3M, TESA, Sekisui Chemical Co., Ltd., Kimberly Clark Corp., and doing the process of converting, slitting, die cutting, resizing, and packing, with a total of 53 employees.
Our major end user customers are Honda (four wheel vehicles), Honda (two wheel vehicles), Yamaha, Daihatsu, Samsung, Panasonic, LG, etc.
--What aspects of corporate management do you put much value on? Please share with us your management philosophy or policy, or something considered important.
To keep competitive and to grow our company, we have to do the following strategies:
1. Customer satisfaction
2. Client relationship
3. Cost effectiveness
4. Quality assurance
5. Timely delivery
6. Reliability
--Do you think of any challenges that hinder your company business to grow and develop further? What kind of actions do you think need to be taken to address the above-mentioned "challenges"?
Increasing sales is one of our challenges. Since our sales decreased from last year, we should look for a new strategy or new market to make our company grow. Thus, we are in a very difficult situation for now. I believe, however, that with many events like this, we can discuss the problems with each other to find a solution and way out.
Countermeasures to solve the problem are as follows:
To improve selling and marketing skills
To attend sales and marketing training / conferences
To evaluate the sales strategy and look for new strategies
To increase the level of quality, delivery and service to meet customer satisfaction
To hire new people for sales and or marketing
--How do you view the current status of your business in the global market?
The current status of our business in the global market is the same as the global situation of the automotive industry. There is a significant decrease in demand for vehicles, so the number of units being produced decreases, and this means that the material required for production parts also decreases, and this affects our company which supplies materials to produce the car units.
We have been focusing only on the Indonesian market as of now, but we import some materials indirectly from Japan.
--Are you planning to expand your business overseas? What does your company consider important and wish to focus on to lead your business overseas to a success?
We don't have any plan to expand overseas within the next five years, but in the long term, we would like to open distribution centers in Singapore and Vietnam. We are hoping to receive strong technical support, technology transfer, pricing, marketing and relationship strategy from Japanese companies.
--Please tell us about the current market environment of your business in your country.
Our current market situation in Indonesia is very similar to the global situation: in a slowdown and a significant decrease from last year. Especially for the automotive industry, this year's production forecast decrease is about 20–25%. It is a hard situation because the car sector in the Indonesian economy is a very important one.
Now, the competition is tougher than last year, since every company has the same strategy: keeping quality to the minimum standard and decreasing the price. This means that we don't have enough of a margin to develop the company.
Many foreign people and companies are entering Indonesia now, since we have a big population and greatly consume many products. We have a five to ten percent market share in the adhesive automotive segment in Indonesia, and in this market, there are about 40 to 50 companies competing. There are five leading major companies in this market, and our company is positioned somewhere between the sixth to tenth companies.
--Business customs of your country may differ from those of other countries including Japan. Please use a few episodes to explain your distinctive differences from them in terms of the mindset for working, business culture, and national characters.
The business culture and national character in Indonesia are as follows:
"Gotong Royong" is Indonesian and means "working together" in the same place and the same time. The problems may be reduced or smaller by working together. There are, however, positive and negative points in this "working together" culture.
On time is not a must, and thus, we can reschedule anything all the time.
Usually after dealing in marketing, we are going to entertain the customer such as by having lunch or dinner together.
--What are the points that you have kept in mind to develop human resources in your company? In other words, how do you wish to improve your engagement with the matter in the future?
In Indonesia, it is common for people to change from one company to another. That's why HRD in Indonesia is one of the challenges. People usually looking for better salary, better benefits, etc., and then they move to a better company. For a domestic company this situation is more difficult compared with a foreign company.

We try to make our company is homey, and we have built a strong relationship with all of our employees by having many outdoor programs like biking, camping, fishing, etc. We also have an ECnDP system, Employee Contribution and Development Program, when employees do a good job or meet all their targets, then the company should give them a reward. The reward is related to the job, for example, joining a training program or association, visiting an exhibition in or outside Indonesia.
--What is your impression about Japan and Japanese companies? Please share with us an episode or experience that surprised or touched you.
Japan always impresses me every time I visit. A high work ethic, discipline, timely, and great loyalty is my image of the Japanese people. This situation I could see in detail when I was in the station, on the train or in the office.
After I visited several companies in Japan, I saw that the company is very strong in maintaining and developing the vision, mission and philosophy of the company. That's why most Japanese companies can survive up to the second generation, the third generation and onwards.

In addition to the leadership of the company being strong in keeping the vision and mission, it is also the Japanese employees' extreme loyalty to the company that is also important. Company leaders and employees work together to face the situation, be it good or bad, up or down, hard and happy in running the company.

In December, my company is making our business plan for growth in 2017, a lot of the inspiration and the innovations that I can put into my BP 2017 is derived from this HIDA Program, like NEW ENERGY for me to find a better way to run business.
Thank you very much for your cooperation.