"We take great pride in bridging the digital divide" --An interview with the manager of a Pakistani leading telecommunications service provider
2017/2/28(Tue)16:20
(Pakistan/パキスタン)
PMCL Mobilink
Mr. Waleed Pervaiz (Manager)
Pakistan
Many business people from abroad including the emerging countries have participated in HIDA training programs. Positions of the targeted audience vary with the programs, and there are some programs aimed for top executives.
This time, we interviewed with a person who is the manager of a telecom company providing voice telephony as well as data and broadband service for both individuals and corporations in Pakistan.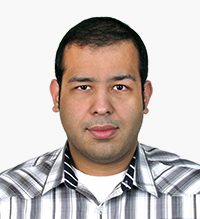 --Please explain your company profile first.
Mobilink is Pakistan's leading provider of voice telephony and data services, bringing more people together through service excellence and product innovation. Mobilink started operations in 1990 as the first GSM cellular mobile service in Pakistan. Currently, with more than 50 million subscribers, and 6,000 employees (both contractual and full-time) Mobilink maintains market leadership through cutting-edge, integrated technology, the largest portfolio of value added services in the industry, and a broadband carrier division providing next generation internet technology as well as the country's largest network with over 9,000 cell sites making everyday a better day for its customers.
Housing Pakistan's largest distribution and contact center networks and an unparalleled 6,500 kilometers fiber optic backbone, Mobilink has already invested over US $3.9 billion in the country to date, with another USD 1 billion being invested in network modernization of 3G to 4G for the customers with better services. This investment also includes the upgrading to a new system in the company and also the budget for marketing. Mobilink provides uninterrupted countrywide connectivity, unmatched customer services and international roaming in over 140 countries.
--What aspects of corporate management do you put much value on? Please share with us your management philosophy or policy, or something considered important.
Mobilink places immeasurable importance on three values, which are 'Be Passionate', 'Be Professional', and 'Lead with Purpose'. At Mobilink, we do not only strive to be the best telecommunications provider in the country, but also endeavor to contribute to the overall development of a robust and progressive ecosystem in telecommunication services.
We take great pride in bridging the digital divide as a result of geographical distances, social inhibitions, cultural obstructions and economic marginalization. Our ethos believes in empowering the youth of today so they can become the engaged and successful entrepreneurs of tomorrow. We proactively offer superior and affordable connectivity services to the young and the eager in order for them to access and benefit from the cutting-edge information and communications technology Pakistan has to offer.
--Do you think of any challenges that hinder your company business to grow and develop further? What kind of actions do you think need to be taken to address the above-mentioned "challenges"?
As the market leader, there is always a threat from direct competitors, challenging our leadership position. With such success, an organization has the risk of becoming complacent and losing the hunger to strive for more. Internally, you become less agile, and more process oriented. New ideas start to dry up. Competitors, following you on the charts, are less likely to lose focus and are constantly pushing to overtake. We also started broadband services in Pakistan, but it was not a successful strategy and also a relatively new field for us and we had very limited coverage. At the same time, the government opened the licenses for 3G and 4G and everything was diverted to this, so broadband became the second priority for the company.
To overcome complacency, we need to regenerate the spirit of our employees. Our ownership as employers needs to change and our working culture should allow for some risk taking and induction of fresh ideas.
No matter how good you are as an employee, after some time you need a new challenge. People may have been doing the same job for a number of years and to create a healthy environment, employees need to be provided opportunities to carry out a different task after some time. This helps in the destruction of monotony and helps them to learn a new skill.
One of the plans for 2017 is that we will be focusing on improving the broadband service; firstly, our target will be Islamabad, followed by Karachi and Lahore, and then the entire country.
--How do you view the current status of your business in the global market?
Mobilink is a VimpelCom's subsidiary. Vimpelcom is a key global market player, and offers services to customers in 13 markets including Russia, Italy, Algeria, Pakistan, Uzbekistan, Kazakhstan, Ukraine, Bangladesh, Kyrgyzstan, Tajikistan, Armenia, Georgia, and Laos. VimpelCom operates under the "Beeline", "Kyivstar", "WIND", "Mobilink", "banglalink", and "Djezzy" brands. Present in some of the world's most dynamic markets, VimpelCom provides more than 200 million customers with voice, fixed broadband, data and digital services. VimpelCom's heritage as a pioneer in technology is the driving force behind a major transformation focused on bringing the digital world to each and every customer.
--Are you planning to expand your business overseas? What does your company consider important and wish to focus on to lead your business overseas to a success?
Mobilink's parent company, VimpelCom, is already operating globally, and constantly expanding. We have strength of knowledge, applied through local market expertise.
We are a communications and technology company driven by a vision to unlock new opportunities for our customers as they navigate the digital world. Right now the priority of the company is the Pakistani market; voice, data, and broadband. We are constantly improving our infrastructure and services, in a very saturated Pakistani market. We currently have 5 telecom companies in Pakistan, and as in any other country, consolidation and acquisitions in such a market are expected. This results in tougher competition and higher stakes. For investment in the Japanese market, we still have to see how the Japanese market works, what the prevalent situation is, and how best we can interact with Japanese companies. Obviously, it would be a great opportunity, and we would definitely look into it.
--What are the points that you have kept in mind to develop human resources in your company? In other words, how do you wish to improve your engagement with the matter in the future?
We are focusing on the following points to manage HRD:
Enablement of employees, including decentralization of decision making. Employees are encouraged to take decisions and risks.
Values of openness, trust, and honesty are promoted.
Qualitative growth of people with capabilities.
--How do you see the growth after taking part in this program at HIDA and how is it going to help you in the future for your company?
First of all, I would like to outline the challenge: we are a very large company with around 6,000 employees, and we have a lot of smart people working with us. Historically, most of them have been working in silos – the idea generation process had been difficult to jump start with so many talented individuals. This is where this program comes in- our aim is to make sure that we are innovating and collaborating with each other, empowering our employees and giving them responsibility, allowing them to take risks and delegating decision making power. We have, and will continue to encourage collaborative behavior among employees and making sure they come out with ideas and talk to each other and the management.
Thank you very much for your cooperation.