"Toward business transactions with a trustable company from the view point of the long term" --An interview with the owner of an Indonesian manufacturer of canvas bags and pouches
2017/3/8(Wed)10:00
(Indonesia/インドネシア)
CV D'Create
Ms. Nisa Rakhmania (Owner)
Indonesia
Many business people from abroad including the emerging countries have participated in HIDA training programs. Positions of the targeted audience vary with the programs, and there are some programs aimed for top executives.
This time, we interviewed with a person who runs a manufacturing company of canvas bags and pouches in Indonesia.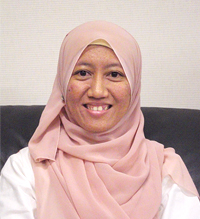 --Please explain your company profile first.
CV D'Create is a small sized enterprise, established in 2009. Our main activity is to produce canvas bags and pouches under the brand "Heejou" and sell our products through distributors. We are located in Bogor, about 60km from Jakarta. The manufacturing capacity of our workshop is about 3,000 bags and pouches per month with 17 employees.
--What aspects of corporate management do you put much value on? Please share with us your management philosophy or policy, or something considered important.
We want to produce bags and pouches of good quality (delivering quality products), with a unique and up-to-date design, a durable product that has eco-friendlypackaging to satisfy the needs of our customers (being reliable) and helps the environment (eco friendly). We also want to make a friendly working environment especially for female employees who already have children, so they can still work and take care of their children (helping other employees and making a difference compared with other companies). We hope to be able to make great team members and be successful together.
--Do you think of any challenges that hinder your company business to grow and develop further? What kind of actions do you think need to be taken to address the above-mentioned "challenges"?
Firstly, we are not currently targeting any specific market, but widely providing our products to our domestic market. Secondly, we still have not been able to create a great sales team. Thirdly, we still lack management skills and knowledge.
To overcome these challenges, we must make our corporate mission clear first. Based on the clear mission, we can see which market we should focus on as a target, and also we can make a strong sales team. Also, we need to upgrade our management skills regularly.
--How do you view the current status of your business in the global market?
There is a great opportunity to grow, since the market is very big. In order to create a unique product, sometimes we order customized zippers from the YKK Factory in Depok, West Java. We only use YKK zippers for all of our products so as to be able to fullfill the value of delivering quality products to our customers. The quality of zippers that other companies manufacture is quite low, which is not what we want. We want to have business transactions with a trustable company from the view point of the long term. Our business is now only in Indonesia and we don't export our products to oversea countries as of now.
--Are you planning to expand your business overseas? What does your company consider important and wish to focus on to lead your business overseas to a success?
Yes. I wish to have distributors of my products in Asean countries such as Malaysia and Singapore. Things that we consider important are knowing how to improve our production management and quality control and how to make good relationships and cooperate with people abroad. I hope I can study how to develop my company by learning the work culture of Japanese companies through this training program.

--Please tell us about the current market environment of your business in your country.
Heejou Bags are in the Indonesian bag market in the category of "Ethnic Bags". Many small companies work in this segment. At least about five to ten new brands are born every year. There's already one leading in this market.
Almost all of us are using the same distribution channel. There are so many distributors in this market, and we hire around 30 distributors for cities, and then the distributors recruit agents or resellers to deliver the products to the end customers.
For some distributors, Heejou Bags mean a very nice market. Customers who come to distributors already know that they would like to buy a Heejou Bag product, since our products are well designed compared with others. People can still change their brand choice, since other products' design are very common and simple.
There are about 30 competitors in this market. To enter the market is not so tough as long as the quality of their products is high. It is important to assure ethnic bag distributors that they can become our distributors and to make sure that the market will easily accept the product.
--Business customs of your country may differ from those of other countries including Japan. Please use a few episodes to explain your distinctive differences from them in terms of the mindset for working, business culture, and national characters.
My personal view for Indonesia is as follows:
[Mindset for working in the country]
We work for fun and for the family. We like to have long weekends so that we can have a lot of time with our friends or family.
[Business Culture]
When many small companies claim that their sales have decreased, there are some small companies that have a great increase of sales. They change their way of selling. They move from offline to online, and they regularly educate their distributors and fire the distributor who does not achieve the target. Many people want to become a distributor, not only for money, but also for the knowledge and closeness with the member group. Currently, we are not expanding to the online market but would like to in a future.
[The National Character]
We do love to become part of some community. We love to meet sometimes and learn something together.
--What are the points that you have kept in mind to develop human resources in your company? In other words, how do you wish to improve your engagement with the matter in the future?
I want to encourage our employees to have a good mental attitude, to think positively, and learn how to do the job better. For this, we need to set a clear corporate mission first.
There are difficulties and challanges in HRD. Some employees still like to see only the bad side of their team, think only about themselves and do not dare to have a great dream, and are rather pessimistic in a sense.
--What is your impression about Japan and Japanese companies? Please share with us an episode or experience that surprised or touched you.
Japanese people are very polite and warm, and thus, my impression about Japan is very good. They love to say "Sumimasen" and "Arigato gozaimasu" and it seems like they never get tired of it. I'm very impressed by this attitude and I would like to apply it to myself.
I was so touched when some lecturers said that in Japan, if an entrepreneur has a big company, he/she will think that the company belongs to or is owned by the community or society, not only just by him/herself. They also think about how to help the community first and profit comes later just as its effect.
This shocked me. It seems like I have to change the way I think and do the same in my own business. I feel very ashamed to think only about myself all this time.
Well that's a little story I found while studying and travelling in Japan. I still want to experience plenty of new stories here in Japan.
Thank you very much for your cooperation.