"We would like to enter the international market, or have a business with global companies someday" --An interview with the director of an Indonesian OEM company of spare parts for motor vehicle
2017/3/22(Wed)10:27
(Indonesia/インドネシア)
CV Regina Eka Pratiwi
Mr. Alfian Nur Ubay Ubaydilah (Director)
Indonesia
Many business people from abroad including the emerging countries have participated in HIDA training programs. Positions of the targeted audience vary with the programs, and there are some programs aimed for top executives.
This time, we interviewed with a person who runs an OEM company of motor vehicle spare parts made of rubber and the like in Indonesia.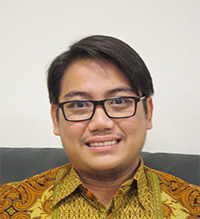 --Please explain your company profile first.
CV Regina Eka Pratiwi (REP), located in Sukabumi, about 50km north of Jakarta, is an OEM (Original Equipment Manufacturer) company. Since its establishment in 2013, our company has provided products/solutions to major companies with inexpensive production costs.
These days, the demand for a standard monthly income of the Indonesian workforce has been continuously increasing. With the encouragement of our bank and because we have our own production base, our company can help some companies in Indonesia with the methods we have. Of course, it is also driven by the competence of the manager and the staff we have.
Since 2013, CV Regina Eka Pratiwi has cooperated with PT. Indokarlo Perkasa (IKP), which is part of the of PT. Astra Otoparts group. IKP is engaged in molded rubber manufacturing to produce motor vehicle spare parts. For the past three years, our company has been manufacturing products such as motor vehicle spare parts made of rubber to IKP. The products we supply include rubber steps, slider chains, grommets, dampers, rubber bushings, and other products that have a rubber base material.
Then in 2015, our company started business with PT. Sempana Jaya Agung (SJA), which is also an Indonesian company specializing in die casting. With both the customers, IKP and SJA, that we have today, we have built good business relationships and would like to open further cooperation in our OME business with several other companies that are thought to have a good future. The products we currently supply to SJA include handle lever STR H, Cap 30 mm, holders under the handle as well as some products from the production of die casting to our process to finish.
The total quantity that we can manufacture each month is as much as around 2,000,000 pieces for both of our customers, with a total of about 110 employees. One hundred are employees in production and 10 are staffs and managers. At present, our company has a production area of two hectors or 20,000 square meters, out of which we are using only 3,000 square meters of land for both customers, so there is still as much as 17,000 square meters of available land that has not been utilized yet.
--What aspects of corporate management do you put much value on? Please share with us your management philosophy or policy, or something considered important.
Because my company is still growing and can be categorized as a company that has recently been established, the core values that I have established and put to all the stakeholders in the company are as follows:
Spirit of improvement
Productivity in working
Innovation
Respect for our customer
Integrity
Team work
--Do you think of any challenges that hinder your company business to grow and develop further? What kind of actions do you think need to be taken to address the above-mentioned "challenges"?
[Challenges for the business of your company]
The challenge in the business we face is price competition. We need to be able to provide low prices on products that we manufacture. And we need to be able to have the resources and support that provides good quality.
Another challenge we face is rapid technological advance, and a change in management science, and the renewal of the monitoring system. Our company is determined to progress so as to be able to go ahead and give the best service to customers.
Political issues and also the movement of the global economy are also challenges. Whether we have customers domestically or abroad, we need to make sure as much as possible that the state of the economy or political issues do not have a too great influence on our customers.
[Countermeasures need to be taken to address the above-mentioned "challenges"]
Having a strong team that has extensive connections as well as having resources and main materials that are used efficiently are the primary steps to winning the price competition. In addition, to solve the problems faced internally and externally by the company, I always make contact with several other companies in Indonesia to get the best solution. Because I think at meetings we can talk about a problem and solve it together, I can find out the views of the individual entrepreneurs. I belong to some employers' associations to exchange information on current business conditions in my country.
One solution to overcoming this challenge is to keep in touch with business associations in the country or abroad. In addition, media information can be obtained to determine technological developments or procurement of technology in some areas. And also my affiliation with associations or institutions who provide employee training for my company, such as YDBA (Yayasan Dharma Bhakti Astra), helps.
With regard to the third issue I need to be able to get information about current political issues, as well as information on the economic movement in the country or abroad. We have to find out if there is information that can directly or indirectly affect our business.
--How do you view the current status of your business in the global market?
We are in an OEM business focusing only on the Indonesian market now. The important thing is that I can manage my business well, and offer an attractive price to the other companies. Of course, we will continue to provide services that satisfy my customers with good quality.
We have the confidence to believe that our business will definitely be a solution for other manufacturing companies that require collaboration to get low costs in the process. Therefore, we would like to enter the international market, or have a business with global companies someday if we have a chance.
--Are you planning to expand your business overseas? What does your company consider important and wish to focus on to lead your business overseas to a success?
At this moment, I'm planning to build more business relationships in the Indonesian market by working with several companies from outside Indonesia. We begin with searching for any cooperation to build a manufacturing business in Indonesia. Now I will start by opening up opportunities for some companies to obtain the services of my company. Without their having production land, I will accept the transition of production machines, installation of production machinery, so that things will be set up to support production at my place, just the production area, local workers, and internal management, so that the cost burden that I charge every product is not too great, because it is entirely paid by the amount of work that I have received from the company I am cooperating with.
The most important point is to be able to build business relationship with overseas companies so that I can give satisfaction to my customers by guaranteeing the price of the production process is cheap, the products are good quality, delivery is on time, and communication is regular for the betterment of the business or the partnership.
Because we are an OEM company, we can be a profitable cooperative partner for Japanese companies and thus, we would like to find more cooperative relations with Japanese companies.

--Please tell us about the current market environment of your business in your country.
Our current market situation is very stable, and there seems to be no problem. We really would like all customers to cooperate with us, allowing us to use our strength of providing low prices to our customers. Our company also provides a good service, such as quality of products and services, as well as timely delivery times. Manufacturing service is a partnership that can be relied upon by large companies who want their prices kept low. However, until now, we have not been open to opportunities with other domestic companies. This does not cover to open my company's cooperation opportunities with Japanese companies that wish to cooperate to make a product and need a partner who can do this for a low price.
--What are the points that you have kept in mind to develop human resources in your company? In other words, how do you wish to improve your engagement with the matter in the future?
1. Employee Development:
The first level of difficulty we have faced from the seven pillars of HRD (Organization Development, Recruitment Management, People Management, Performance Management, Reward & Punishment Management, Industrial Relation and Cultural Management, and Termination Management) is the pillar of employee development. Managing and growing the business is much easier than regulating and developing the ability of employees to be in accordance with the company's objectives. The difficulty in this case is due to the different capabilities of each person. Moreover, I'm willing to enter their everyday lives to solve any issues, especially their personal problems that enable them to have a better working environment. This I do to boost their morale and also that they would increase their potential.
2. Reward and Punishment:
I've often heard that in order to boost employee morale, it should always be accompanied by the provision of reward and punishment related to any work that employees are doing. But it is hard to work out the nominal amount of work and consistency of morale that is found by the company from the employee's performance itself. At this time the implementation of reward and punishment system in my company has been running for 10 months. In the beginning, each employee was aware of the presence of such a system. However, the last two months they have been forgetting about this reward and punishment system because of the bad influence incurred by several employees who had never hit the target. Thus during the last two months, the overall number of employees who are rewarded has become less and less, and some managers, and also myself, have begun to doubt the reward system that I created.
3. Recruitment:
The hardest thing is the third of the seven pillars of HRD, or people management, because my company does not have a SOP (Standard Operation Procedure) in the recruiting process, which means anyone who is willing to work can work in the company. We will never know their capability until they start working. If there is a lack of compatibility between me and the prospective employee, I immediately do not renew his/her training period.
4. The standard definition of salary:
At this point I've made a standard salary for each level. But I do not know whether the system I made is correct or needs to be reviewed. This is because I have not found a company to be my benchmark in determining the standard salary.
--What is your impression about Japan and Japanese companies? Please share with us an episode or experience that surprised or touched you.
In my opinion, companies in Japan cannot be separated from the culture of continuous improvement. With a well-developed culture, company can grow in order to respond to greater customer needs.
Moreover, I think Japanese firms are very innovative in developing products as well as management science in its application to the business. This was seen at the time of my visit to the TOYOTA Automobile Museum. I was amazed by the milestone progress that was made by Kiichiro Toyoda and Sakichi Toyoda. The stage-by-stage development of the manufacture of machines they created made the products very high quality. They are very suitable to serve as an example for future generations in the development of Japanese technology.
In addition, I also really appreciated the fact that the Japanese government cooperates with the businessmen in Japan, so that entrepreneurs in Japan continue to grow and make a profit. The government has a facilitating role as a mediator between a media entrepreneur and a customer, it provides education to entrepreneurs who are just starting their business, and also acts as a facilitator to get a loan. I got this experience during my visit to a particular organization.
Japan is a developed country that has successfully established a system of good governance, developed advanced technologies, and established a disciplined lifestyle for the people.
Thank you very much for your cooperation.