"In order for businesses to continue and to grow, we have to expand our business globally to the markets that have more dynamic opportunities" --An interview with the corporate planning senior director of an Egyptian investment group-- (1/2)
2017/4/7(Fri)13:00
(Egypt/エジプト)
*This interview article is divided into two parts and posted separately.
This is the first part of the article.
< Part 2>
Seoudi Investment Group (SIG)
Mr. Maged Mahmoud Mohamed Ahmed (Corporate Planning Senior Director)
Egypt
Many business people from abroad including the emerging countries have participated in HIDA training programs. Positions of the targeted audience vary with the programs, and there are some programs aimed for top executives.

This time, we interviewed with a senior director of an Egyptian investment group specializing mainly in automobile industry, which has business relations with Japanese automobile companies.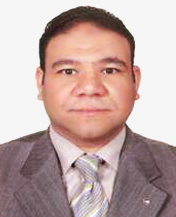 --Please explain your company profile first.
Seoudi Investment Group (SIG) was started in 1938 as a small family-run business related to automobiles by a successful and famous businessman, Dr. Abdel Moneim Seoudi, who had a tie with Japan and had worked for the Egypt-Japan Business Council as a president. We have grown over the past 80 years, to become one of Egypt's leading corporations, with projects and investments all over the world. Utilizing the talents of over 4,000 professional employees, our group ranks amongst the elite in our nine business sectors: Automotive industry, Trading, Textile industry, Agriculture, Real estate, Construction, Retail, Distribution, Food and Beverage as well as Renewable Energy.
In 1975, the Modern Motors affiliation was created, which was the first in a series of prestigious relationships with other global market entities. Modern Motors is an Egyptian company specialized in the commercial aspect of the automobile business such as managing automobile sales and after sales. Through the decades to follow, and with SIG's eye on international excellence, dedicated and visionary work was meticulously executed that culminated in the worldwide plan SIG launched in 1996 to become a global holding company.
The main business sectors in the group are automotive assembly, automotive production / sales / after sales, and automotive parts manufacturing, which accounts for 60% of the whole business of SIG. The main business unit pillar in production is the Suzuki Egypt manufacturing and assembly plant, which was established in 1988 (first automotive assembly project in Egypt). SUZUKI MOTOR COROPORATION is a shareholder in the Suzuki factory in Egypt.
A New business was already started a few years ago by the founder's son as a new strategy to diversify our group line of businesses to enter new markets outside Egypt to ensure healthy business.
--What aspects of corporate management do you put much value on? Please share with us your management philosophy or policy, or something considered important.
We are seeking to continuously empower the people, whether our employees or our customers, because we believe that people are the most important. For employees, we offer a loyalty program, insight training, and a variety of benefits, so that we can keep them happy since staff members of the company are the foundation of our business. We also accept nothing but the best, by offering our first class products and services, and creating a competitive and nurturing work environment to encourage our customers.
SIG believes in value. We deliver this value to our clients through first- class quality; competitive pricing; expedient services; cutting-edge technology; and exceeding customer expectations. This adherence to functionality excellence and operational efficiency are what afford us the leading position in the Egyptian market and the valuable trust of our customers.
We also believe in society, and we know that in order to truly become a part of our society we have to participate and help people by improving the quality of life around us. Which is why, over the decades, SIG has taken an active part in the growth of the communities within which we operate our businesses.
--Do you think of any challenges that hinder your company business to grow and develop further? What kind of actions do you think need to be taken to address the above-mentioned "challenges"?
The Egyptian economy started to decline in 2011 due to the Egyptian revolution, protests and presidential elections. Even though the situation is becoming stable after the presidential elections, political instability remains and it has affected the economic situation, purchasing power and foreign investment negatively and become more difficult. The Egyptian currency lost more than 65% of its value during the last two years after the devaluation and now it is fluctuating from day to day with a shortage of FOREX (foreign exchange). As a result the market has seen a 20% decline since 2016.
We began to take steps to export our main products especially in the automotive and textile business sectors. Currently, we are focusing on the African and Mediterranean countries for automotive products and on European countries for textile products. By doing so, we can acquire foreign currency even if the Egyptian economy is in a difficult situation. Also it can boost manufacturing, which is key for the Egyptian economy, by establishing new factories, for example. Since manufacturing is a broadly related industry, it allows us to support other companies as well. Now we are working on new production lines for socks and underwear.
--How do you view the current status of your business in the global market?
We have a long term relationship with several Japanese companies such as Suzuki and Nissan and are in the process of establishing the same relationship with Mitsubishi forklift, Kobelco Equip, and UNIQLO.
Our business relationship with our current partners in Japan or in other countries (Spain, Italy, Sudan, Ethiopia, Libya, etc.) proceeds in a professional way and our plan is to increase exports to some of the above countries especially for automotive and textile business to cope with the Egyptian government strategy.

*This interview article is divided into two parts and posted separately.
This is the first part of the article.
< Part 2>