"I was impressed by Japanese people's enthusiasm for "making good products"" --An interview with the team leader of a subsidiary of a Japanese company manufacturing and retailing leather products in Ethiopia—
2017/7/7(Fri)10:00
(Ethiopia/エチオピア)
Hiroki Addis Manufacturing S.C.
Mr. Daniel Mulugeta W Meskel (Bag Manufacturing Team Leader)
Ethiopia
Many business people from abroad including the emerging countries have participated in AOTS (former AOTS) training programs. Positions of the targeted audience vary with the programs, and there are some programs aimed for top executives.
Hiroki Co., Ltd. (Yokohama, Kanagawa, Japan) was established in 1960, whose main business is designing, manufacturing, and retailing original leather and fur clothes, bags, wallets, and other small goods as well as importing these products. In 2014, the company established its subsidiary in Ethiopia, Hiroki Addis Manufacturing S. C., which is the first subsidiary of a Japanese company in the country. After the establishment of the subsidiary, the company has dispatched several Japanese experts through AOTS Experts Dispatch Program in order to train Ethiopian employees.
This time, we interviewed with a leader of a bag manufacturing team of Hiroki Addis Manufacturing S. C. who was trained by Japanese experts and participated in an AOTS training program.
Interview with Hiroki Co., Ltd. Management Team >>>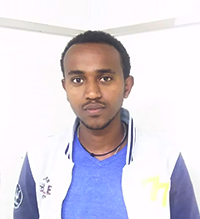 --Please give us an outline of your company (e.g. category of business, year of establishment, scale of operation, number of employees, and main products or services, etc.).
Hiroki Addis Manufacturing S.C. is a local subsidiary in Ethiopia, established in 2014, of Hiroki Co., Ltd. The company has three Japanese and 20 Ethiopian employees. We make products out of local raw materials such as Ethiopian sheepskin and goatskin, by local employees, in a local leather manufacturing factory. The main products are reversible clothing which are made of leather outside and suede inside, and bags.
--Please tell us your current position in your company, job responsibilities, and job-ranking among Ethiopian employees, etc.
In our factory, we have an Ethiopian manager and there are a bag manufacturing team and a garment manufacturing team. I am the team leader of the bag manufacturing team, which is the No. 2 position among the Ethiopian employees. Besides production control as a main job responsibility, I inspect the leather supplied from tanneries and products after production. Once a problem occurs, I lead all the team members to solve it. My other important duty is to make a pattern and then a sample based on the pattern, whenever we start manufacturing a new type of bag. I graduated from the leather craft training college and joined the company as one of the first employees. At that time, Mr. Yamamura, who was sent from Hiroki Co., Ltd (Japan) to Ethiopia to train us through the AOTS Experts Dispatch Program, was there. I was trained by him.
--What did you learn from the Japanese experts from Hiroki Co., Ltd (Japan) during their stay at your company?
I joined the company right after its establishment. Most of the employees were graduates from leather craft training colleges, including myself, but since we did not have enough first-hand practical experience, we needed to be trained before starting working at the factory. Therefore, I concentrated only on the training offered by Mr. Yamamura for the first 3 months. He generously taught me all the skills required. As I was supposed to teach what I had learned from him to other Ethiopian staff, I learned not only the skills themselves but also how to teach and train them to others. I also was taught risk management in case any contingency happens during production.
Three experts, including Mr. Yamamura, have been dispatched from Hiroki Co., Ltd (Japan) so far. By following their advice, we could acquire the basic knowledge of leather crafting and sewing, and even after the experts left, we still keep the same level in terms of the skills. Despite the difficulties in training and advising us, the experts always positively led us, which has upgraded the staff skills to what they are today.
--How have you been changed and/or improved after you were hired by the local subsidiary of Japanese company and what have you learned from the Japanese experts?
Before I joined Hiroki Addis Manufacturing S.C., I had worked for another company as a part-time worker, where I experienced an Ethiopian general workplace and the local labor culture. Comparing to the experience there, in Hiroki Addis Manufacturing S.C. as the subsidiary of a Japanese company, there are several differences. For example, here everyone come to the office on time and the company does not sacrifice quality to quantity in production. Even if the production volume decreases, the company always consider quality more than anything and do their duty to make high-quality products. The thing that changed about me was that I began thinking about my work even during off-duty hours, which I had never done before working for the Japanese subsidiary. Since I started working for Hiroki Addis Manufacturing S.C., I was impressed by Japanese people's enthusiasm for "making good products" and desired to meet their expectations. So, my desire made me think how I could make high quality products, even after I went home.
Regarding the Japanese experts, although they were quite strict about work, they were like my family when we were talking. Since they were so thoughtful, we could always ask anything anytime, which I think, led to an increase in motivation and the quality of work.
--If your company has seen a positive change such as an increase in sales and/or number of products after the Japanese experts gave instruction to your company's employees, please let us know.
Production volume has surely grown, but skills and quality have also improved. For example, the number of bags that could be manufactured per month increased from 40 to 70, and then even 120. Their devoted training made all the staff including myself become desperate to meet their expectations. Soon, we became able to pick up new skills more quickly. The product types also increased.
Regarding the staff employed after the experts had left, we, as senior staff, gave them instruction. I am sure that we could also tell them the enthusiasm for "making good products" that we learned from the experts.
--How did your company decide to send its employee to the Program on Product Management for Africa (hereinafter 'AFPM')? Please share the background and reasons with us.
I have worked for Hiroki Addis Manufacturing S.C. since the beginning, and as the assistant to the manager and the leader of the bag manufacturing team, my critical duty has been to lead all the staff members. I feel a great responsibility as they sent me to participate in the AOTS management program in Japan from Hiroki Addis Manufacturing S.C.
During my stay in Japan, I visited Japanese companies such as Toyota and saw how the problems were actually solved and how 5S and Kaizen were applied in reality. I was impressed by the way they were exactly realized. I work for a Japanese subsidiary and had some knowledge about Kaizen, etc., but I noticed that there were so many things has not been done in our factory. I had learned about Kaizen from an Ethiopian who had been trained as a consultant of Kaizen at the Ethiopian Kaizen Institute, EKI*, before, but it was so meaningful that I could learn it from Japanese people in Japan where Kaizen originally had come from. I was grateful.
--How would you like to apply what you have learned on AFPM to your work after your return to Ethiopia?
In my company, 5S is not fully applied so far. For example, after cutting leather, the rest pieces (snippets) or metal parts (zipper, etc.) which are not in use at that time, should be colored and kept separately. Then, when the time comes to use them, they can be easily and properly found. Besides, all the different kinds of tools are kept on the same shelf now. If we separate them by the size of their holes, it will be much easier to distinguish between them. After I go back to my country, I intend to apply these ideas that I got from the experience of 5S and Kaizen in Japan.
Moreover, when I visited Japanese companies as a part of the program, I found that all the staff there had good communication. I think we need to improve the quality of communication between the staff in our office, which can prevent product troubles. In Japanese companies, employees are encouraged to exchange greetings to smoothen communication. I would like to introduce this habit to my company.
Regarding the manufacturing process, I also learned many things. In my company, product checking is conducted at the final stage of the production. In this case, if there is any problem with the product, we have to start making the whole thing over again. In the companies I visited, I saw employees check the products at an every stage of the production. I have strong intention to try this method when I go back to Ethiopia.
I was so impressed by the experts who came to my company as well as lecturers of the AOTS management program who taught me devotedly. To live up to their expectations, I will enthusiastically teach what I learned here to the staff of my company in Ethiopia.
*EKI: An organization established in 2011 by the Ethiopian government in accordance with the wish of the former Ethiopian Prime Minister, Meles Zenawi Asres. The organization trains consultants to instruct Ethiopian companies in Japanese Kaizen.
Thank you very much.