"We are attracted by Ethiopian sheepskin which was thin, smooth, and strong" --An interview with the managers of a Japanese company manufacturing and retailing leather products expanding its business to Ethiopia—
2017/7/14(Fri)10:00
(Japan/日本)
Hiroki Co., Ltd.
 Mr. Masaki Nishioka (Chairman)
 Mr. Hiroyuki Gonda (President)
Beijing Fuchuang Fur & Leather Co., Ltd. (Subsidiary of Hiroki Co., Ltd. in China)
 Mr. Katsunori Kuriyama (Chairman)
Hiroki Co., Ltd. (Yokohama, Kanagawa, Japan) was established in 1960, whose main business is designing, manufacturing, and retailing original leather and fur clothes, bags, wallets, and other small goods as well as importing these products. In 2014, the company established its subsidiary in Ethiopia, Hiroki Addis Manufacturing S. C., which is the first subsidiary of a Japanese company in the country. After the establishment of the subsidiary, the company has dispatched several Japanese experts through AOTS Experts Dispatch Program in order to train Ethiopian employees. In addition to this, in 2016, a leader of a bag manufacturing team of the subsidiary who was trained by Japanese experts participated in an AOTS training program.
This time, we interviewed with a management team of Hiroki Co., Ltd. about a reason and background of its expansion to Ethiopia, problems, utilization of AOTS program, and the bag manufacturing team leader of the subsidiary.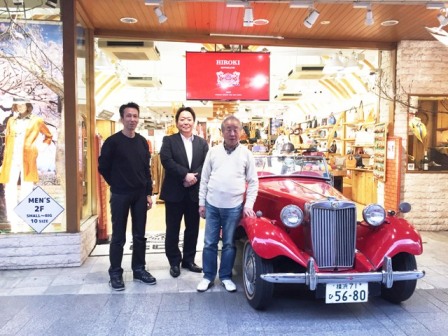 Interview with the bag manufacturing team leader of the subsidiary>>>
--There must have been many difficulties in establishing the local subsidiary in Ethiopia, Hiroki Addis Manufacturing S.C., as the first Japanese company. What was the reason and how did you expand your business into Africa, and especially Ethiopia?
Mr. Gonda: My company aims at "reaching the highest level by making stunning products out of high quality materials", and was attracted by Ethiopian sheepskin which was thin, smooth, and strong. Ethiopian sheepskin is known for having the finest quality and used for golf gloves resistant to frictional heat, so we wanted to make clothes out of Ethiopian sheepskin. We could purchase fine imported materials within the country, too, but they would be typical items in the industry, where dye has been applied to cover the natural color irregularities. Our request to keep the traditional natural materials was not accepted. At the Leather Fair in Hong Kong and Bologna, we were rejected by more than ten leather suppliers saying, "Ethiopian sheepskin is only suitable for gloves, not for clothing", so we were at the point of being convinced that we had no other option than giving up. Giving up, however, creates not the start but only the end.
Then, we conducted a final plan which involved "passing all the 8 distributors." We flew to Ethiopia and tenaciously and enthusiastically negotiated directly with local tanneries. They, as a result, understood and accepted our request including a partial change of the tanning process. They agreed to provide us with Ethiopian sheepskin for manufacturing clothing.
Mr. Nishioka: Once we started, things moved on more smoothly than expected since we had secured the local materials and staff there for manufacturing what we wanted. We were excited.
Mr. Gonda: At the beginning, we only purchased the Ethiopian sheepskin for clothing from the local tannery and then the products were manufactured in a factory in China we had already established (Beijing Fuchuang Fur & Leather Co., Ltd). After the State Minister of Trade and Industry Tadesse visited us in 2009, we started thinking of establishing a local factory. When Ethiopian Prime Minister Hailemariam visited Japan in June 2013, he mentioned that Hiroki was the first Japanese company that had made great products out of Ethiopian sheepskin, and he wished we would introduce Japanese leather manufacturing skills to his home country. In order to respond to his request, we decided to establish an overseas subsidiary in Ethiopia. We were very nervous about having a subsidiary there, especially about the differences in regulations and procedures between Japan and Ethiopia, and difficulties in obtaining accurate information related to this issue.
Mr. Kuriyama: Unlike Japan, not all the laws are well known in Ethiopia. Sometimes it was pointed out that we had broken a trade regulation unexpectedly and then we discovered the existence of that regulation. The situation was exactly the same in China where we had already started the new business at that time. Therefore, in the emerging countries, when starting something new, we need to ask the related agencies about the proper procedures, and make sure to obtain the conditions and rules concerned, in advance.
Mr. Gonda: In Japan, we could hardly obtain any up-to-date information on Ethiopia. Regarding the countries which Japanese companies have already expanded their business into, we can obtain information from them in Japan, but since we were the first one in Ethiopia, everything was uncertain.
--You established the subsidiary in Ethiopia and hired the local staff. How would you describe their features?
Mr. Gonda: My first impression about the Ethiopian people was they are friendly and skillful with their fingers. They greet you in a very friendly manner. They were also obedient and absorbed quickly what we taught them. Since most of the employees graduated from the leather craft training colleges there, they were highly motivated in acquiring new skills that they did not already know.
Mr. Nishioka: They sometimes skipped some steps that we taught them on their own judgement, so we had to make sure that they picked up the thorough skills. But once we carefully explained how inevitable every single process was, they understood and accepted this without any problem. There are many Chinese people in Ethiopia, so sometimes Ethiopian people say "Ni-hao" to us in Chinese. Once they notice that we are Japanese, they usually tell us how much they respect Japanese brands and high technologies. I feel that in Ethiopia, there are many locals who respect Japan and are willing to learn Japanese skills and technologies.
--Since the subsidiary in Ethiopia was established, you have used AOTS Experts Dispatch Program several times. What do you think about the program so far?
Mr. Gonda: It is our fourth year utilizing the program. We have sent three experts from our company to Ethiopia through the program in order to instruct the staff. The program has been helpful as we get our subsidiary on track in Ethiopia. Unlike large enterprises, we, a small to medium size enterprise, are not blessed with business resources, so without this program, it would have been impossible for a company like us to send experts on our own. This program has been a great support for introducing technologies and training employees overseas.
--Mr. Daniel Mulugeta W. Meskel from your subsidiary in Ethiopia had joined one of the AOTS management training programs "The Program on Production Management (Monozukuri) for Africa [AFPM]." We heard that you met him after he had finished the program. What kind of impression did you have towards him?
Mr. Gonda: He is inherently obedient and quickly absorbs what is taught, but I think he has become more aware of the Japanese spirit of manufacturing. He is always full of enthusiasm, understands what is expected, and intends to meet it. During his stay, he also visited the main store of our company located in Motomachi, Yokohama, twice. He saw the products that he had been responsible for manufacturing there, and it seems this experience made him more motivated.
--What do you expect from Daniel after he has finished the AOTS program?
Mr. Nishioka: Daniel told me that Ethiopians do not share knowledge with others to avoid them reaching the same level, and he asked me how I felt about this. I said to him that "For team sports such as baseball and football, every member needs to make progress in order to win a game. The team may not win with only one outstanding member. Good captains share knowledge and experience with other members to raise the entire level of the team. I want you to be one of those leaders." He is actually responsible for sharing knowledge and experience with other staff, and his question confirmed me in his growth.
Mr. Gonda: I told him to tell other staff what he had actually seen and learned in Japan. He seemed to be inspired by actual experience through the program, ex. KAIZEN, which he had only known of before. I hope his experience will influence other staff.
Thank you very much.