"Providing ERP* systems for SMEs in the growing IT market in Peru." -- An interview with the CEO of an IT consulting firm—
2017/11/2(Thu)10:00
(Peru/ペルー)
Ventura Soluciones S.A.C
Mr. Jorge Antonio Villa Rojas (Founder and CEO)
Peru
Many business people from abroad including the emerging countries have participated in AOTS training programs. Positions of the targeted audience vary with the programs, and there are some programs aimed at top executives.
We conducted an interview with a CEO of a consulting firm in Peru which provides IT system solutions for small and medium enterprises (SMEs).
*ERP: Enterprise Resource Planning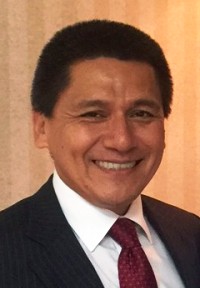 What kind of IT services does your company provide?
Ventura Soluciones ("Ventura Solutions") is a consulting firm specializing in the product "SAP Business One", the world-class business management software (ERP) developed by a German company for small and medium-sized companies. Ventura provides SAP Business One consulting services from requirements and business process analysis to implementation and support of the system. We also facilitate all related organizational changes to assure that each client can realize the full business benefits of the SAP implementation.
We maintain a regional presence through our current offices in Peru and Bolivia.

How is the current market environment of ERP business in your country?
With 28 million inhabitants, Peru's economy has experienced significant growth over the past 15 years and has attracted foreign investment from countries like Brazil, the USA, and China. Favorable economic growth, continued government support to the sector, and the trends in the industry encourage the growth of the Information Technology (IT) market in Peru as well. The relative immaturity of the Peruvian market with low penetration of solutions in the enterprise market should ensure robust growth in the IT market and attract more foreign investment.
The average rate of the IT market growth is 17% a year and the volume of public and private investment is the highest among neighboring countries like Colombia, Mexico, Argentina and Chile. As for the software market in Peru, despite a 67% piracy rate and the use of unlicensed software, it recorded sales of $180 million in 2016. Today, about 7,000 people are employed in the Peruvian software industry. There are just over 300 formal businesses, 85% of which are small and micro-sized companies.
The ERP market in Peru should be getting competitive as the economy grows. What are the challenges your company faces now?
Currently, I have three main challenges:
First, it is difficult to show a definite competitive advantage comparing with other competitors. In Peru, there are seven companies which offer the same system including ourselves. Thus, it is important for us to differentiate our services by adding our unique values.
Second, our marketing strategy is still immature and not as effective as we need. As there is no marketing experts or proven formulas in this business, we are learning on the road.
Third, we still lack an innovation strategy. The company has to look into the latest technologies and innovation and to integrate with current businesses. However, because of the day-to-day focus, R&D has not been given priority yet.
And how are you overcoming those challenges?
-Specialization: First, I believe the industry-specific niche-strategy could be the solution for us to increase our competitive advantage. We have accumulated the expertise in several industries, such as ground transportation, retail, and manufacturing over 10 years, and these industries might be the choice for us for more specialization. The challenge is to choose a niche but big enough industry to maintain and grow our business.
-Benchmarking and acquiring marketing expertise: Second, we are visiting and benchmarking other successful companies in Latin America where the market is similar in size and there are other similar characteristics. I am trying to apply the management tips I learned from them to apply to our company.
-Innovation strategy: Third, Our top managers are aware of this problem and started to set a specific time to evaluate industry trends and develop strategies for our near future. There will be no growth of business if we cannot challenge new areas. By applying the new innovation, I hope to create a new business domain in our company in the long-term.
Currently, your company offers your service only in Peru and Bolivia. Do you have any plan to expand your business to other countries?
At this moment, we are focusing on Peru and Bolivia and have no plan to expand further. As there are local SAP service providers in each country, we only do business in the country where we have competitive advantages. When we entered Bolivia, we were the second agent in the country and had higher service quality.
What are the important values in your management philosophy?
I think the best way to answer this question is to present the core values that I try to inspire my team with every day, which are:
Customer first: Put ourselves in our customer's shoes, always. Do not hear what he/she says, but sense what they really want or is hurting them.
Teamwork: Collaboration is the keystone for our success.
Quality: Exceed the customer's quality expectations to generate customer satisfaction, trust, and repeat business with us.
Communication: Clear and concise written and verbal communication would avoid error, mistakes and misunderstanding. Let us take time to think, to write and communicate in a manner we would like to be treated.
Humility: Seek to learn from others and treat every success and failure as a learning opportunity. "Sometimes we win, sometimes we learn".
How about the human resource management in your company?
Nowadays, 70% of our workforce is under the age of 30. We are living in a time where company loyalty does not mean what it used to. Millennial workers have a reputation for moving from job to job, being constantly on the lookout for the next best thing. Not to mention that tech companies have some of the highest turnover rates of any industry.
Having said that, we are doing two main things to retain top talent with us:
First, to encourage flexibility: We are introducing remote working options and flexible hours. We want to allow our employees the mobility they need. To that end, a major restructuring in our business processes is currently taking place in the company.
Second, to encourage continuing education: Not only do we offer our team in-house courses but also encourage and support them to take advantage of additional education programs.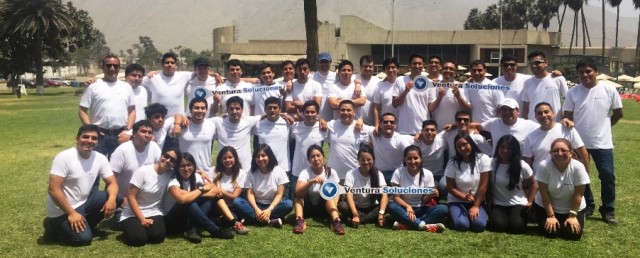 You have participated in AOTS Management Training Program in Japan twice and had chance to learn some Japanese management styles. Do you find any differences and similarities between your country and Japan in terms of business customs?
I feel we have many similarities in business culture.
Peru's culture is generally group-oriented. To build the lasting and trusting personal relationships is very important to most Peruvians, and it is essential to establish strong bonds prior to closing any deals. People in my country usually want to do business only with those they know, like, and trust. In other words, business relationships in Peru exist between people, not necessarily between companies. Even when you have won friendship and trust from your partners, they will not necessarily trust other people in your company. Thus, it is better to keep your company interfaces unchanged. Also, if any Japanese companies would like to do business in Peru, I strongly recommend that they find good local partners and have references from them.
In meetings, people in Peru tend to have a casual chat about the weather, news, and family topics before starting any business talks. If you are in Peru, I recommend that you proceed with serious business discussions only after your counterparts have become very comfortable with you.
Regarding the communication style in Peru, I would like to share three characteristics. First, people usually speak softly. While they occasionally raise their voices to make a point, most dislike loud and boisterous behavior. Second, people might converse in close proximity, standing only two feet or less apart. Never back away, even if this is much closer than your personal comfort zone. Doing so could be read as a sign that you are uncomfortable around your counterparts. Third, communication in Peru is usually not overly direct. People may not get straight to the point when trying to get their message across, and you might have to read between the lines to understand what is being conveyed. We might tell you what we think you want to hear rather than what we really think; silence could express embarrassment or otherwise communicate a negative message. It is beneficial for you to use a similar indirect approach when dealing with Peruvians, as we could perceive you as rude and pushy if you are too direct. The communication can become more direct and frank once a strong relationship has been established.
How is your overall impression about Japan and Japanese companies?
After completing the program, I realized that Japanese companies have some specific characteristics compared to my home country businesses:
Priority is on the work life. It is a given that work is the center of life. There are many traditions that re-enforce this.
Both employees and companies expect to belong to a company for their lifetime.
Japanese are very good team players, no stars allowed; the individual is less important than the entire organization.
It is everyone's job to keep the workplace clean. In my country, a clean workplace is someone else's job.
You Japanese people are incredibly respectful, organized and very, very kind! I really hope to come back to Japan many times in the near future.
Thank you very much for your cooperation.