"High quality surgical instruments from one of the two main producing cities in the world" --Interview with a director of a company manufacturing medical instruments in Pakistan—
2018/1/19(Fri)10:00
(Pakistan/パキスタン)
Wrangler Instruments Pvt. Ltd.
Mr. Muhammad Usman (Director/ Product Manager)
Pakistan
Many business people from abroad including the emerging countries have participated in AOTS training programs. Positions of the targeted participants vary with the programs including the ones for top executives.
We conducted an interview with a director of a company manufacturing medical instruments in Pakistan.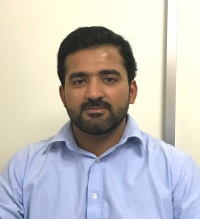 Huge market with few competitors
Wrangler Instruments Pvt. Ltd., established in 2007, manufactures medical instruments, which are mainly surgical instruments. With 124 employees, we produce high quality instruments such as scissors, forceps, retractors, clamps and tweezers for different surgical disciplines.
Ninety nine percent of our products are mainly exported to Germany, the Netherlands, and Belgium. We have OBL (Own Brand Labeling) companies there to sell products we manufacture under their brands. Although we also have our own brand, our brand products are sold only within Pakistan and the amount is very small. We mainly focus on selling products to Germany and other European countries.
The surgical instrument industry is a hundred years old. Sixty percent of instrument production is done by hand. In Pakistan, there are about 450 different companies producing surgical instruments. Their market is more or less the same, i.e., mainly Germany, the US, the UK, and Japan.
As an advantage, there are only two main countries in the world that manufacture surgical instruments, Pakistan and Germany. Not even the two whole countries are involved, but only specific cities of each country, Tuttlingen in Germany and my home town, Sialkot in Pakistan. The technology originally developed in Tuttlingen was transferred to Sialkot. Therefore, the biggest advantage for us is we do not have other strong competitors in countries such as China, Japan, or the US. As you know, surgical instruments are lifelines for every hospital, and they are being used all over the world. Despite the fact that the market is huge, not so many countries are involved in producing them.
Equal respect and consideration
-Please tell us your management philosophy.
Our company strictly believes that every manager is a core element for our quality policy, and every employee under managers is a fundamental unit for the policy. Therefore, managers work as a bridge to implement the policy and strategy given by the top management, and give equal respect and consideration to feedback from employees.
Linking with academia, training, and upgrading
-How do you address challenges inevitable to a developing country?
Firstly, as a developing country, competing in the medical device business market such as in the EU or US, Human Resources (HR) management is not well informed, trained or experienced as they are in developed countries.
Pakistanis are generally very hard working people. Most people work with good intent and learn new techniques and procedures very efficiently. However, compared to developed countries, the working environment as a developing country is still behind; for example, we do not have many women in work places. Some workers do not have enough education which is required for particular jobs. Generally, companies in my country are engaged in bad competitions and end up lowering their product prices to compete in the market.
Human resources are one of the main issues if one wants to be successful in developing countries. We have a dedicated HR manager in our company, who is fostering new talent for our company and also working on existing employees to engage them in different training programs and sessions. For example, we recently have acquired three laser stamping machines and trained existing employees who had been doing chemical etching to work on these machines. They are working very efficiently on these machines. Such encouragement is offered whenever available to develop human resources for our company.
We have been addressing the challenges related to HR by looking for better HR availability by linking with academia, and training employees through different courses and sessions. Recently, we have conducted an intern program with some different universities. We, however, still believe that we need better professional guidance either in the form of a joint venture or technology transfer.
Secondly, in Pakistan, the standards are quite old which is why I joined the PQM program in AOTS to learn about quality management, and how to improve daily management and policy management. From the program, I have recognized so far that the standardization of industries in my country is very slow. We need to upgrade our industrialization including systems and standard operating procedures (SOPs). This is currently the biggest challenge.

Manufacturing technology, machines and all the materials in Japan, even in the small companies, are much more sophisticated than ones in Pakistan, so it would be a great opportunity if we could obtain the technological knowledge from countries such as Japan.
Japan is our next target.
-What are your business prospects with overseas?
We currently have very good relationship with companies in the Benelux region. We are very closely working with our suppliers for new opportunities in the market. Recently, a kit we developed has been supplied to USAID under their program "PEPFAR" in Africa.
We are also directly supplying the headquarters of UNICEF in Denmark with our sterilizing drums under a three-year contract.
Since we would like to extend our business into other markets besides Europe, the US and Japan are definitely our next target. Recently, a Japanese hospital in Tokyo had an interest in our products and contacted us to start up a new distribution company, so we have just shipped our sample to them.
Quality takes precedence over price.
In order to successfully lead our business overseas, we consider that it is important to work not only as a vendor undertaking their roles, but as a strategic partner. It is also important not only to supply existing products but help in developing innovative products to open up new possibilities for manufacturers and customers.
We also think that feedback from customers is most important.

We rarely sell our products within Pakistan. By doing business in the EU, we have recognized that the market is demanding more single use instruments than reusable ones, which means quality takes precedence over price. In the EU, for example, a needle holder is sold for two dollars, but 50 cents in Pakistan. We do not want to compromise and lower the quality of our products, so currently, the only prospects for our company are developed countries.
Please contact us to get samples.
The first impression of Japan was humbleness and politeness and I've seen the same culture in Japanese companies.
We have visited either fourth or fifth generation companies which was so striking to me since the life of companies are so long in Japan. I think what makes Japanese companies exist so long is their collaborative environment. People have learned to live together in harmony and cooperate with each other. Such cultural values are really benefiting Japanese companies.
If any companies in Japan have an interest in our products, please contact us and we will send samples. We welcome your inquiries!
Thank you very much for your kind understanding and cooperation.