"We can expand our business and offer our premium glycerin soaps all over Japan and Latin America" --Interview with a plant manager of a company manufacturing cosmetics and personal care products in Argentina—
2017/12/8(Fri)10:00
(Argentina/アルゼンチン)
La Farmaco Argentina
Mr. Andres Martin Funes (Plant Manager)
Argentina
Many business people from abroad including the emerging countries have participated in AOTS training programs. Positions of the targeted audience vary with the programs, and there are some programs aimed for top executives.
We conducted an interview with a plant manager of a company manufacturing cosmetics and personal care products in Argentina.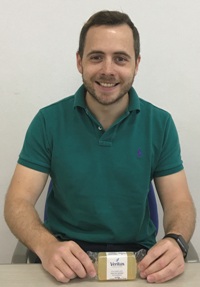 Looking for a partner in Japan
La Farmaco Argentina, established in 1904, is a company which manufactures high quality cosmetics and personal care products such as soaps, deodorants, talcum powder, body creams, shampoos, and conditioners. With 300 employees working twenty-four hours a day, five days a week, our company has annual sales of 40M USD. Our products are currently being sold only in Argentina, but we are now planning to export them to Chile, Bolivia, Paraguay, and Uruguay as the first step. We are also looking for companies in Japan to form a joint venture with us. As one of our biggest target market, we manufacture premium talcum powder and glycerin soaps for mothers and babies, and another target market is more affordable bulk products for families.
Maintaining our brand name
-Please tell us your management philosophy.
Our Management Philosophy is to provide an environment that leads to the development of productive employees. Working in accordance with the defined strategies and plans of the company, workers are provided with several benefits depending on their performance so that we ensure that they are encouraged and their morale is kept high.
Personally, referring to corporate management, I believe the important things are open doors, setting an example, motivating, inspiring, defying the standards, working hard and mainly being happy with what you do.
Our company places great emphasis on maintaining the quality of products and the name of our brand, which are non-negotiable. There is a famous phrase in Argentina, meaning that "the most valuable thing in doing business is a brand name."
According to a survey, 80% of all companies go bankrupt or close their business in the first five years after their establishment. Although my company is not a big company, we are outstanding in the way that we have been sustained for more than 100 years.
Premium glycerin soap and talcum powder
Nowadays we offer products of niche markets, such as glycerin soaps and talcum powder. Our main challenges are gaining mass consumption and participating in a new market in Latin America. The glycerin soaps we are manufacturing are recommended by a dermatologist, since they are hypoallergenic and have a well-balanced PH. They are vegetable and mineral based and chemical-free. Their translucency ensures their purity. I use them every day at home. They can be used for both body and face. Our talcum powder is also premium quality which is exclusively imported from Brazil whereas most talcum powder currently sold is Argentinian, which has a grey color. Our talcum powder has a very white color.
In order to compete with big players in the market, we have to bring down the costs. More than fifty percent of the price of our products is due to high-priced raw materials. As I mentioned before, our product quality is non-negotiable. In order to achieve high recognition for our products from overseas, we are making efforts to focus on R&D, marketing, distribution and conversion cost. We have been already working on it for complete rebranding in the short term. We're also in search of ways to improve the current costs to compete with market prices, without abandoning our main policy.
You should try our soap.
-What are your business prospects inside and outside the country?
In 1999, Alberto Culver International bought La Fármaco Argentina, and our products were exported to all the countries in Latin America. In 2010, our company was acquired by Unilever, and our exports decreased, since we still supply products to Unilever. Last year our company was sold to a national company named Santiago Saenz. Nowadays we are regaining our national distribution and beginning to consider expanding our business into new markets.
We produce high quality products and sell them at a convenient price, so we're confident that we can be a strategic partner in foreign markets. Our owner, Santiago Saenz, works with Sumitomo Corporation, provider of some of our active ingredients. While producing the regional products, we are also interested in developing new overseas products to develop a new market.
I've been to Japan several times, but never seen the same kind of soaps as our products. For example, I saw many different brands of liquid soap, but not any glycerin soaps. You should try them. I hope we can find a business partner in Japan. We are sure that we can expand our business and offer our products all over Japan and Latin America. Our main challenge is to lower the distribution cost, and we have been finding a way to do this. As I mentioned, conversion and distribution costs are something that we have to reconsider. By improving them, we would generate the necessary capital to make our brand well known abroad.
Work culture in Argentina
In Argentina, most small and medium companies lack the capability to establish a sustainable relationship with reliable supply chain partners and have limited access to market research because of its high cost and other several issues.
High and middle management positions have significantly higher rotation compared to them in Japan, where it is customary to work in one company for a lifetime as a fundamental value. In an inflationary environment such as ours, factory employees are not dedicated to one company, its values, or its retention. They try to ensure salary in the short term, having more than one job. Motivating them and ensuring quality and production standards have become unprecedented challenges for us.
Our major challenge is retaining our talented workers. Companies such as multinational companies keep searching for specialists by offering better salaries and more benefits. This makes it more difficult for a domestic company like us to keep specialists within their team or to set up a long term project.
In addition, we have the following policies for improving our human resources:
Employees set yearly targets and goals for the skills they should improve. Company products are delivered to the staff as a gift on a monthly basis. We offer prepaid medical care, canteen and cafeteria service, flexible working hours, incentives, annual bonus based on both personal efforts and company results, and annual training program, etc. In Argentina, the salary increases every year by 1% for staying in the same company.

One thing I always reckon is that true change can be achieved by everyone's participation. You can witness how your work directly influences the organization. This does not happen in a big company.
Visiting Japan every year
I have visited Japan at least once a year for the past several years. My first approach to Japanese culture and companies was while I was at university studying engineering. We were introduced to several concepts such as SMED (Single Minute Exchange of Die) of Toyota's production system and Total Quality Management (TQM). All the sincerity blew my mind and we (students) could not believe the achievement they had made, so I thought I had to go and see it someday by myself. When I finished university, I traveled from Hokkaido to Okinawa for one month, getting to know more about the country and people. I visited many places including temples and plants such as Toyota, Honda, and Asahi.
During the visit, one experience that really touched me was when I was in a cafe in Kanazawa near Kenrokuen. A lady in her 30's came to the table near me, left her backpack, opened up her wallet, withdraw her credit card, and went away to the lower floor to get a cup of coffee. Her wallet was left wide open on the table for about 15 minutes until she came back. This was truly incredible. The safe society surely made her confident in the situation which I had never experienced before.
In Japan, people respect older people, do not talk in the train, do not throw trash on streets, acknowledge others by saluting and bowing, ask for permission, are grateful, respect time (punctual trains to the second, people coming 5 minutes earlier), and are always helpful to others. There was a lady from the information office who ran with me for 15 blocks so I could get a train in time!! Whenever I visit Japan, I feel at home, comfortable, easy, and secure.
Japanese companies could be the world's best model by applying all these advantages in their society to the management of the companies.
Thank you very much for your kind understanding and cooperation.