"We can share the experience with organizations all over Myanmar through IT education we provide." --Interview with a director of a company distributing IT products and solutions in Myanmar--
2019/1/21(Mon)15:30
(Myanmar/ミャンマー)
KMD Company Limited
Mr. Zaw Hlaing Bwa (Director)
Myanmar
Many business people from abroad including the emerging countries have participated in AOTS training programs. Positions of the targeted participants vary with the programs. Some programs are for the top executives.
We interviewed a director of an IT products and solution provider in Myanmar.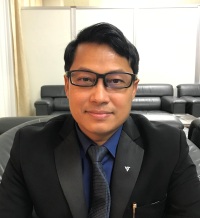 The greatest and the most well-known leading ICT company
KMD was established by Mr. Thaung Tin and Ms. Tyn Tyn Aye in 1986 as a computer training center, and in 1993, became a private company providing IT products and related education. KMD is one of the largest and leading ICT companies in Myanmar. There are 987 staff members in KMD and 14 branch offices in the major cities of Myanmar. Besides, there are over 140 franchised IT training centers in Myanmar and 2 training centers in Cambodia. We also have a branch office in Singapore for business development, logistics and financing. KMD deals with various types of business including providing IT related education and distributing IT products from Fujitsu, NEC, Toshiba, FUJIFLIM, Sato, Dell, Lenovo, Asus, Intel, and so on. KMD runs retail shops in the major cities of Myanmar.
KMD offers three types of training. First, we provide companies and universities in Myanmar with globally recognized ICT training of NCC Education, the University of Greenwich, LCCI, City & Guilds, etc. Second, we provide diploma training courses on behalf of the Ministry of Education. Third, we also offer the professional training such as network engineering, software engineering, Microsoft Certified Professional (MCP) training, and after the training, trainees can take globally recognized professional exams at our own Pearson online-exam center. We also offer basic computing skills such as the Microsoft application courses, graphic design, A+ Hardware, etc.
In our major businesses, KMD has dedicated itself to its customer service and system integration. We provide IT products and solutions to the government, MNC (Multinational Corporations), Enterprise Corporations, the UN Organization and other INGO's such as JICA. KMD's OEM (Original Equipment Manufacturing) is one of the new business lines of our own brand. We produce Be Tablet, notebook PCs and some other IT accessories. We have manufacturer partners in Shenzhen, China. Backed by more than 30 years of experience in the ICT industry, KMD has strongly managed to establish its proven brand image and reputation as one of the greatest and the most well-known leading ICT companies in Myanmar.
Not only for profit but also for a better society
Regarding human resource development of our company, there are two major things we always consider. First, developing our company as a community, and second, training the personnel. To train our employees, we sometimes send them overseas to attend seminars and we conduct our training in the company, too. We also offer a scholarship program to our younger employees to enable them to seize more opportunities.
We are doing business not only to make a profit but also to contribute to our country and to develop a better society. So, we always keep in mind to balance our business and society's needs.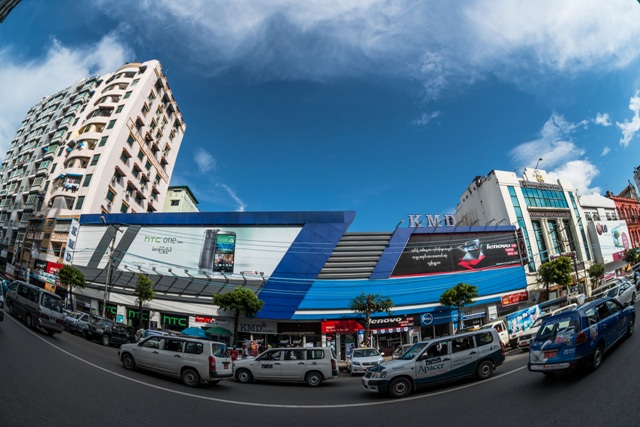 Ongoing business relationships with overseas companies
Myanmar is an emerging market and our new government is still trying to develop business. Although we are working in a leading industry, our business growth has to depend on SMEs and multinational corporations since we provide their IT products and services. We are still struggling to achieve our goal. If we get sustainable market demand, we would like to have our own factory in our country instead of our partner's in China, and then expand our franchised business into the countries in South East Asia. However, the inflation rate has increased since the beginning of 2018 and it has jumped by 23% within the past 2 years. Consumer power is currently slowing down and this might cause trouble for the local business. This is one of the reasons we would like to promote our overseas business.
We have ongoing business relationships with overseas companies such as Fujitsu, NEC, Microsoft, Intel, Dell, Lenovo, Asus, etc. KMD is the only one authorized distributor of Fujitsu in Myanmar. Besides distributing their products, we also provide after-sales support services. KMD has also had a business relationship with NTT Data Myanmar and NTT Data Japan for managed services since 2015. I think market surveys and research, a good partnership with local teams, and financial feasibility studies are key factors leading to success in doing business overseas.
In Burmese business culture, personal relationships play a large role. Third-party introductions are necessary since Burmese people prefer to work with those whom they know and trust. Trust is a key to a good business relationship and they look for an honest commitment to the relationship with you. Their business networks are often comprised of relatives and peers, as nepotism is perceived to guarantee trust.
We can share the experience with organizations all over Myanmar
This is the fourth time for me to come to Japan and first time to participate in an AOTS program although some people from my company have already attended them. I would like to acquire some knowledge and opinions through this program, and I would like to share and apply Japanese technology and business manners with my colleagues when I go back to my country. We conduct a monthly seminar to share experience. We are able to share the experience not only with my colleagues within the company, but organizations all over Myanmar through the IT education we provide.
In Myanmar, more and more companies are trying to expand their business with overseas companies, and KMD is one of them. I am sure that KMD provides the best products and services to the overseas partners who are doing business in Myanmar, especially Japanese partners. I would like to invite more and more overseas companies to Myanmar to do business with us.
Thank you very much for your kind understanding and cooperation.