"We have no factories or products but staff members and a reputation to prove our profession." --Interview with a CEO of a supply chain management company in Sudan--
2019/4/19(Fri)15:30
(Sudan/スーダン)
3PL Solutions
Mr. Muiz Abbas Almoutasim (CEO)
Sudan
Many business people from abroad including the emerging countries have participated in AOTS training programs. Positions of the targeted participants vary with the programs. Some programs are for the top executives.
We interviewed a CEO of a supply chain management company in Sudan.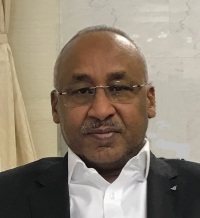 Sudanese Consulting Expert Expanding to East Africa
Our group company, 3PL Solutions Group, was established in 2010. It consists of three operational subsidiaries: 3PL solutions (Outsource Logistics), Beacon Consultants (Management consulting), and Beacon for Training and Human Resources Development (Training) with 100 staff members.
Our consulting sector mostly covers the whole operation system improvement of supply chain management including sourcing, procurement, warehousing, logistics and distribution systems, business process management and optimization, strategy execution, and business performance management. We are the largest outsource logistics company of Sudan Zain Telecommunication, managing 11 warehouses with 70+ direct warehousing staff members. We are also one of the largest training companies in Sudan providing training in supply chain management, business process management, and strategy formulation and implementation.
Currently, our customer base is 100% domestic but during the past two years, we have been trying to expand to East African countries by 2020.
Traveling Together to Discuss Our Future
As our management philosophy, we intend to hire young smart national professionals, assign them practical responsibilities, and keep the organization providing long-life training and development. As a training organization, we quite frequently offer our employees in-house training and spend a lot of efforts and resources to keep our team's spirit high.
As team building activities, at the end of every year, the management gets together and travels to neighboring countries together such as Kenya, Ethiopia, and Rwanda. We stay at a good hotel, spending a few days together to discuss the company's strategies including our progress towards goals and future plans which will enhance the moral and motivation of employees. This opportunity has been very successful for years and it is becoming a tradition.
We have no factories or products but staff members and a reputation to prove our profession. Therefore, we have to protect our staff and reputation. Whether or not it is a business inside or outside of Sudan, human resources are the most important key for the consulting service. If we are qualified and committed enough, the client will believe in us.
Considering the further development of human resources, we decided to apply for this opportunity of AOTS training program and here I am to experience it to begin with.
The worse the economy gets, the more consultancy is needed.
3PL Solutions is a leader in management consulting and outsourcing in Sudan. The consultancy and outsourcing business are considered new in the market. We do not have competitors yet. In Sudan, consulting service has been provided only by individual financial professionals but not a whole company like us so far.
Sudan is a very traditional country, but during the last ten years, the way of doing business has been changing. The economy has been quite severe in Sudan lately, so this is increasing the demand for consultancy and more companies are relying on our services these days.
We are now working on expanding to East Africa, such as Rwanda, Tanzania, Kenya, Uganda, Ethiopia, and Qatar as well. In these countries, the consulting business is very rare and their business culture is similar to ours, so I believe there are many opportunities we can create business.
On the other hand, it is true that a lot of effort is still needed for us to convince them to pay for consultancy fees. Although they know they need our help, it is financially very difficult for us to let them choose our services over their priorities.
The Best Consultation along All the Phases of the Incorporation
We are very interested in joining forces with reputable Japanese organizations in delivering our services to the Sudanese market. If we managed to have this Sudanese-Japanese set up, it would attract a large amount of business capitalizing on 3PL Solutions and make a strong and excellent local presence of the Japanese partner as well.
We are utilizing different methodologies and international ways of approaching business from America and Europe, etc. I suggest if we could confine or focus our efforts on introducing the Japanese methodology to the Sudanese market, such as efficiency, productivity, simplicity in business processes, continuous improvement, and optimization, it would help our brand attract a lot of business, since the Japanese efficient operational methodologies are so famous that it could persuade the Sudanese business.
We would also like to provide any overseas companies coming to Sudan with our services. Our consulting services could cover any phases such as feasibility studies or factory establishment to professional services or company operation. We can offer the best consultation along all the phases of the incorporation process.
Our success should be inevitable.
Throughout my studies from university I was always fond of the Japanese approaches and their positive impact on the organization leading to success, such as Kaizen, Kanban, Lean, 5S, TPS, Six Sigma, Keiretsu, and their commitment to excellence, discipline, and work ethics. I'm attending the AOTS course to implement these in my organization, and to train these doctrines to the local businesses in my country as a trainer and consultant. Japan is leading the supply chain industry, so I came here to look for companies that can join us. If you are a multinational or joint venture company with a strong local partner like us, our success should be inevitable.
Thank you very much for your kind understanding and cooperation.