"The ICT implementation is the top priority for my company in 2020." --Interview with a CEO of a professional audio visual system solution provider in Mongolia--
2020/2/17(Mon)12:00
(Mongolia/モンゴル)
Globalsmart Solution LLC
Mr. Oyuntulga Dambadondov (CEO)
Mongolia
Many business people from abroad including the emerging countries have participated in AOTS training programs. Positions of the targeted participants vary with the programs. Some programs are for the top executives.
We interviewed a CEO of a professional audio visual system solution provider in Mongolia.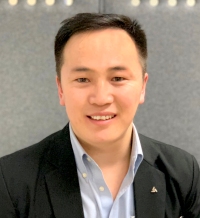 Leading Company in the Broadcasting Solution Industry
Globalsmart Solution LLC was established in 2015 as a subsidiary of Global Telecom LLC in Mongolia. The company's main business is providing a total solution including audio visual systems for professional installations and integration and broadcasting. We have experienced a number of big events and projects by supplying, designing, and installing an integrated system.
Our target customers are 18 TV stations in Mongolia and currently 5 to 8 on-air broadcasting companies are our potential customers. We also set up conference equipment for corporate and individual organizations with AV systems such as projectors, displays, and cameras etc.
In our market, the purchasing cycle is very long since once they buy Japanese or American brand professional cameras we sell, they will not need to renew them for a long time; therefore, we do not have many competitors in Mongolia. However, our main competitors are Chinese companies, since they supply cheaper devices and our countries are next to each other and easy to access. Our company's core value is quality, so we mostly import devices from countries such as Japan, America, and Germany. As a leading company in the AV system solution industry in Mongolia, we currently provide service only locally, but we are in the process of extending our market to Kazakhstan in 2020.
The key is not only participating but also implementing.
From when I started working for my parent company 8 years ago till now, our management philosophy has not changed. Just like Panasonic's founder, Konosuke Matsushita, said, "Money is important for business but relationships and people are even more important". Whenever we get into trouble in business, the first thing we do is having a meeting with the customer to solve the problem. Relationships always come first over anything for the success of every business.
Regarding HRD, we are trying to send employees to training according to their needs such as marketing and technical skills, but we think what could be the key is not only participating in training but also whether the trainee can actually implement or apply what he or she learned to our business or not.
Our biggest challenge for now is human resources since I find it is recently very tough to coordinate with people of a different generation, especially the younger generation, to let them focus on working as workers in my country are mostly younger generation. However, I feel they have a lot of skills and capabilities.
Our country is full of resources.
As being B2B (Business to Business) business, our business's major market is corporate and government organizations. The market could be easily influenced by a government decision or a few major industries. In Mongolia, GDP highly depends on the export of mined copper, gold, and coal. For example, there is one of the world's largest new copper-gold mines, called Oyu Tolgoi, in Mongolia, which is owned by an Australian company and the Mongolian government. Since many domestic companies rely on the sales by supplying their products to this Australian company, if this company stopped operating, approximately 1,500 companies would be financially shaky. In my opinion, the country should not only rely on mining, but also facilitate other industries such as agriculture and tourism to establish a sustainable economy. As you know, our country is full of resources.
We are doing business with many overseas companies related to broadcasting and professional audio visual systems. Currently, our major partner suppliers are Panasonic (Japan), Crestron (U.S.), ARRI, and Sennheiser (Germany), etc. Our relationship with Panasonic goes back 25 years. In 1993, for the first time, the founder of our grandparent company imported some parts from Panasonic to assemble a fax machine. In 2004, we established an official Panasonic sales center in Mongolia. As carrying on B2B business and leading it to success, I think we should always look for overseas companies to cooperate with. We are always seeking chances to expand our business further.
Q. What is the purpose of attending the AOTS program?
This is the first time for me to attend the AOTS program and tomorrow is the last day of this program. Before the program started, my purpose was to seek for a chance to meet managers from the world, but as time proceeded, the more I saw or heard in the lectures and factory tours, the more I thought how important it is to introduce ICT into my company. I was impressed that the program provided me with so much helpful and practicable information. I learned a lot about implementing ICT in logistics which could possibly reduce cost and increase production. The ICT implementation is the top priority for my company in 2020.
Q. Lastly, what would you have wanted to become before you started your current job?
Hotel Business/ Tourism Agency
Thank you very much for your kind understanding and cooperation.