Subsidized management programs are the management training programs to which funding from the Japanese government is partially applied. Training courses are carried out at AOTS Training Centers, and participants learn advanced management skills of Japanese companies, which are required in company and plant management.
In FY2020, webinars (online seminars) will be conducted instead of management training programs in Japan.
Purpose
The program aims to develop human resources that have learned the characteristics of Japan's excellent management techniques and understand Japanese management methods. They are expected to serve as a bridge between Japan and their own countries, contributing to improvement of management of the participants' own companies and industrial development of their own countries as well as Japanese companies' overseas expansion through these efforts.
Target
The program is targeted at the top management, managers and supervisors of Japanese-affiliated companies, business partners of Japanese companies, or the companies which are planning or wishing to deal with Japanese companies.
About Courses / Webinars
Each course runs for approximately two weeks and the number of participants is around 20 to 25 people.
In the training, participants learn management techniques with wide range of themes through lectures, practical exercises, and visits to facilities of Japanese companies, etc.
Participants will formulate action plans on the last day of the training by grasping problems of their companies and divisions based on what they learned from the lectures, discussions and visits, and utilize the plans for practice after returning to their countries.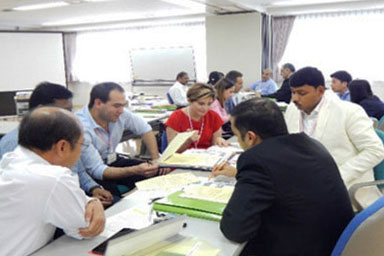 Webinars (On-line seminars) are implemented on the basis of three time-zones (Asia, Africa and Europe, and Latin America) . Most of the webinars are conducted for about 2-3 hours and the number of participants is around 50-150.
Theme Examples
Company management
Production management
Quality management
Logistics management
Leadership
Innovation
List of seminars / Application Procedures
Please see "List of Webinars (Online seminars) " page and "Program Outline" of each seminar for more information.
List of Webinars (Online Seminars)
For the application to the Webinars, please contact the AOTS Overseas Cooperation Group using the contact form at the bottom of this page or the email address written in the Program Outline.
The online seminars are organized in cooperation with the AOTS Alumni Societies in each country. We will inform you the contact address of the AOTS Alumni Societies in your nearest area in order to apply for the Webinars.
Inquiry
Operations Management Department
Overseas Cooperation Group
TEL : +81-3-3888-8256 FAX : +81-3-3888-8242