"We can compete with Japanese companies now. We are not behind anymore." --Interview with a senior director of electronic component manufacturing company in Taiwan--
2018/6/22(Fri)10:00
(Taiwan/台湾)
Unimicron Technology Corp.
Mr. Peng Shih-Yu (Sr. Director, Quality Management Division)
Taiwan
欣興電子股份有限公司
彭士祐(Carrier事業處經營部 協理)
台湾
Many business people from abroad including the emerging countries have participated in AOTS training programs. Positions of the targeted participants vary with the programs including the ones for top executives.
We conducted an interview with a senior director of electronic component manufacturing company in Taiwan.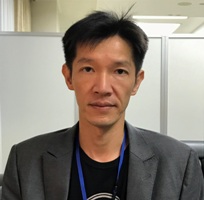 Ranking Fourth in the World
Unimicron Technology Corp., established in 1990, is an electronic component manufacturing company with 27,617 employees (13,486 / Unimicron Group Taiwan; 14,131/ Unimicron Group Overseas) in total. We have different strategic manufacturing units for PCB (Printed Circuit Board), IC Carrier (Packaging Substrate), and IC test and burn-in.
We offer a full range of products: Rigid PCB, Flexible PCB, Rigid Flex PCB, FCCSP (Flip Chip-Chip Scale Package) and FCBGA (Flip Chip Ball Grid Array) Substrate. Having a strong customer base in various industry sectors as our strength, we are committed to new product development with expertise in house as well as continuing to invest in our core business to strengthen our leading position, while at the same time investing in high value-added products.
We have a well-established footprint in Taiwan and China; we first went into China as a merger company in 1999, and eventually established our office in China in 2001. We also have manufacturing sites in Germany and Japan.
The financial and operational track record Unimicron Technology Corp. has made is also our strength as we currently rank fourth in the global revenue ranking of PCB manufacturer companies. In Taiwan, today, there are more than one hundred PCB manufacturing companies, but only 3 or 4 of them could be considered as our major competitors.
Since we operate in various units for production, we can develop group synergy to leverage our market position by sharing different skills, knowledge, and customers with other units, without starting everything from zero.
As a company, our vision and management philosophy is to stay as a world leading company that provides high value-added, high quality, high productivity, innovation and services. We also pursue customer, employee, and shareholders' satisfaction, and fulfill our social responsibility.
Our 2017- 2019 Innovating Enterprise Aims are:
Targeting Niche Markets (Niche Product Gross Margin>25%)
Strengthening the Operation of the Business Core Team
Cultivating Talents (T-Shaped Employee Training and Rotation)
Strengthening Product Development and Intelligence Automation Production (Industry 4.0 and Statistical Process Control)
Innovating Company Management, Practicing Shared Value (PSV) across all the units
Difficulty in Hiring Younger People
Our human resource policy is to implement a plan that includes recruiting, training, development, and a compensation system to achieve company growth and employees' satisfaction. When recruiting interns, we conduct some tests for English skills, IQ, and personal capability. As a prerequisite, their major at college has to be physical engineering or chemical engineering. Recently, hiring younger people has been getting more and more difficult for manufacturing industry, and this is why automation of operation is more necessary.
It is also more difficult to keep young talents in a company than before, because these days, younger people seem not to be afraid of failing. Whenever they fail after changing jobs, they would think of going back to where they were. I am sure this is completely different in Japan.
As a senior director, I believe my responsibility is to ensure the company makes a profit, and most importantly train my employees to take over my position. First, we provide employees with a stage to perform on, and next, teach them how to perform. For training, my company used to send more people outside the company, but nowadays, 80% of training is done inside our company.
Our labor policy is:
Equal employment opportunity- Prevent discrimination during recruitment, employment, assessment, or promotion.
Humane treatment- Ensure equal opportunity and dignity for all employees.
Communication with employees- Encourage employees to express opinions, and protect the rights of the aggrieved.
Improve work conditions- Provide a comprehensive wage and welfare system and strengthen employee training to enhance their competitiveness.
Integrity- Uphold principles of honesty and justice.
Japanese companies are conservative.
Our technology for IC package substrates in particular has greatly improved, so now we can compete with Japanese companies in Taiwan. We are not behind anymore. We need to expand our production since we have been gaining more orders from customers who are requiring various new technologies such as new 5G and AI applications for their cloud computing. From my observation, Japanese manufacturing companies are more conservative with these new technologies. We consider this as a great opportunity for us.
Another great investment target is China. The Chinese government now wants more products from us. Because of security issues, the Chinese government desires to purchase electronic components inside of China. Therefore, we needed to move to China as their semiconductor supplier.
These are the two major reasons our company has expanded rapidly, but at the same time, a labor shortage is now our challenge to catch up with the growing external and internal market demand. In China, they are currently investing in new markets and constructing more semiconductor manufacturing companies, so they will need more engineers and they are trying to hire them from Taiwan for high salaries and compensation. Labor costs have increased due to changes to labor laws and industrial competition. Even though salaries are still higher in Taiwan, China pays about five time higher now than 15 years ago.
Long-term Reliable Relationships with Overseas Companies
Unimicron has already established great and reliable business relationships with both domestic and overseas customers. Our major overseas companies are in the US.
Business relationships with Japanese companies are increasing depending on the production sector. The product orders for games are increasing.
Our general business customs in Taiwan are customer-oriented. My company particularly values quality adherence, continuous breakthrough, and highly promoting products across all companies in the world.
Applying Learning from the EPQM* to Our Future Work
My purpose of participating in the AOTS program this time was to visit Japanese companies and learn their TQM (Total Quality Management) so I can use it as a benchmark. Another purpose was to review Dr. Kano's TQM courses that he had taught my company, Unimicron, before. I would like to apply the management system in Japan to our future work.
Lastly, after finishing the program at AOTS, I had the impression that Japanese companies had very good working discipline, and, regarding EPQM, I felt that a quality culture has been built in to Japan for many years. People focus on small details for improvement.
Thank you very much for your kind understanding and cooperation.
*EPQM (Executive Program on Quality Management): This program is designed to satisfy the needs of top management of companies considering the introduction and effective use of TQM.