"We are trying to find overseas companies that sell innovative materials for good quality." --Interview with a production manager of a non-woven fabric manufacturing company in Argentina--
2019/10/29(Tue)10:00
(Argentina/アルゼンチン)
Scalter S.R.L.
Ms. Hutin Ailin Melina (Production Manager/ Managing Partner)
Argentina
Many business people from abroad including the emerging countries have participated in AOTS training programs. Positions of the targeted participants vary with the programs. Some programs are for the top executives.
We interviewed a production manager of a company manufacturing non-woven fabrics in Argentina.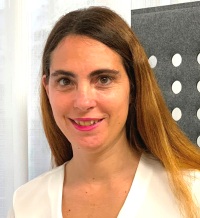 Great and Potential Market without Major Competitors
Scalter S.R.L is a family company established in 1995 in Buenos Aires that produces non-woven fabrics with 104 workers. We have 5 production lines including the spunbond manufacturing system on the site. Non-woven fabrics are made of plastic and are the most inexpensive cloth. Currently, the non-woven fabrics we produce are used in various industries such as automobiles, farming, clothing, and at party sites. We also produce fabrics for diapers and surgery disposables.
In Argentina, there are only 4 companies that produce non-woven fabrics with a monthly production of 5,000 tons in total, which is a great and potential market. However, since most of these products are used for diapers, which is not our market, we do not have any major competitors in this industry. Our main products are used for furniture, purses, shopping bags, automobile interiors and so on, which use less meters and higher weight of fabrics unlike diapers.
95% of our customers are in Argentina and 5% in neighboring countries such as Brazil, Paraguay, Uruguay, and Chile. Our main focus is the satisfaction of our customers. We provide products and services to build a long-term relationship with our business partners.
Getting the younger ones more involved is my first priority.
We are extending the concept of our family business to our employees in the whole organization to create a close bond with each other. We devote every effort to ensure our workers' safety and train them to make a suitable work environment. To also let the employees' families be involved in our lives, we usually organize meetings and parties for them.
On the other hand, however, despite these efforts, I feel it is still difficult to win the trust and commitment of the employees to the company. Dedication, punctuality, and responsibility are the most important and also difficult to maintain. Although I spend more time in my office now than at the manufacturing site, I always keep the door of my office open to enable the employees to come and communicate with me anytime. My first priority is to get the employees, especially the younger ones, more involved in our operation.
A small business can adjust to changes.
The Argentinian president election has been influencing the currency rate a lot lately. Since we buy raw materials in US dollars and sell our products to the customers 90 days after the procurement, it is very difficult for us to manage the major and rapid currency exchange and cash flow, especially when we are facing the economic instability and the low possibility of getting financing.
However, as a small family business, Scalter is in a good position to compete in the market since it has a great capacity to adjust to changes as well as the possibility to produce what customers need when they need it.
New technology and training extend our business.
We believe that the only way to expand our business is investing in the new technology and training our people. Not only do our employees always get training, but also managers update their knowledge occasionally such as my father and me here in AOTS taking the management program. The main purpose of attending the AOTS program is to acquire the knowledge and training methods for the improvement through management and quality transfer. Moreover, it should be interesting to share experiences and points of view with people from all over the world at AOTS.
We also need to update our machines all the time in order to have the best quality and compete in the market. We have reinvested much of the profit we made in new machinery and we are always thinking of new business, too.
We purchase a number of machines from China and also raw materials from overseas such as Indonesia, Brazil, and India. Currently, we only sell our products domestically or to the bordering countries because of the high freight cost for commodities. We are trying to find overseas companies that sell innovative materials for good quality products. Since technology keeps changing, we need to also balance between the quality and the price of the machine.

We are always looking for the opportunity to expand our provider network. We trust in Japanese quality and their commitment to work. We have already made contact with two Japanese companies to procure a very specific machinery part, spinnerets, which is a core part of the non-woven machines and raw materials such as petrochemical products. We are really interested in buying polypropylene and polyethylene which are the main raw materials of all of our products. Since we use approximately 400 tons of these raw materials a month, we really need to find another provider because in Argentina there is only one company which produces them. The Japanese quality of spinnerets is very high, so I am sure we can reach the best quality of our fabrics with them.
I am looking forward to taking back and applying what I obtain from Japan to our country.
Q. Lastly, what would you have wanted to become before you started your current job?
A scientist.
Thank you very much for your kind understanding and cooperation.