"We need to do something challenging and change for the better." --Interview with a managing director of a tertiary private general hospital in Thailand--
2019/6/27(Thu)10:00
(Thailand/タイ)
Pitsanuvej Hospital
Ms. Wansiri Nimpitakpong (Managing Director)
Thailand
Many business people from abroad including the emerging countries have participated in AOTS training programs. Positions of the targeted participants vary with the programs. Some programs are for the top executives.
We interviewed a managing director of a tertiary private general hospital in Thailand.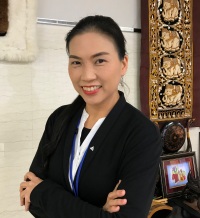 The Official Referral Center for Many Well-known Hospitals
Pitsanuvej Hospital is a private general hospital located in Phitsanulok, 377 kilometers north of Bangkok, founded by Dr. Suthep and Dr. Nipaporn Nimpitakpong in 1982 as the first private hospital in the lower northern region of Thailand with a capacity of 150 beds and 631 employees. The Nimpitakpong family has made a great foundation of this hospital not only in terms of business but also social responsibility. Pitsanuvej Hospital has been accepted as an important stakeholder of community of 7 provinces of Lower Northern Thailand.
In 2015, the family decided to form a joint venture with Principle Healthcare Group to level up the potential of the hospital from secondary care to tertiary care hospital. Nowadays, equipped with modern medical technology, it provides tertiary advance care services not only for Thai people but for expats from Europe and patients from Myanmar and Laos.
The group has two subsidiary hospitals, Sahavej Hospital in Phichit and Pitsanuvej Uttaradit Hospital in Uttaradit. Our hospital also offers one of the best facilities for medical tourism to ensure the patient's smooth and enjoyable visit to Phitsanulok. We are also the official referral center for many well-known hospitals in Bangkok. Accredited by Joint Commission International (JCI) in 2012, we can provide the best health care services.
We need to do something challenging.
Our core value is "PSV (People Service Value) Excellence". For people, we help our employees excel in their field and recognize their contribution in achieving organizational goals. For service, we provide excellent client-centered health care delivery with optimum efficiency. For values, we add value to our partners involved in the organization.
We devote our effort to people first. We try hard to facilitate and encourage each employee to bring out his or her best. Training centers are mostly in Bangkok, so it takes more time and higher costs to attend the training courses and we already have a foundation for employee training of more than 80 hours per year, but we still need to upgrade our knowledge and skills as doing the same thing as what we have done for the last 10 years would not be enough to compete with the others. We need to do something challenging and change for the better. We are currently shifting to apply more advanced studies for employees. As learning more from Gemba (the site), employees need to renew their skills and mindset according to the new generation for providing high quality services to our customers.
Our HR department has just applied to the government for the certificate which can be provided to companies that have a good relationship with their employees. We consider our employees, stakeholders, and stockholders as our family.
Global Trend of Health Concern and the Aging Population
The business of the private hospital and healthcare sector in Thailand has been growing in line with the global trend towards health concern, the aging population, and the Medical Hub Policy which has been developed by the government since 2003 to attract international patients. Many big firms such as real estate companies have diversified into the healthcare market. This has created great competition among the private hospitals in Thailand. The government-owned hospitals have extended their opening hours for financial reasons. Moreover, the government's "Universal Coverage for Emergency Patients (UCEP)" policy has driven many hospitals into an even more difficult situation. This policy has enabled emergency patients to have treatment without paying a fee and the government reimbursing 50% of the fee to the hospital. However, since most of the emergency patients who are sent to our hospital under the UCEP policy stay and desire to receive further treatment at our hospital even after the initial 72 hours which is covered by the UCEP have expired, this policy is also advantageous to us in a way.
Running costs have also increased because of the scarcity of medical professionals. These days, more people prefer to see specialists rather than seeing general doctors to have a more professional examination to ensure their diagnosis and treatment are the best ones. Due to these factors, more hospitals, particularly small, stand alone, up-country and slow-adaptive to change hospitals have been absorbed by bigger hospitals.
Intersection of the Economic Corridor
The slow economic growth of the country made patients choose government-owned hospitals over private ones. Private hospitals need to keep making innovative changes to survive the situation. We organized a case management team about 10 years ago to make a treatment plan with patients based on their financial situation.
We currently have contact with the overseas market and quite a few international patients are coming from all over the world as well. We have a plan to expand our business to neighboring countries such as Myanmar which has a potential market as there are many wealthier people living there.
Our hospital is in Phitsanulok, located midway between Chiangmai and Bangkok. Phitsanulok is also at the intersection of the new economic system called LIMEC (Luangprabang-lndochina-Mawlamyine Economic Corridor), which has been implemented since 5 years ago as a geographically-targeted economic development initiative. Since I have been a chairman of the Phitsanulok Chamber of Commerce for the past 2 years, I am currently working more on the public activities to develop the economy of my province.
Medical Services for the New Generation
Last October, the director of our hospital and I came to Japan to learn and explore "Senior Care" in Japan. We could jointly develop the technology transfer in taking care of the patients and cross cultural training, and innovative products for seniors and disabled patients as well.
Moreover, my family owns a health resort named Wanathara Resort ( www.wanathara.com) which can be developed to serve senior tourists and recovery patients. So, I think there are a lot of opportunities if we collaborate in business with Japanese companies.
I joined the AOTS program for the first time for sharing knowledge with experts and participants from Japan and Thailand, obtaining the hands-on experience by visiting sites in Japan, further understanding and widening my perspective to enhance my leadership skills and inspiring and motivating skills to share with other leaders in our organization and community. I hope to find future potential cooperation with Japanese or Thai organizations / experts to develop significant human resource projects for the community, as well as learning international and multi-cultural ways to lead the organization to a success.

I hope this experience creates a business opportunity with Japanese companies and we can work together for the medical services which are demanded by the new generation.
Thank you very much for your kind understanding and cooperation.